Days after that unprecedented Oscars blunder and the world is still conversation over exactly what led to La La Land accidentally being announced Best Picture when Moonlight had won the award.
Academy president Cheryl Boone Isaacs has finally sent a letter to Academy members addressing the situation, revealing "changes will be implemented to ensure this never happens again."
"By now, thanks to non-stop coverage over the past few days, we all know that the wrong envelope and the problems that ensued were caused by the failure of [PricewaterhouseCoopers'] accountants to follow established protocols and their delay in immediately remedying the situation," she wrote.
PwC - who were in charge of handling the winners' envelopes - have taken full responsibility for the error, with Brian Cullinan - who was Tweeting during the awards - being blamed.
Isaacs also praised those caught up in the scuffle, saying: "we are all proud of the spirit and enthusiasm of all the presenters, including Warren Beatty and Faye Dunaway, and filmmakers, especially those from Moonlight and La La Land." Read the full letter below.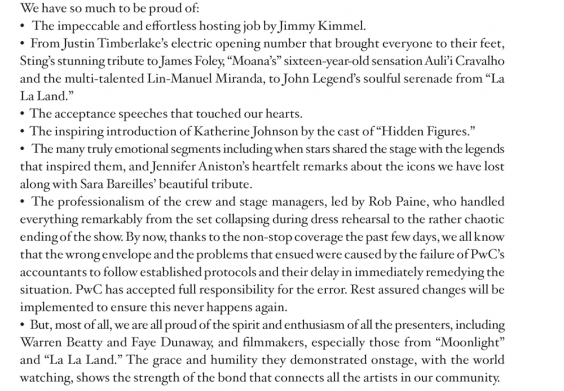 Isaacs has since stated both Cullinan and colleague Martha Ruiz will not be working any future Oscars, slightly unsurprising, especially considering a conversation with Gary Natoli - a veteran Oscars stage manager - that happened pre-ceremony.
"We don't usually talk about that," Natoli explained, referring to the ceremony going wrong. "But I guess Brian had done an interview where he was asked about it, so he came up to John and me and told us that in the interview, he said, 'Well, we would tell the stage managers and check with each other and react.' And then he said to us, 'Is that what we do?'"
Oscars 2017: Best dressed on the red carpet
Oscars 2017: Best dressed on the red carpet
1/24

Hailee Steinfeld

Getty Images

2/24

Taraji P. Henson

Getty Images

3/24

Chrissy Teigen

Getty Images

4/24

Ruth Negga

Reuters

5/24

Dev Patel

PA

6/24

Karlie Kloss

Getty Images

7/24

Emma Roberts

Getty Images

8/24

Riz Ahmed

9/24

Felicity Jones

AFP/Getty Images

10/24

Isabelle Huppert

AFP/Getty Images

11/24

Mahershala Ali

Rex Features

12/24

Michelle Williams

Getty Images

13/24

Naomie Harris

AFP/Getty Images

14/24

Scarlett Johansson

Getty Images

15/24

Ryan Gosling

Getty Images

16/24

Viola Davis

Getty Images

17/24

Charlize Theron

Getty Images

18/24

Dakota Johnson

REUTERS

19/24

Chris Evans

20/24

Brie Larson

21/24

Jamie Dornan and Amelia Warner

REUTERS

22/24

Sofia Boutella

PA

23/24

Pharrell Williams

Rex Features

24/24

Kirsten Dunst

Getty Images
"I said, 'If you know who the winner is, you don't need to check with each other. You need to immediately go out and rectify the situation, ideally before the wrong winners get to the mic.' And he said, 'OK, good, that's what we thought.'" Catch up with all the latest on the snafu here.
Reuse content