Fans of Point Break will be eager to watch the first trailer for the hotly-awaited remake, starring Luke Bracey and Edgar Ramirez as Johnny Utah and Bodhi.
Ericson Core has taken on the heavy responsibility of rebooting the 1991 cult classic for a modern audience and he's certainly making it adrenaline-pumping.
Filmed on four continents, the action movie follows a young FBI agent who infiltrates a team of extreme sports athletes suspected of masterminding mind-boggling corporate crimes.
"To catch them...he must become them," the teaser hints, as we are given sneak peeks of the vast range of heart-stopping stunts featured in the film, from snowboarding and wingsuit flying to rock climbing and surfing enormous waves. That's right, it's not just a surfing thriller anymore.
The end of the trailer leaves viewers with a literal cliffhanger as Johnny and Bodhi seem to fall to their deaths. "Do you have any idea how many people you've killed? How many laws you've broken?" Johnny yells, as Bodhi teeters on the edge of a huge waterfall.
"The only law that matters is gravity," comes the ominous reply, before Bodhi throws himself off, with Johnny in hot pursuit.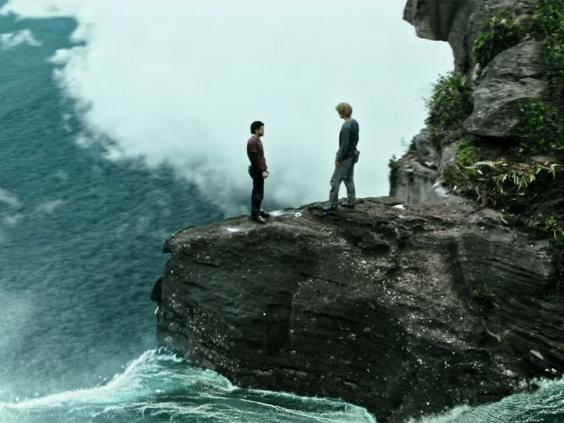 Point Break buffs will recognise some throwbacks to the original - the rubber masks of ex-presidents worn when the gang robs banks have been replaced by bandannas with their faces on, for example.
But whether not they will take kindly to the remake remains in doubt, with many fans tweeting their disapproval of "meddling" movie-makers.
I'm going to stand up for 13 yr old me and refuse to watch this new version of Point Break. The original has no flaws.

— Daniel Jeremiah (@MoveTheSticks) May 27, 2015
I love the movie Point Break but I've always wondered, "Would this be better if the leads had no charisma?" I'll find out this Christmas!

— Max Silvestri (@maxsilvestri) May 27, 2015
There are thousands of amazing scripts, sitting on desks, not being made by studios.... yet somehow we got a reboot of "Point Break".

— Jesse Cox (@JesseCox) May 27, 2015
There is only one Point Break. pic.twitter.com/LfBz6QmO8S

— James Fosdike (@JamesFosdike) May 27, 2015
Others are excited to see what Core has done with the storyline and how the new leads match up.
I will see the POINT BREAK remake no less than 8 times. #50yearstorm

— Jonah Ray (@jonahray) May 26, 2015
POINT BREAK trailer is much better than footage WB showed at CinemaCon. Still think a movie star would've helped big time, but count me in!

— Jeff Sneider (@TheInSneider) May 26, 2015
Oscar-winning director Kathryn Bigelow directed the first Point Break, starring Patrick Swayze as Bodhi and Keanu Reeves as Johnny.
Garey Busey played older FBI agent Angelo Pappas, a role taken on by British actor Ray Winstone in the new film.
Point Break is scheduled for UK release on 8 January 2016.
Reuse content