Richard Armitage has spoken out about female representation and praised The Hobbit's Peter Jackson for creating Evangeline Lilly's "battle-hardened" elf, Tauriel.
Controversy over the addition of a new character was fierce, with Tolkien purists offended by the change to the original storyline.
"A lot of people didn't like the idea of them inventing a character, but I think they've completely proved the critics wrong by creating a strong, compelling, battle-hardened, female elf warrior," said Armitage, who plays dwarf leader Thorin in the franchise.
The British actor, 42, told The Independent that he believes The Hobbit: The Desolation of Smaug is "better for it", despite criticism over the move.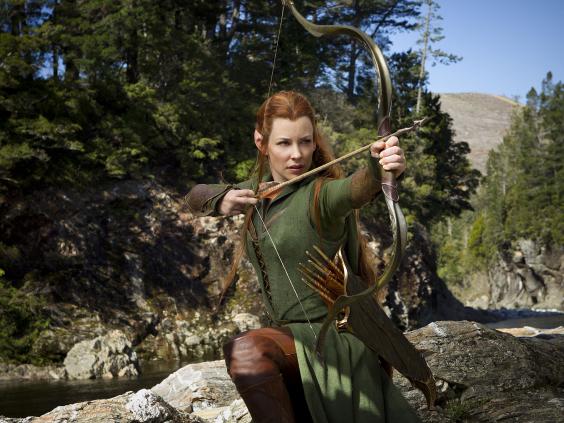 "Tolkien was, I believe, writing about his experience in the first and second world wars, where he would have spent a lot of time without any female contact," he said. "He was part of the fellowship of men who went to war and I think, really, that's what he's writing about.
"Translating that into a contemporary screenplay is something that (the filmmakers) are very aware of. I think they did the right thing by bringing Tauriel in."
Like The Lord of the Rings trilogy before it, The Hobbit  films fail the "Bechdel Test", which rules that to pass, a film must feature at least two named women who have a conversation with each other about something besides a man.
Bechdel Test Pass/Fails
Bechdel Test Pass/Fails
1/10 PASS: Frozen

It features two central female characters, Anna and Elsa, discussing the isolationist policies of Arendelle, plans to build a snowman, and the time Elsa locked their civilization in an eternal winter

Disney

2/10 FAIL: The Hobbit: An Unexpected Journey

Contains fewer than two named women so fails the test on first criterion.

Rex

3/10 PASS: August: Osage County

Meryl Streep and Julia Roberts head strong female cast in family saga featuring multiple conversations about the character's relationships, which do not centre on a man

4/10 FAIL: Jack Ryan: Shadow Recruit

Kenneth Brannagh's blockbuster includes two named women (Katya, a Russian assistant, Kathy, the protagonist's fiancée) but they do not speak to each other throughout the entire film

Rex

5/10 PASS: American Hustle

American Hustle passes but only due to a single scene where a con artist's wife, played by Jennifer Lawrence, discusses nail polish with a politician's wife, played by Elisabeth Röhm

Rex

6/10 FAIL: The Hangover Part 3

The wives of Doug and Stu are both named and do have a conversation but it's about Alan, Zach Galifianakis' character

7/10 FAIL: Noah

Russell Crowe Biblical epic scrapes in due to scene where Noah's wife Naameh (Jennifer Connolly talks to adopted daughter Ila (Emma Watson) about her pregnancy

Rex

8/10 PASS: Blue Jasmine

Jasmine (Cate Blanchett) and Ginger (Sally Hawkins) have multiple conversations about something other than a man, mostly about Jasmine herself

9/10 FAIL: Gravity

Gravity fails, despite delivering a strong female role for Sandra Bullock, since its isolated outer space setting limits her opportunities for female bonding

Rex

10/10 FAIL: The Avengers

The Avengers fails because none of its female characters talk to each other at any point

AP
Armitage went on to describe Jackson as "the godfather of all our visions of Middle Earth", revealing that he does not think the director will revisit Tolkien's world again for cinema.
The third and final film in the franchise, The Hobbit: There and Back Again, is due out in December, while The Hobbit: The Desolation of Smaug is out on DVD and Blu-Ray now.
Reuse content