Eddie Redmayne scored the lead role in The Danish Girl thanks to his "certain gender fluidity", director Tom Hooper has revealed.
The Oscar-winning actor will play transgender artist Lili Elbe, who rose to fame after undergoing one of the world's first gender reassignment surgeries in the Twenties.
Redmayne's casting has been criticised by trans activists, some of whom argue that despite his talent, trans roles should be given to trans actors to make use of their deeper understanding of the community and provide them with opportunities in the industry. Jared Leto received a similar backlash after winning Best Supporting Actor for his role as HIV-positive, drug-addicted trans woman Rayon in Dallas Buyers Club.
But Hooper has defended Redmayne, who married publicist Hannah Bagshawe earlier this year, insisting that he was the only actor he considered for the challenging part.
"Eddie was really the the person I wanted to make the film with and I was very passionate about that. I was a a great believer in him as an actor," he told Screen Daily.
"I think also there's a certain gender fluidity that I sensed in him that I found intriguing and it led me to think he might be a really interesting person to cast in this role."
Eddie Redmayne on screen
Eddie Redmayne on screen
1/9 The Theory of Everything

Redmayne won a Best Actor gong at the Oscars 2015 for his portrayal of famed physicist Stephen Hawking in The Theory of Everything.

Universal

2/9 The Danish Girl

Redmayne plays transgender artist Lili Elbe in The Danish Girl, a fictionalised account of one of the first men to undergo gender assignment surgery in 1930.

Working Title/Universal Pictures

3/9 Savage Grace

Eddie Redmayne as Antony Baekeland in Savage Grace - a 2007 film starring Julianne Moore about the allegedly incestuous relationship between a socialite and her son.

4/9 Black Death

Eddie Redmayne as the conflicted young monk Osmund in 2010 bubonic plague horror movie Black Death.

5/9 Les Miserables

Redmayne starring as Cosette's young rebel lover Marius in Les Miserables alongside Amanda Seyfried.

Universal Pictures

6/9 Jupiter Ascending

Redmayne as the villainous Balem Abrasax in the widely-planned Jupiter Ascending - the role that many feared would jeopardise his Oscars chances.

Warner Bros

7/9 My Week with Marilyn

Redmayne as Colin Clark in My Week with Marilyn - Sir Laurence Olivier's employee who escorts the film star around London as she makes The Prince and the Showgirl.

8/9 Birdsong

Redmayne starred as Stephen Wraysford in the BBC's adaptation of Sebastian Faulks' Birdsong. Wraysford is an English soldier fighting in the trenches and haunted by memories of his clandestine love affair with a French woman.

BBC

9/9 Tess of the D'Urbervilles

Eddie Redmayne as Angel Clare in the 2008 TV mini-series of Thomas Hardy classic, Tess of the D'Urbervilles.
Hooper added that he thought Redmayne would be tempted by the role after feeling "that there was something in him that was drawn to the feminine" that he might wish to explore.
The director, best known for Les Miserables and The King's Speech, said that there is a "tremendous pool of talented trans actors out there" who should have the same access to opportunities as cisgendered actors, but admitted there is still "a long way to go".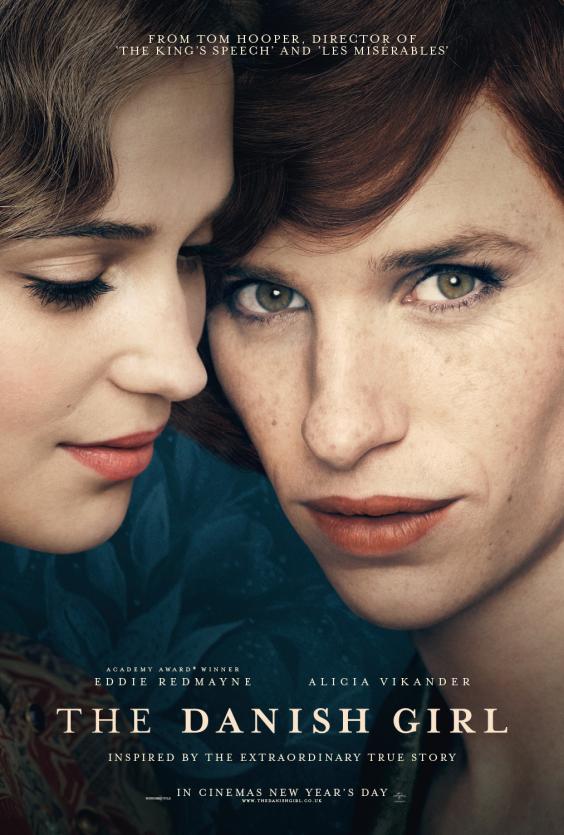 Earlier this month, Redmayne shared how much he learned about gender and sexuality while preparing to play Elbe and thanked trans men and women for being so "kind and generous with their experiences".
Trans activist Paris Lees, who helped Redmayne with his research, told Out magazine that while she is politically against cis actors playing trans roles, "if anybody's going to do this justice it's Eddie".
The Danish Girl is due for UK release on 1 January 2016 in the midst of awards season. The drama premieres at the Venice Film Festival on 5 September.
Reuse content