The Shining remains at the top of many a 'best ever horror movies' list, but few film fans know what life was really like on set of the 1980 classic.
Twins Lisa and Louise Burns who played the creepy Grady daughters have shared their experiences in an exclusive interview with the Daily Mail, revealing how lead actor Jack Nicholson became their father-figure, the little boy who played psychic Danny didn't know the real storyline and director Stanley Kubrick gave them bottles of fake blood from their death scene on their birthday.
The image of the dead twins holding hands and chanting at Danny in the hotel corridor is among the most memorable, but it was the quirks of their fellow cast members that stick strongest in the Burns sisters' minds. 
The Shining follows writer and former alcoholic Jack Torrance, who agrees to work as a caretaker at an isolated Colorado hotel. Jack brings his family with him, but soon becomes possessed by evil supernatural forces that put all their lives at risk. Only five-year-old Danny learns the house's awful past after developing psychic abilities.
Here are our favourite things we never knew about The Shining:
Jack Nicholson napped on the floor in between scenes
Nicholson was determined to stay in character on set, so hit the floor to grab some shut-eye in between takes. "They were extremely long days and I think Stanley would have had Jack work until the matchsticks fell out of his eyes, so he needed to nap between scenes," Louise said.
Stories about Kubrick's tormenting of Shelly Duvall were false
Lisa describes rumours that Kubrick tormented Duvall so badly her hair fell out and she lost weight as "complete rubbish and totally unfounded".
Kubrick gave them tiny bottles of fake blood on their birthday
He called it Kensington Gore and it was the same blood the twins had to lie in when axed to death by Torrance. Something to treasure forever, surely.
Best horror films of all-time
Best horror films of all-time
1/10 The Shining

The retailer play.com used a heart rate monitor on film watchers to assess what horror films set pulses racing. The 'Here's Johnny' scene in which Jack Nicholson peers through a hole in a door he has just created with an axe came up on top.

The rest of the film isn't any less scary as a writer coops his family up in an empty Colorado hotel for the winter.

Stanley Kubrick creates tension at every turn, especially when he follows Danny riding his bicycle along the corridors.

AP

2/10 Rosemary's Baby

Roman Polanski's adaptation of Ira Levin's best-seller is the daddy of demon baby movies.

It involves a struggling couple, a pregnant Catholic girl and unemployed actor, played by Mia Farrow and John Cassavetes, who move into an apartment block and are befriended by Satanist.

The occult is scary, but not nearly as evil as Guy's decision to sacrifice his wife for an acting role.

Polanski's brilliance is that the horror is not the supernatural but the doubts that brew up in our own minds. Paranoia reigns.

Getty images

3/10 Psycho

There is a sense of foreboding even before petty thief Vera Miles checks into the Bates motel.

Then we are introduced to Norman Bates and his Oedipus complex.

The fact that Bates on the surface seems mild-mannered and ordinary only made his transformation scarier. Showers would never be the same, in the must iconic murder scene on celluloid.

Getty Images

4/10 Blue Velvet

The huge amount of film noir elements in the narrative of David Lynch's murder tale often see this 1986 American tale overlooked on horror lists.

But this film is aimed to chill and has the aesthetics, pacing and tension of the greatest horror, including severed ears, dwarfs, and the supernatural.

But it's Dennis Hopper's Frank Booth that is the clincher, whenever he's on screen, whether he's harassing Isabelle Rossellini or encouraging singing, he's the scariest character that has ever been on-screen.

5/10 Nosferatu - A Symphony of Horror

The granddaddy of the genre, this silent masterpiece, an unauthorised adaptation of the Dracula tale (The Stoker estate won a case ordering all copies of the film destroyed, which was thankfully unenforceable in Germany), sees director FW Murnau establish many of the touchstones of the genre including vampires lusting after blood

Getty Images

6/10 The Orphanage

The haunted house is a staple of horror movies, especially of American horror.

But it's this Spanish gem from 2007 that is the scariest of them all. It starts with a mother whose attempts to deal with her childhood inner demons seeking closure by buying the orphanage in which she was born, and taking on the demands of looking after not just her own imaginative adopted son, but six other Orphans.

What ensues is an eerie homage to Jack Clayton's The Innocents that once again proves that nothing is as scary on film as creepy children.

7/10 Anti-Christ

Lars von Trier's says it was while he was undergoing cognitive therapy for depression that the idea to make a film exploring the semiotics and tools used by depression came to mind.

Charlotte Gainsbourg and Willem Dafoe play a couple coping with the death of their son.

She cannot belief his response and he hers. The result is a film featuring gender mutilation, talking foxes and where chaos reigns. Booed at Cannes only seems to cement its status.

8/10 Don't Look Now

Adaptations of Daphne du Maurier's prose have a habit of making great horror films, especially in the hands of Alfred Hitchcock (Birds and Rebecca).

British director Nic Roeg created this masterpiece when he took Maurier's short story and meshed it with his trademark non-linear approach to the story of parents attempting to come to terms with the death of their young daughter by moving to Venice.

Donald Sutherland and Julie Christie give career best performances in a film that has a clairvoyant, serial killer, but most scary of all, feelings of guilt.

9/10 Suspiria

There are not many directors who have made more horrors than Italian maestro Dario Argento. His 1976 effort Suspiria remains his masterpiece.

An American ballet dancer goes to study in the Black Forest, where she meets a pair of lesbians administrators (Alida Valli and Joan Bennett), a bizarre shrink (Udo Kier, an actor who adds to the terror level of any movie) and discovers that the school was once a notorious witches' coven.

All this done in piercing Technicolor and a terrific synthesised score.

10/10 Audition

J-Horror (Japanese horror) went through a purple patch at the end of the 90s with Hideo Nakata's excellent Dark Water follow Ring trilogies.

However, the most chilling film of the era was directed by Takeshi Miike, who makes films like they are cups of morning coffee.

He uses the casting couch as the source of his evil as a friend tries to find a television producer a new wife by hosting a fake casting call.

Miike slowly pulls us into the tale, as we discover dark secrets of both the widower and the actress who has caught his eye.
The little boy who played Danny didn't know what was going on
Danny Lloyd was only five when he was cast and Kubrick decided not to tell him the storyline. He didn't even know he was making a horror movie, as all the gruesome scenes were hidden from him. Duvall carried a lifesize dummy for the scene where she runs and screams with Danny in her arms so the actor wouldn't be scared. It is an 18 after all.
The casting call for the Grady daughters never asked for twins
But when Lisa and Louise turned up, Kubrick realise that twins were "just spookier" and they got the job.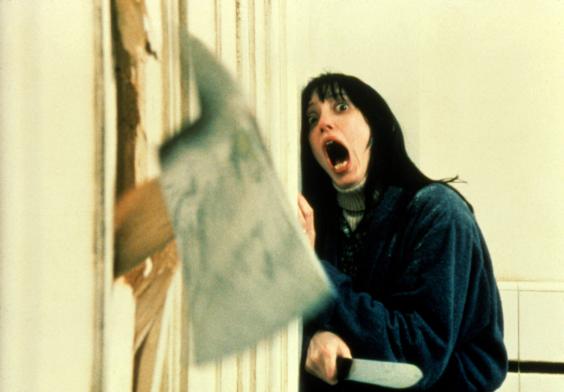 The snow was fake and so was that famous axe
"It was plastic and it stank and they had an awful problem getting rid of it.," Lisa said, adding that the "Here's Johnny!" scene also proved tricky because Nicholson couldn't use a real axe but his fake one wouldn't "cut through the bathroom door".
Danny is now a college professor and the twins aren't acting either
The sisters found it hard to get into acting school after The Shining because they were listed as professionals. Lisa is a lawyer and Louise a scientist. Both still attend horror conventions worldwide to meet fans.