Wesley Snipes' first Blade movie is often credited as bringing back superhero movies from the brink of disaster.
In 1997, the film Batman & Robin was released by DC, and quickly made a name for itself as being one of the worst films of all time. Fortunately for comic book fans, Hollywood didn't give up on superheroes completely and the vampire action flick Blade just about made the light of day.
Backed by a then-struggling Marvel – who at the time had only released one other movie across the whole of America, the disastrous Howard the Duck - Wesley Snipes' hero managed to set the box office alight, spawning two sequels and setting the stage for the likes of X-Men and Spider-Man.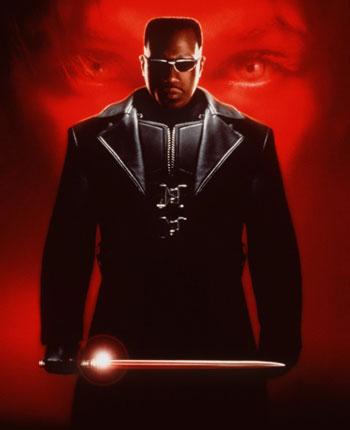 Snipes last appeared as Blade 11 years ago, in 2004, and is now reportedly in talks to star as the half-vampire once more, this time appearing alongside Iron Man, Captain America and Ant-Man in the Marvel Cinematic Universe.
Speaking to Deadline, the actor said he had "a really productive and a wonderful meeting [with Marvel] and we discussed a number of things."
Upcoming Marvel films
Upcoming Marvel films
1/10 In 2019: Inhumans

12 July 2019

2/10 In 2019: Avengers: Infinity War Part 2

3 May 2019

Marvel

3/10 In 2018: Black Panther

6 July 2018

Marvel

4/10 In 2018: Avengers: Infinity War Part 1

4 May 2018

Marvel

5/10 In 2017: Thor: Ragnarok

3 November 2017

Marvel

6/10 In 2017: Untitled Spider-Man

28 July 2017

Marvel

7/10 In 2017: Guardians of the Galaxy 2

5 May 2017

Marvel

8/10 In 2016: Doctor Strange

4 November 2016

Marvel

9/10 In 2016: Captain America: Civil War

6 May 2016

Marvel

10/10 In 2015: Ant-Man

17 July 2015

Marvel
Speaking about whether he could be expanding the Marvel universe in another way, he added: "I've always been a fan of these pieces and adaptations and I'd be nice to be a part of the family again.
"But if we don't to a Blade 4 or something else with Marvel, we'll do something else. We have some other characters and some other concepts that are going to be just as exciting and hopefully just as successful."
Many have suggested that Blade would be ideal for a TV series, perhaps alongside Daredevil on Netflix.
One idea that keeps popping up is that the hero may star in a miniseries alongside Ghost-rider, Moonknight and The Punisher as "The Midnight Sons" but none of this has been confirmed by Marvel.
Reuse content