When Will Smith declined the Independence Day sequel - in spite of a script having already been written centred around his character - the makers decided to unceremoniously bump off Steven Hiller in the small print of a promo website for the movie.
Was this a subtle jab at Smith,an oversight, or just laziness? We'll never know, but either way, Smith was a bit sad about it.
"It was terrible when I found out my character died," he told Yahoo!.
The film's War of 1996 website had previously stated:
'While test piloting the ESD's first alien hybrid fighter, an unknown malfunction causes the untimely death of Col. Hiller.
Hiller's valor in the War of '96 made him a beloved global icon whose selfless assault against the alien mothership lead directly to the enemy's defeat. He is survived by his wife Jasmine and his son Dylan.'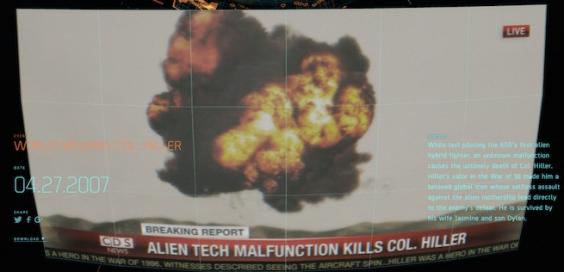 The report was accompanied by an image (above) of Hiller's fiery death.
Smith said he and Independence Day director Roland Emmerich had "talked about" his return, but Smith was busy "working on Suicide Squad" at the time.
In spite of his character's ignominious exit, Smith said: "The trailer looks really cool.
"I'm going to be sitting around with tears in my eyes when that one comes out." 
Independence Day: Resurgence opens in cinemas on 24 June, 2016.