Your first impression of Hans Rosenfeldt, as you crane your head up to try and catch his eye, is that he is as tall as a basketball player. A particularly big, bearish, bearded Swedish basketball player. Turns out he really did play basketball before creating The Bridge. So what you see is what you get. There is a frankness and directness about him that is entirely disarming and is reflected in one of Saga Noren's most famous lines: "Vill du har sex?" ("Do you want to have sex?") No irony, no games. Yes or no?
He also tried his hand at acting for several years before going into writing full-time. How did that go? "I was completely untalented," he says. "And I went into it for all the wrong reasons. I only wanted to be famous." Being well over two metres tall may have had something to do with it, I suggest. Bigger than Jack Reacher. Roles limited to either the Big Friendly Giant or… "No, it's just nobody wanted me on stage any more. They noticed I was bad. The only thing left was scripts and editing." Writing 318 episodes of a weekly soap opera, High Seas, and then a few original Wallanders, was a desperate last resort.
"I've done a few feature films too," Rosenfeldt says, knocking back a Diet Pepsi in the lounge of the Malmo's Master Johann hotel. "They're terrible."
He is also coming back to London soon for a second series of Marcella. Not so terrible.
I had gone from Copenhagen to Malmo over "the Bridge" – the 16 km-long Oresund Bridge connecting Denmark and Sweden – to meet Rosenfeldt and Sofia Helin, aka Saga Noren. The exciting news for all fans (and there are millions) is that they were both there to start shooting the fourth series of The Bridge.
"We never start filming till October or November," says Rosenfeldt. "And we have to stop around April, or May at the outside. This is Nordic noir, not green. We hate green. The weather has to be bleak and grey and cold. Probably with snow. We save up some interiors for when the weather is too nice or flowers start blooming." They like the trees to be bare, more like a Beckett play than a Wordsworth poem. No daffodils, please.
Malmo is actually a beautiful city. You wouldn't know it from the show; they only shoot the blandest or least attractive backdrops. The interiors are wonderfully glassy though. All those huge picture windows that someone is bound to be pushed out of one of these days.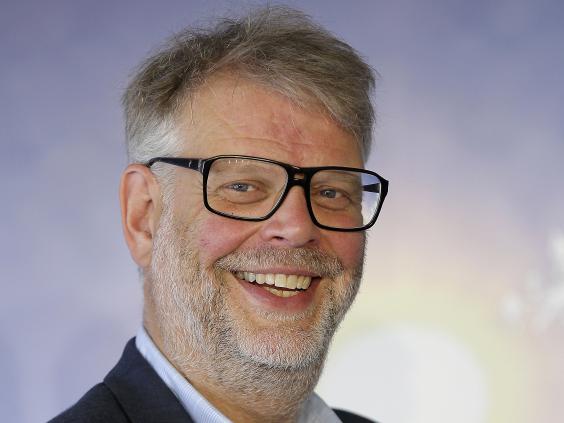 In the beginning, there were only two absolute givens. First, they had to come up with 10 hours of television. Second, it had to be a 50-50 Danish-Swedish co-production. OK, says Hans, in his straightforward no-messing-about way, why don't we wrap it around the Oresund Bridge? Easy. And then let's say we have a body, chopped in two, with the top half on this side of the border, and the legs on the other side – then we'd have to have a collaboration between police forces in both countries, right? Gruesome, but so simple it's genius.            
Of the two lead investigators, they started with the Danish guy, Martin Rohde, played by Kim Bodnia. They liked Bodnia because he had already played a lot of heavy dudes, mobster, hit-man, ruthless drugs kingpin and the like. So they wanted to turn him around and make him into a big cuddly teddy bear who loves everyone (maybe just a little too much from the point of view of his wife). Saga Noren was born as his exact counterpoint: cold, stiff, logical, insensitive, with no graces, an uncompromising truth-speaker on a par with Camus' Meursault – the outsider. She drives a Porsche 911, in contrast to his people-carrier.      
"We were playing a lot on national stereotypes," Rosenfeldt confesses. "We Swedes tend to see Danes as laid-back with a mañana mentality. They see us as sticklers and bureaucrats." Thus the primal scene in which Saga tries to book Martin for allowing an ambulance bearing a life-and-death case across the bridge when the police had closed it off. Rigidity versus fluidity, that was the essential dialectic. Strict conformity to the rule-book against loose, amiable, easy-going pragmatism. He has a family so she is a loner.           
The other classic encounter is when Martin goes over to Malmo police HQ and sets out the essentials of the case, as he sees it, to the assembled Swedish team. They all nod and smile and then finally say, "Do you think you could repeat that, a bit more slowly this time?" The show is fully bilingual: The Bridge is both Bron (Swedish) and Broen (Danish). Part of the joke of the series is that the Danes speak Danish and the Swedes speak Swedish and they pretend to understand one another. "It's a fiction," said Rosenfeldt. "If we did it properly half the show would be taken up by people going 'What?'. If you take a Dane and a Swede and put them in a room together, they'll listen to one another for about 30 seconds and then throw up their hands and switch to English." The subtitles are useful for Scandinavian natives too, not just English-speaking audiences. 
Culture news in pictures
Culture news in pictures
1/30 30 September 2016

An employee hangs works of art with "Grand Teatro" by Marino Marini (R) and bronze sculpture "Sfera N.3" by Arnaldo Pomodoro seen ahead of a Contemporary Art auction on 7 October, at Sotheby's in London

REUTERS

2/30 29 September 2016

Street art by Portuguese artist Odeith is seen in Dresden, during an exhibition "Magic City - art of the streets"

AFP/Getty Images

3/30 28 September 2016

Dancers attend a photocall for the new "THE ONE Grand Show" at Friedrichstadt-Palast in Berlin, Germany

REUTERS

4/30 28 September 2016

With an array of thrift store china, humorous souvenirs and handmade tile adorning its walls and floors, the Mosaic Tile House in Venice stands as a monument to two decades of artistic collaboration between Cheri Pann and husband Gonzalo Duran

REUTERS

5/30 27 September 2016

A gallery assistant poses amongst work by Anthea Hamilton from her nominated show "Lichen! Libido!(London!) Chastity!" at a preview of the Turner Prize in London

REUTERS

6/30 27 September 2016

A technician wearing virtual reality glasses checks his installation in three British public telephone booths, set up outside the Mauritshuis museum in The Hague, Netherlands. The installation allows visitors a 3-D look into the museum which has twenty-two paintings belonging to the British Royal Collection, on loan for an exhibit from 29 September 2016 till 8 January 2017

AP

7/30 26 September 2016

An Indian artist dressed as Hindu god Shiva performs on a chariot as he participates in a religious procession 'Ravan ki Barat' held to mark the forthcoming Dussehra festival in Allahabad

AFP/Getty Images

8/30 26 September 2016

Jean-Michel Basquiat's 'Air Power', 1984, is displayed at the Bowie/Collector media preview at Sotheby's in New York

AFP/Getty

9/30 25 September 2016

A woman looks at an untitled painting by Albert Oehlen during the opening of an exhibition of works by German artists Georg Baselitz and Albert Oehlen in Reutlingen, Germany. The exhibition runs at the Kunstverein (art society) Reutlingen until 15 January 2017

EPA

10/30 24 September 2016

Fan BingBing (C) attends the closing ceremony of the 64th San Sebastian Film Festival at Kursaal in San Sebastian, Spain

Getty Images

11/30 23 September 2016

A view of the artwork 'You Are Metamorphosing' (1964) as part of the exhibition 'Retrospektive' of Japanese artist Tetsumi Kudo at Fridericianum in Kassel, Germany. The exhibition runs from 25 September 2016 to 1 January 2017

EPA

12/30 22 September 2016

Jo Applin from the Courtauld Institute of Art looks at Green Tilework in Live Flesh by Adriana Vareja, which features in a new exhibition, Flesh, at York Art Gallery. The new exhibition features works by Degas, Chardin, Francis Bacon and Sarah Lucas, showing how flesh has been portrayed by artists over the last 600 years

PA

13/30 21 September 2016

Performers Sean Atkins and Sally Miller standing in for the characters played by Asa Butterfield and Ella Purnell during a photocall for Tim Burton's "Miss Peregrines Home For Peculiar Children" at Potters Field Park in London

Getty Images

14/30 20 September 2016

A detail from the blanket 'Alpine Cattle Drive' from 1926 by artist Ernst Ludwig Kirchner is displayed at the 'Hamburger Bahnhof - Museum for Contemporary Arts' in Berlin. The exhibition named 'Ernst Ludwig Kirchner - Hieroglyphen' showing the complete collection of Berlin's Nationalgallerie works of the German artist Ernst Ludwig Kirchner and will run from 23 September 2016 until 26 February 2017

AP

15/30 20 September 2016

A man looks at portrait photos by US photographer Bruce Gilden in the exhibition 'Masters of Photography' at the photokina in Cologne, Germany. The trade fair on photography, photokina, schowcases some 1,000 exhibitors from 40 countries and runs from 20 to 25 September. The event also features various photo exhibitions

EPA

16/30 20 September 2016

A woman looks at 'Blue Poles', 1952 by Jackson Pollock during a photocall at the Royal Academy of Arts, London

PA

17/30 19 September 2016

Art installation The Refusal of Time, a collaboration with Philip Miller, Catherine Meyburgh and Peter Galison, which features as part of the William Kentridge exhibition Thick Time, showing from 21 September to 15 January at the Whitechapel Gallery in London

PA

18/30 18 September 2016

Artists creating one off designs at the Mm6 Maison Margiela presentation during London Fashion Week Spring/Summer collections 2017 in London

Getty Images

19/30 18 September 2016

Bethenny Frankel attends the special screening of Disney's "Beauty and the Beast" to celebrate the 25th Anniversary Edition release on Blu-Ray and DVD in New York City

Getty Images for Walt Disney Stu

20/30 17 September 2016

Visitors attend the 2016 Oktoberfest beer festival at Theresienwiese in Munich, Germany

Getty Images

21/30 16 September 2016

Visitors looks at British artist Damien Hirst work of art 'The Incomplete Truth', during the 13th Yalta Annual Meeting entitled 'The World, Europe and Ukraine: storms of changes', organised by the Yalta European Strategy (YES) in partnership with the Victor Pinchuk Foundation at the Mystetsky Arsenal Art Center in Kiev

AP

22/30 16 September 2016

Tracey Emin's "My Bed" is exhibited at the Tate Liverpool as part of the exhibition Tracey Emin And William Blake In Focus, which highlights surprising links between the two artists

Getty Images

23/30 15 September 2016

Musician Dave Grohl (L) joins musician Tom Morello of Prophets of Rage onstage at the Forum in Inglewood, California

Getty Images

24/30 14 September 2016

Model feebee poses as part of art installation "Narcissism : Dazzle room" made by artist Shigeki Matsuyama at rooms33 fashion and design exhibition in Tokyo. Matsuyama's installation features a strong contrast of black and white, which he learned from dazzle camouflage used mainly in World War I

AP

25/30 13 September 2016

Visitors look at artworks by Chinese painter Cui Ruzhuo during the exhibition 'Glossiness of Uncarved Jade' held at the exhibition hall 'Manezh' in St. Petersburg, Russia. More than 200 paintings by the Chinese artist are presented until 25 September

EPA

26/30 12 September 2016

A visitor looks at Raphael's painting 'Extase de Sainte Cecile', 1515, from the Uffizi Gallery in Florence during the opening of a Raphael exhibition at the Pushkin State Museum of Fine Arts in Moscow, Russia. The first Russian exhibition of the works of the Italian Renaissance artist Raffaello Sanzio da Urbino includes eight paintings and three drawings which come from Italy. Th exhibit opens to the public from 13 September to 11 December

EPA

27/30 11 September 2016

Steve Cropper and Eddie Floyd perform during Otis Redding 75th Birthday Celebration - Rehearsals at the Macon City Auditorium in Macon, Georgia

Getty Images for Otis Redding 75

28/30 10 September 2016

Sakari Oramo conducting the BBC Symphony Orchestra, the BBC Symphony Chorus and the BBC Singers at the Last Night of the Proms 2016 at the Royal Albert Hall in London

PA

29/30 9 September 2016

A visitor walks past a piece entitled "Fruitcake" by Joana Vasconcelo, during the Beyond Limits selling exhibition at Chatsworth House near Bakewell

REUTERS

30/30 8 September 2016

A sculpture of a crescent standing on the 2,140 meters high mountain 'Freiheit' (German for 'freedom'), in the Alpstein region of the Appenzell alps, eastern Switzerland. The sculpture is lighted during the nights by means of solar panels. The 38-year-old Swiss artist and atheist Christian Meier set the crescent on the peak to start a debate on the meaning of religious symbols - as summit crosses - on mountains. 'Because so many peaks have crosses on them, it struck me as a great idea to put up an equally absurd contrast'. 'Naturally I wanted to provoke in a fun way. But it goes beyond that. The actions of an artist should be food for thought, both visually and in content'

EPA
Spoiler alert: I am about to give away the ending of the fourh series, because Rosenfeldt gave it away to me, so I am just passing it on. If you don't want to know, look away now. 
The fact is that it has an ENDING. It really really ends. The last episode is the last. There are no loose ends. "This is the fourth and final series," says Rosenfeldt. That's it. That's my revelation. Make of it what you will. There will be closure, of some kind. Rosenfeldt, being the straight-shooter he is, actually wanted to reveal all, but I think he might have been chopped up and dumped on the Bridge if he had. Danish-speaking Henryk (Thure Lindhardt) is still in there, by the way, the nice guy with the hallucinatory wife and ghost children. And maybe Saga has evolved just a little, and loosened up, having learnt to lie when absolutely necessary 
Rosenfeldt heads off with his co-writer Camilla Ahlgren (she is technically "script editor") to do some rewrites. As soon as the coast is clear, I take a sly selfie with Sofia Helin, as fine and fragile and sharply etched as a snowflake. I'm kind of star-struck, but I manage to get over it mainly on account of her not being some semi-supernatural silver-screen goddess but more of a real but cool-looking intellectual and feminist who wants to take over from Rosenfeldt. Hans, I just thought I should warn you: she wants your job 
I mean, on top of the acting. She isn't giving that up. Big sigh of relief. She was drawn to The Bridge by "the poetry of the thing". She wasn't that into Lisbeth Salander (in Stieg Larsson's Millennium trilogy). Her unadorned look in The Bridge was largely driven by a simple fact: at the time the whole thing kicked off, she was carrying her one-year-old daughter around with her. She didn't want to have to fuss too much over make-up. So they agreed on straight hair, shoulder-length, more or less uncombed, absolute minimum of face-paint. Her face is, in effect, naked, tough yet vulnerable, with everything visible on the surface, scars and all. She doesn't know about lying and covering up and disguising anything. She just has a soft spot for tight leather trousers (she has got through about three pairs and I believe there are some hanging in the Malmo museum).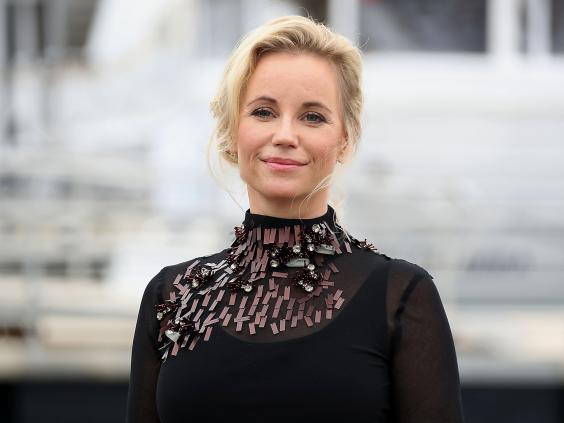 It should be noted that the name "Saga", having been something of a rarity in Sweden, has now shot up into the top 10. If I had a daughter I would probably want to call her Saga too. It's like she has encapsulated and supplanted the old Viking-style sagas in which everyone was called Snorri or Håkon. Big improvement.
Helin studied philosophy at university and she still speaks like a philosopher and is a voracious reader, happy to debate Wittgenstein or Sartre. She is prone to self-doubt. "I often feel lost in my life. And I think I'm a useless individual and I don't do anything properly. I keep on failing. I'm from the country and there you have to be doing something useful, build a house or be a farmer or doctor. And then I tell myself: I'm a storyteller. This is what I do. And people need stories like they need food."
Back in April, Helin had this Big Idea for a story she wanted to tell. She did some research and made some calls and went into seclusion with three other Swedish actresses over the summer, and together they worked up her original synopsis into the Project. This is all I know about the Project. First, it's "definitely Nordic, definitely noir". Second "it's going to be very dark". Third, it begins with sexual violence. And, I would guess, it's going to be huge. Swedish television is now casting around for international partners to finance it. I don't think they'll be flying solo for very long.
Sofia Helin, although sworn to secrecy, gives a number of clues about the way this deeply noir project will work. Scandinavian geography and climate and cosmology play a big part. "We are all like two different people, depending on whether it's winter or summer. We are in the darkness and then we see the light." She likes the cold and the dark and gets uncomfortable if she has to be in warm, sunny climates for too long. 
She dismisses the binary divide between good guys and bad guys as too simplistic. "The most important thing that inspired me was the idea of telling a story where you can't say who is good and who is bad. The evil is within you. That is the philosophy. You can't say to yourself: 'I could never have done that.' Then it gets scary. Because we are all capable of good and bad."
Gender issues are definitely a factor. "Women here in Sweden, we are really very lucky. Because we get child support from the state that enables us to have a career as well as being mothers. It's more equal here. Of course we still have to struggle, but in other places it's men who lose out. Here you see lots of fathers strolling around with kids. So many more men commit suicide because they can't address their feelings."
And there is a global politics at stake in the Project. "In Sweden I fear at the moment that we are going more towards thinking of us as the good guys, us and them, insiders and outsiders." She notes that a Swedish neo-Nazi party is growing in popularity, set to become the third largest.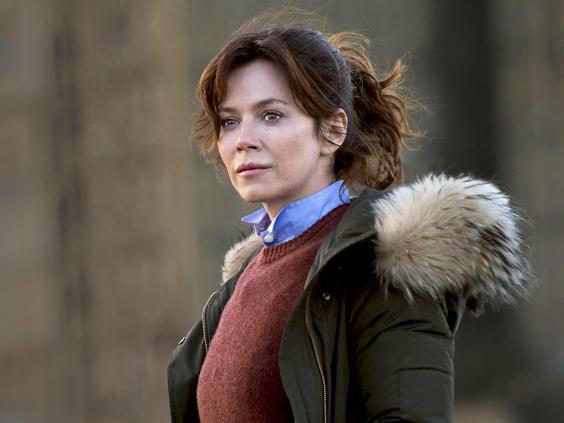 So the Project is personal, political, and philosophical. Everything gets in there, but all tightly wrapped up inside the noir form, like a sonnet or a haiku. "I like the constraints," Helin says. "It has to be a great thriller, but it has to ask these existential questions." 
She has recently returned from filming The Snowman with Michael Fassbender, in Norway. Which is exactly where I'm going next. Further north, to the land of the midnight sun and darkness at noon and blood on snow – and Scandinavia's biggest-selling noir-monger, Jo Nesbo.
Next week, continuing his quest into the heart of Nordic noir, Andy Martin heads to Norway to meet Jo Nesbo, master of the genre and author of 'The Snowman'
Andy Martin is the author of 'Reacher Said Nothing: Lee Child and the Making of Make Me' (Bantam Press, RRP £18.99)
Reuse content