"Oh, my God. Thank you. Thank you. Thank you to the Academy. I don't think I'm capable of articulating quite how I feel right now. Please know this, I am fully aware that I am a lucky, lucky man.
"This Oscar—wow!—this Oscar, this belongs to all of those people around the world battling ALS. It belongs to one exceptional family: Stephen, Jane, Jonathan and the Hawking children.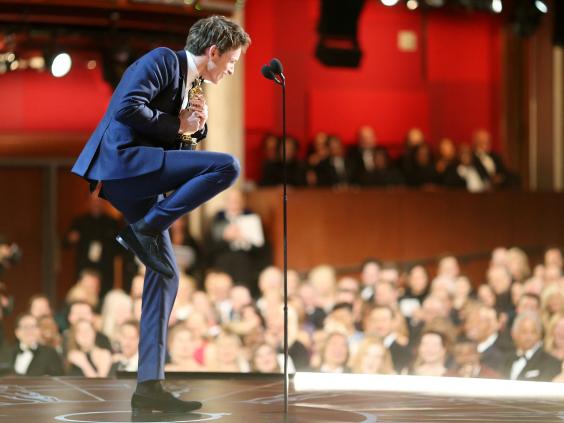 "I will be its custodian and I will promise you I will look after him. I will polish him. I will answer his beck and call. I will wait on him hand and foot.
Funny pictures from the Oscars 2015
Funny pictures from the Oscars 2015
1/25 Oscars 2015

So relieved (apparently) at having got her name right, John Travolta decides he'll hold onto Idrina Menzel's chin. Charming

Getty

2/25 Oscars 2015

Emma Stone doesn't seem to be puckering up towards Julianne Moore quite as enthusiastically as her Crazy Stupid Love onscreen mum

Getty

3/25 The Oscars 2015

Neil Patrick Harris adjusting his underpants

Getty

4/25 The Oscars 2015

T.J. Miller getting a little over-excited

Getty

5/25 The Oscars 2015

Jessica Chastain appears to receive an accidental pat on the boob from Emmanuel Lubezki

Getty

6/25 The Oscars 2015

We're not sure what's going on here but Kevin Hart and Eniko Parrish don't look impressed

Getty

7/25 The Oscars 2015

Anna Faris gets a hand holding the weight of her dress from Chris Pratt

Getty

8/25 The Oscars 2015

John Legend looks composed as Chrissy Teigen pulls a funny face

Getty

9/25 The Oscars 2015

Neil Patrick Harris and Anna Kendrick are open-mouthed with awe at their opening number

Getty

10/25 The Oscars 2015

Ethan Hawks reveals that even the most handsome actors be seen from a bad angle

Getty

11/25 The Oscars 2015

Nicole Kidman and Keith Urban practise their best hair shakes for the cameras

Getty

12/25 The Oscars 2015

Something made you chortle, Julianne Moore?

Getty

13/25 The Oscars 2015

John Legend helps Chrissy Teigen with her dress - Oscar seems to have grabbed hold of it!

Getty

14/25 The Oscars 2015

It's not that bad Alejandro Gonzalez Inarritu...you won, right?

Getty

15/25 Oscars 2015

Rita Ora appears worried about her performance

Getty

16/25 Oscars 2015

Naomi Watts has a point

Getty

17/25 Oscars 2015

Eddie Redmayne is so happy to have won best actor he is damned if anyone is going to try and take it off him - he'll hug it to himself standing on one leg for extra protection

Getty

18/25 Oscars 2015

Michael Keaton seems to be telling David Oyelowo that he dropped his glasses - but David is too busy posing with his wife Jessica

Getty

19/25 Oscars 2015

Oh no, wait, they weren't David's glasses after all

Getty

20/25 Oscars 2015

Eddie Redmayne can't seem to fit his new gong in his pocket. Maybe stuffing it up his sleeve might work better?

Getty

21/25 Oscars 2015

Jared Leto wins the award for best beard at this year's ceremony

Getty Images

22/25 Oscars 2015

Rita Ora said she hired a bodyguard because she was borrowing so many diamonds - but it looks like she needed on to carry her skirts

Getty

23/25 Oscars 2015

Questlove tries to win the Oscars selfie of 2015 award

Getty

24/25 Oscars 2015

He gets a few friends involved

Getty

25/25 James Lucas

Getty
"But I would not be here were it not for an extraordinary troupe of people. My staggering partner in crime, Felicity Jones. My ferocious and yet incredibly kind director, James Marsh. Working Title, Focus, Lisa and Anthony, Nina and my ingenious team of Dallas, Josh, Gene, Jason, Elan, Carl, Britney and Carrie and Pip.
"Now, finally, please, this is so extraordinary. I just want to thank my family and you, Hannah, my wife. I love you so much. We have a new fellow coming to share our apartment. Thank you."