Alan Rickman sits in the director's chair for the first time since 1997's The Winter Guest in this period drama about landscape architects falling in love while designing the gardens surrounding the Palace of Versailles.
It's a curiosity that starts out with all the tropes of a comedy before blooming (or more accurately drooping) into being a melancholic look at grief.
All served to the backdrop of a very unconvincing romance between Kate Winslet and Matthias Schoenaerts.
It takes some doing to waste the talents of two of Europe's finest actors.
It all starts off so promisingly. There is some beautiful camera work, highlighting the trees and flowers with an expressionistic framing that screams out romance. The language and dialogue is floral.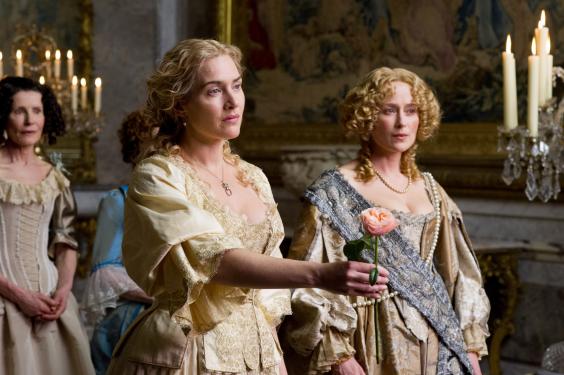 It's Paris, 1862, and we are at the court of King Louis XIV (Rickman himself) who wants to build a garden at Versailles to showcase the grandeur of France.
He's commissioned the country's top gardener for the job, the sullen André Le Nôtre, famous for his geometric designs, but also warned that he faces the guillotine should his work not be up to scratch. No pressure then. 
Versailles is such a big job that he needs to employ some senior staff to take care of some of the smaller areas, such as the fountain, and it's at a job interview that he meets Sabine De Barra (Winslet), who has submitted organic designs, completely at odds with the expected and traditional standard. Given that she's a woman to boot, the interview lasts precisely three minutes. Unfortunately the film is much, much longer.
It's France, so wedding rings are just a sign that you're an adulterer. The king's mistress has four wives. The Duke of Orléans (a camp Stanley Tucci) is in the throes of a passionate homosexual affair, and the wife of Le Nôtre (a villainous Helen McCrory) is also partial to the odd screen kiss with other men. The only chaste person seems to be De Barra, who often seems like she's arrived from another, more mundane movie. It's monogamy and depression that seems to represent the modern woman here.
As a director, Rickman reveals himself to be a fan of Bollywood, how else is it possible to explain why he has at least four different genres clashing against each other, occasionally in the same scene. There is even a random song and dance thrown in for good measure.
The biggest fault is the attempt to create sparks from a relationship between a sullen man and an unhappy woman. Worse still, the romance seems to take place off-screen, with barely a hint of the couple being destined to fall in love. Indeed when it's first revealed they have kissed and spent the night together, it's in a conversation that takes place after the event. There is zero screen chemistry between Winslet and Schoenaerts.
There is one good Shakespearean set piece when de Barra crosses paths with King Louis XIV and initially mistakes him for a gardener. Here Rickman manages to hit the right tone and achieve a good balance between comedy, drama and narrative. It serves to highlight what might have been. 
Toronto has a tradition of picking disappointing films for its opening and closing night galas, and this keeps within that trend.
There was a 17 year gap between Rickman's first and second film and on this evidence it's easy to see why. While he can get performances out of the actors, he lacks command of pacing and plot.
Reuse content