Brooklyn
Brooklyn, film review: Saoirse Ronan blossoms on a fantastic journey
(12A) John Crowley, 112 mins. Starring: Saoirse Ronan, Domhnall Gleeson, Michael Zegen, Emory Cohen, Julie Walters
5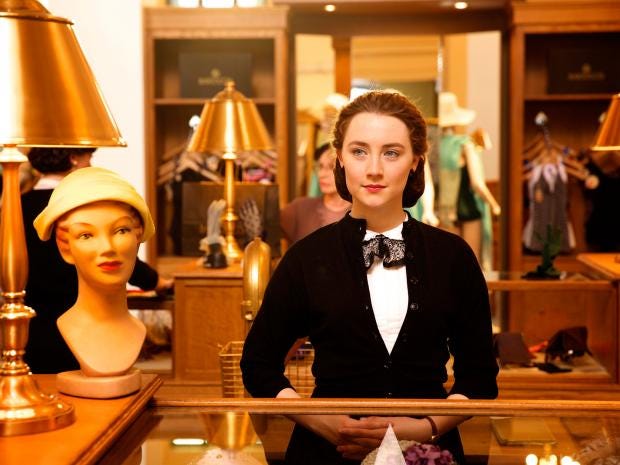 There have been many films about immigrants coming to America and quite a few about the experiences of the Irish and Italians in New York. John Crowley's new feature approaches what seems like familiar material in an original and very delicate way. It is the antithesis of all those movies in which the newcomers vie for dominance of the streets, bootlegging, forming gangs and mugging cops. At the same time that the film celebrates the brashness and optimism of American life as encountered by the immigrants, it is also alert to the homesickness they feel for the country they have left behind.
Saoirse Ronan, who must be among the front-runners for the Best Actress Oscar, gives a remarkable performance as Eilis Lacey, a young woman who moves from small-town Ireland to New York. In the process, she undergoes a transformation. The dour, plain-looking and fearful gamine of the early scenes soon blossoms into a confident, self-reliant and glamorous 1950s American. She wears sunglasses, eats candy floss and looks good in a bathing suit on Coney Island. She thinks like an American, knowing exactly where she is going.
Ronan captures brilliantly her character's strange mix of vulnerability and steeliness. Her Eilis manages to maintain her dignity when throwing up into a fire bucket during a stormy Atlantic crossing. Early on, Crowley incorporates frequent close-ups of her face. She seems a reticent and passive figure but Ronan is still able to hint at her contradictory emotions.
Culture news in pictures
Culture news in pictures
1/30 27 May 2016

An image of an indigenous Australian man is projected onto the sails of the Sydney Opera House during the opening night of the annual Vivid Sydney light festival in Sydney

Reuters

2/30 26 May 2016

A woman walks on steps lined with plastic cups, an art project of four college students, in Wuhan, China

Reuters

3/30 25 May 2016

A view of the Pyramid of the Louvre museum covered with a gigantic black and white trompe l'oeil photo of the Louvre building by French artist JR in Paris. The exhibition 'Contemporary art JR at the Louvre' runs from 25 May to 27 June

EPA

4/30 24 May 2016

Artist paints a reproduction of one of the vincent Van gogh's painting for the 'Loving Vincent' film in Wroclaw, Poland. 'Loving Vincent', the world's first fully painted animation feature film, will be about the life and death of the Dutch famous painter Vincent van Gogh

EPA

5/30 23 May 2016

John Oliver, Jimmy Fallon and Jennifer Lawrence during a taping of "The Tonight Show Starring Jimmy Fallon" in New York City

Getty Images

6/30 22 May 2016

French Moroccan director Houda Benyamina (C) poses with the Camera d'Or next to actresses Jisca Kalvanda (L), Oulaya Amamra (2ndL) and Deborah Lukumuena (R) at the Palme D'Or Winner Photocall during the 69th annual Cannes Film Festival

Getty Images

7/30 21 May 2016

Swedish artist Andreas Englund signs one of his murals at the Urban Nation museum for urban contemporary art, in Berlin

Getty Images

8/30 20 May 2016

(L-R) Autor Tom Brokaw, Legion of Honor's Grand Chancellor General Jean-Louis Georgelin, Actor Tom Hanks, Ambassador of USA in France, Jane D. Hartley and Doctor Gordon "Nick" Mueller attend Tom Hanks, Tom Brokaw & Gordon "Nick" Mueller receive the Legion d'Honneur Medal at Palais de la Legion d'Honneur in Paris

Getty Images

9/30 19 May 2016

Visitors study work by Tod Papageorge in the gallery areas at the "Photo London 2016" event at Somerset House in central London. Featuring work from some of the world's most respected photographers, the event is aiming to put London on the map as the global city of photography

Getty Images

10/30 18 May 2016

A view of the building that will house planned Urban Nation - Museum for Urban Contemporary Art in Berlin. The street art museum is scheduled to open in 2017

EPA

11/30 17 May 2016

Kate Morais looks at the 'Colossal statues of a king and a queen' (283-246 BC) - which are reflected in a display cabinet glass - which stand over five meters tall during a preview of the 'Sunken Cities: Egypt's Lost Worlds' exhibition at the British Museum in London. This is the museum's first large scale exhibition of underwater archaeological finds and tells the story of two lost Egyptian cities and their recent discoveries beneath the Mediterranean, excavated off the coast of Egypt near Alexandria between 1996 and 2012

Getty Images

12/30 16 May 2016

Kurt Cobain's Univox electric guitar played and destroyed by Cobain at Nirvana's 13 July 1989 concert at Maxwell's in Hoboken, New Jersey is displayed during Julien's Auction Music Icons Press Exhibition at Hard Rock Cafe, Times Square in New York City

Getty Images

13/30 15 May 2016

Cast of the "From The Land Of The Moon (Mal De Pierres)" attend the premiere during the 69th annual Cannes Film Festival at the Palais des Festivals

Getty Images

14/30 14 May 2016

Jamala representing Ukraine with the song "1944" celebrates with the trophy after winning the final of the Eurovision Song Contest 2016 Grand Final in Stockholm

Getty Images

15/30 13 May 2016

A mural on a restaurant wall depicting US Presidential hopeful Donald Trump and Russian President Vladimir Putin greeting each other with a kiss in the Lithuanian capital Vilnius. Kestutis Girnius, associate professor of the Institute of International Relations and Political Science in Vilnius university, said: "This graffiti expresses the fear of some Lithuanians that Donald Trump is likely to kowtow to Vladimir Putin and be indifferent to Lithuanias security concerns. Trump has notoriously stated that Putin is a strong leader, and that NATO is obsolete and expensive"

Getty Images

16/30 12 May 2016

People visit the artwork titled Seven Magic Mountains by artist Ugo Rondinone, near Jean, Nevada. The artwork was recently completed in the desert south of Las Vegas

AP

17/30 11 May 2016

Justin Timberlake attends the "Trolls" Photocall during The 69th Annual Cannes Film Festival

Getty Images

18/30 10 May 2016

Curator Ben Russell poses with a 2.4 meter robot called Cygan, built in 1957, on display at the Science Museum before announcing a new robot exhibition for 2017

Getty Images

19/30 9 May 2016

A Palestinian artist paints a graffiti on a wall of the United Nations school of Beit Hanun, in the northern Gaza Strip

Getty Images

20/30 8 May 2016

Jon Snow collects the award for best news coverage on behalf of Channel 4 during the House of Fraser BAFTA TV Awards 2016 at the Royal Festival Hall in London

PA

21/30 7 May 2016

Illustration View of the 'Empires' exhibition of Huang Yong Ping as part of Monumenta 2016 to Grand Palais from 8 May till 18 June 2016

Getty Images

22/30 6 May 2016

People, including Russian servicemen, attend a concert of Mariinsky Theatre in the amphitheatre of the Syrian city of Palmyra, Syria

Reuters

23/30 5 May 2016

A child looks at an artwork titled 'Bi-lateral Relations' by Uruguay artists Fernando Foglino and Valentina Cardellino during the Latin America and Caribbean Art Festival Visual Art Exhibition 2016 at the World Art Museum of the China Millennium Monument in Beijing. The exhibition runs until 26 May, and is part of joint activities to mark the China-Latin America and Caribbean Cultural Exchange Year

EPA

24/30 4 May 2016

(L-R) David Furnish, Lady Gaga and Macy's CEO Terry J. Lundgren attend Love Bravery by Lady Gaga and Elton John Launch at Macy's Herald Square in New York City

Getty Images

25/30 3 May 2016

The Hofburg palace is illuminated by a projection of Viennese artist Viktoria Coeln for the project Dystopia Eutopia in Vienna, Austria

AP

26/30 2 May 2016

A visitor looks at paintings by Yemeni female artists displayed at a gallery during an exhibition entitled Women Creativity for Peace in the capital Sanaa

Getty Images

27/30 1 May 2016

A man looks at an art piece during the Oshtoora festival in an open desert north Fayoum, Egypt. Oshtoora festival, or "A temporary sate," is held only once a year in a different locations within Egypt. The festival is based on expression of music, arts, and cultures in an open natural environment

AP

28/30 30 April 2016

Actress Lupita Nyong'o attends "Eclipsed" To Launch A Dedications Series In Honor Of Abducted Chibok Girls Of Northern Nigeria at Golden Theatre in New York

Getty Images

29/30 29 April 2016

Kabuki actor Shido Nakamura (in red) performs in a final dress rehearsal for the kabuki theatre show 'Hanakurabe Senbonzakura' in Tokyo, Japan. The latest digital technology kabuki theatre piece 'Hanakurabe Senbonzakura' is part of the Niconico Chokaigi festival in Tokyo. The festival was organized by video website Niconico, combining Kabuki, a traditional Japanese theatre art and cutting edge animation technology, co-starring kabuki superstar Shidou Nakamura and the popular virtual idol Hatsune Miku

Getty Images

30/30 28 April 2016

Members of the Australian ballet perform in the scene from "Scent of the Love" during the dress rehearsal for the national premiere of Symphony in C that comprises of five short ballet works at the Opera House in Sydney

Getty Images
Nick Hornby's screenplay, adapted from Colm Tóibín's novel, makes subtle points about love, loyalty and national identity. The small-town Ireland which Eilis leaves behind and then begins to yearn for is grim. There is nothing for her there. She had a badly paid, part-time job in a grocery store run by the shrewish Miss Kelly (Bríd Brennan), who overcharges for stale bread and relishes humiliating her staff and customers alike.
The modern world has barely reached this pinched community. Eilis' free-spirited sister Rose (Fiona Glascott) and her mother are all that keep her in Ireland. Even so, when the opportunity comes to leave, it is a tremendous wrench. New York seems as distant and strange as another planet to the young woman. "They say it is hotter there in the summer and colder in the winter," she is told of this faraway place.
Crowley is very good at filming moments of departure. When Eilis is aboard the ship to New York, there is no need for lengthy dialogue to spell out the characters' emotions. Their feelings are obvious in their faces as they blow kisses to one another. They miss each other intensely – and yet, as they get on with their lives, the pain of separation diminishes. As one character points out to Eilis, homesickness is like most sicknesses. She gets over it more quickly than she could ever have anticipated. In some respects, the Brooklyn that Eilis encounters is not so different from Ireland. The boarding house in which she is living is like an outpost of the country, presided over by the caustic but humorous Mrs Kehoe (Julie Walters). Her fellow lodgers are single women, in a similar predicament to herself. Her main contact is Father Flood (Jim Broadbent), a kind-hearted Irish-American priest. When she does charity work at Christmas, she encounters elderly Irishmen who sing piercing, heart-rending songs about the land they left behind.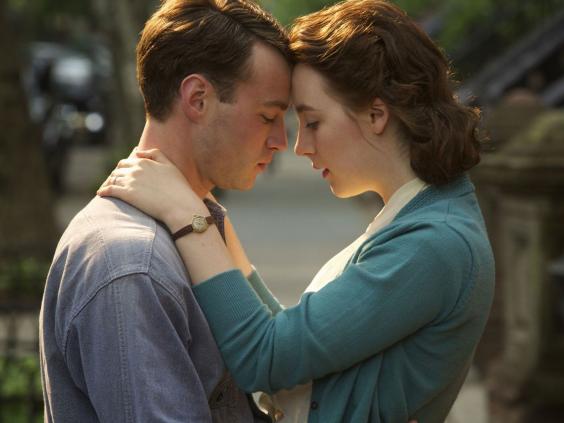 Taking its tone from Eilis, the film starts in a quiet and understated fashion. The approach changes once she is in New York. As she begins to wear rouge and mascara, the colours in the film start to brighten and the narrative style loosens up. The budding romance between Eilis and tongue-tied, angel-faced Italian-American plumber Tony (Emory Cohen) is portrayed in gentle but comical fashion. Eilis's worldly wise lodgers give her a crash course in how to eat spaghetti. Tony's family, in particular his precocious brother, eye her with grave suspicion. It is made apparent that New York's Italian and Irish communities don't mix at all.
The Eilis who arrives in New York looking as forlorn as Paddington Bear on his first day in London gradually blossoms. She is educated, reliable and hard-working. In time-honoured fashion, she studies at night school to better herself while working by day as an assistant in a department store.
The complication comes when Eilis, with her New York style and confidence, returns to Ireland. The place that had seemed so oppressive when she left is transformed. With her new-found optimism, she begins to see the best in the country. Even the rugby-playing Irish men in their blazers appear more attractive to her. "Ireland must seem very backward to you now," the strapping young Jim (Domhnall Gleeson) tells her, but the reverse is the case.
Brooklyn is a deceptive affair. In spite of the pared-down style and Ronan's unfussy performance, the film is touching on complex and contradictory feelings. Eilis keeps secrets that she shouldn't. Her loyalties to family, lovers and different countries are in conflict.
Many moments in the film could have seemed horribly maudlin. We see characters at gravesides, talking to their departed loved ones. There are soft-centred courtship scenes and sequences dealing with heart-rending farewells. The film-makers approach these moments in such quiet and thoughtful fashion that the sentimentality never becomes cloying. It helps that there is a strain of wry, deadpan humour running throughout the film.
You wouldn't have thought that there would be anything new to say in a movie about an immigrant in New York. The real achievement of Brooklyn is that it feels so fresh and original even as it retreads pathways so many other film-makers have already ventured down.
Comments