It's the proudest day of Reggie Kray's life. He is standing in the church, waiting for his young bride Frances to walk down the aisle. His brother Ronnie is alongside him. The bespectacled Ronnie is a little taller and more thickset than his brother. They are identical twins but we can easily tell them apart.
This is a scene from midway through Brian Helgeland's new film. What makes the scene - and the film - so startling is that both Reggie and Ronnie are played by the same actor, Tom Hardy.
Hardy gives an utterly fascinating performances in his dual role. His Ronnie is menacing, psychotic but also comic. He can be every bit as intimidating as the actor's uber-villain Bane in The Dark Knight Rises but he also chatters away like Peter Cook gossiping with Dudley Moore in the pub in one of his Derek and Clive sketches with Dudley Moore. "I'm 'omosexual," he tells his brother's startled fiancée the first time he meets her in what passes with for small talk.
Oscars predictions
Oscars predictions
1/16 Carol

Cate Blanchetts next movie was first tipped as an Oscars contender at Cannes, where it received glowing reviews and won her co-star Rooney Mara the Best Actress gong. Both actresses are early favourites. as is the film itself, about a woman in a loveless marriage who sparks a connection with a 20-something department store clerk. Features a stellar score, too.

Press handout

2/16 The Revenant

Not just any film, but the film that might just prove seventh time lucky for Leonardo DiCaprio. 'Poor Leo' has been nominated again and again without taking home a golden man but, as a 19th century fur trapper hellbent on revenge, he'll be hoping for glory next February. Last year's Best Director Alejandro Gonzalez Inarritu is behind the camera and the first trailer looks gritty and awesome.

20th Century Fox

3/16 Joy

Jennifer Lawrence is set to be back in the front row at next year's ceremony with a nomination for Joy. The previous Best Actress winner plays a single mother turned multi-millionaire businesswoman in David O'Russell's biopic of Miracle Mop creator Joy Mangano. Out at Christmas, just in time for peak Oscars buzz.

20th Century Fox

4/16 Everest

Baltasar Kormákur's disaster thriller about the 1996 Mount Everest Disaster is set to open Venice next month, where previous titles selected to kick off the film festival have included Oscar winners Birdman and Gravity. The star-studded cast also bodes well for what looks set to be one of the biggest films of the autumn, including Jake Gyllenhaal, Keira Knightley, Emily Watson, Robin Wright, Josh Brolin and Sam Worthington.

5/16 Steve Jobs

This film may be somewhat infamous for all its problems en route to the cinema, but with Danny Boyle in the director's chair it's finally making waves. Michael Fassbender plays late tech pioneer Jobs while Seth Rogen is Apple co-founder Steve Wozniak. Yet another biopic, but the Academy does love them.

Universal Pictures

6/16 The Danish Girl

Eddie Redmayne returns in another challenging role as pioneering transgender artist Lili Elbe, who became the first man to undergo gender reassignment surgery. The 33-year-old Brit won last time around for his performance as Stephen Hawking in The Theory of Everything and was so excited then that we're not sure he could actually cope with the ecstasy of triumphing twice.

Working Title/Universal Pictures

7/16 Legend

Tom Hardy is playing not one but both Kray twins in this mobster biopic about notorious gangsters Ronnie and Reggie, who ran an organised London crime ring in the Sixties. Surely that deserves some Academy credit?

8/16 Son of Saul

A sure-fire hit in the foreign language category after winning the Grand Prix at Cannes, Son of Saul focuses on the Holocaust in a uniquely horrifying way. The story is told through the eyes of a Hungarian-Jewish prisoner who works in Auschwitz burning bodies after gas chamber extermination and is intent on giving his dead son a proper burial. This is the first film from director Laszlo Nemes, who could well leave Los Angeles with an Oscar or two next year.

9/16 Inside Out

Lego Movie fans were less than impressed when the film was snubbed at the Oscars last year, but there's little doubt Inside Out will not suffer the same fate. The clever Pixar movie about the inner workings of the mind is already the animated film of the year, winning five star accolades from a number of critics. The 'children's film' succeeds in appealing to viewers of all ages, from under-10s to adults brushing up on Freudian displacement.

Pixar

10/16 Black Mass

Warner Bros is touting this crime drama as a definite awards season favourite. Following the recent trend for biopics, the film is based on the true story of violent American criminal Whitey Bulger, who became an FBI informant. Johnny Depp stars as Bulger, and - should the Oscars campaigning pay of - this could be the film that turns his career around after a series of box office flops

Warner Bros

11/16 Macbeth

Michael Fassbender stars as Shakespeare's Scottish King in this thrilling, blood-spattered adaptation directed by Justin Kurzel. Marion Cotillard appears alongside the Irish-German actor as Lady Macbeth in the film, which was selected to compete for the Palme d'Or at Cannes. The movie shares the same producers as The King's Speech and Shame.

12/16 Sufragette

Expect uproar from feminist campaigners if this film doesn't get any Oscar nominations. Directed by Sarah Gavron (a rare female director) and based on a screenplay by Abi Morgan, the movie - as the title suggests - follows the early members of Britain's women's suffragette movement. Meryl Streep, who starred in Morgan's The Iron Lady, returns to play another historic British woman, Emmeline Pankhurst, while Carey Mulligan, Anne-Marie Duff, Helena Bonham Carter, Romola Garai and Ben Whishaw also star.

13/16 Snowden

Oliver Stone's political thriller brings to life the recent news story about American computer professional Edward Snowden's decision to leak classified information from the NSA to the Guardian in 2013. Based on The Snowden Files by Guardian journalist Luke Harding, the film sounds promising, but whether teen movie favourite Joseph Gordon-Levitt can give a convincing performance as Snowden will be up to the critics to decide.

14/16 In the Heart of the Sea

Chris Hemsworth takes on a huge whale in Ron Howard's ocean-based drama about the true story of a whaling ship attacked by a whale in 1820. Warner Bros clearly backs it, moving its release date from March to peak-awards season in December and the trailer suggests we're in for a stormy ride at sea.

Warner Bros

15/16 Jurassic World

We're not predicting this one to make a showing in the acting categories, but Colin Trevorrow may be in for a shot as Best Director. This blockbuster scored the highest opening of any movie ever earlier this year, and is tipped to pick up some gongs for visual effects and sound editing.

16/16 The Lady In The Van

Could an adaptation of an obscure-sounding Alan Bennett story win over US Academy voters? British films have fared well across the pond in recent years (The Imitation Game, The Theory of Everything and The King's Speech to name a few), which could give Nicholas Hytner's movie a boost. Starring Maggie Smith (and we all know how much Americans love Downton), Dominic Cooper and James Corden, this charming film deserves a look in.
Reggie, meanwhile, is dapper, very soulful when he is sharing lemon sherbets with the beautiful young Frances (Emily Browning) but calculating when violence is called for. We see a couple of examples of his notorious "cigarette" punch. As John Pearson's book, The Profession Of Violence, on which the film is loosely based, explains, this was when Reggie would offer someone a cigarette and then, as the man opened his mouth to take it, would hit him on the side of the jaw. ("An open jaw will fracture easily," Pearson explains Reggie's thinking.)
Legend is a biopic on a very lavish scale. The characters are British, the setting is London in the 1960s, but the film has the feel of an American gangster epic. It takes a mythologising and, at times, absurdly romantic, approach to its low-life heroes. In spite of the bloodletting and violence, it is a very glossy film, beautifully shot in luxuriant widescreen colour by cinematographer Dick Pope (fresh from Mr Turner, his biopic of artist J.M.W Turner) and with plenty of Burt Bacharach on the soundtrack.
In a bust-up in an East End pub in which Ronnie and Reggie are using hammers and knuckledusters, you can't help but notice the incongruously artful way that Pope uses daytime light. In another scene, as we see the twins' dour policeman nemesis Leonard "Nipper" Reid (a scowling Christopher Eccleston) prowling through the alleyways of the East End, Pope makes Bethnal Green as mysterious and labyrinthine as the Casbah.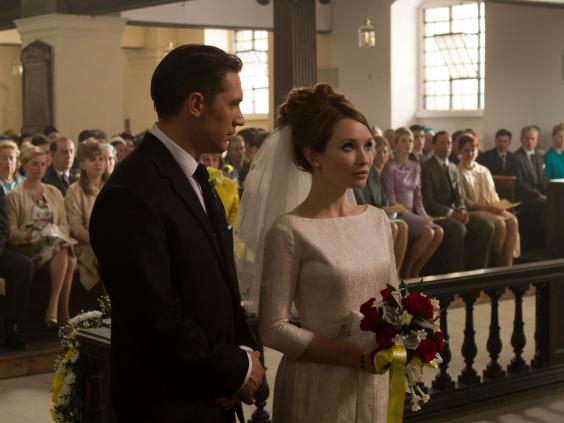 Helgeland's screenplay starts well into the Kray brothers' criminal career. He doesn't bother with their East End childhood, their early days as boxers or their time spent AWOL or behind bars during National Service. Their beloved mum Violet is barely glimpsed outside one or two scenes in which she offers tea and cake to the boys. The film features an ethereal voice-over from Frances (Emily Browning) which introduces us to the brothers grim when they are already in their 1960s pomp, with Reggie established as "the gangster prince of the East End" and Ronnie diagnosed as a violent schizophrenic, which to him is a badge of honour. There is early skirmishing with the Krays' arch-enemies, the Richardsons, but soon the twins and all-powerful and their influence is stretching into the West End. They are even trying to strike deals with Meyer Lansky and the American mob, using the weasel-like fixer Leslie Payne (David Thewlis) as their go-between.
In the melting pot of swinging London, old class barriers are breaking down. In one telling early sequence, Reggie takes Frances into the nightclub he runs. He is greeted with deference by all the villains, minor celebrities and aristocrats who hang out there.
The sequence seems like both a self-conscious homage to the famous steadicam shot in Goodfellas and a reminder that gangsters were moving in the very highest circles. This is reinforced by the hilarious scenes in which Ronnie befriends the perverted British Tory politician Lord Boothby (John Sessions), who begins to frequent his gay parties. "Good lord, that's Bob Boothby at an orgy," Prime Minister Harold Wilson (Kevin McNally) almost chokes on his pipe when he is shown a newspaper with an incriminating picture. Any hopes if making political capital out of the scandal vanish when it turns out that a Labour politician, Tom Driberg, is involved too.
The key events in the Kray story - the shooting of George Cornell in the Blind Beggar pub, the stabbing to death of Jack "The Hat" McVittie in Stoke Newington - have been exhaustively chronicled elsewhere. These moments are present and correct but aren't foregrounded. The film's main focus is on the relationship between Reggie and Frances. It is through her eyes that she we see the brothers.
Helgeland makes it very clear that the twins had utterly different approaches toward their criminal careers. Reggie craved wealth and legitimacy. Ronnie was in it for the aggro. He very quickly grew bored unless there was violence and chaos to distract him.
The writer-director doesn't indulge in the expressionistic, mind-bending style of psychedelic filmmaking found in Donald Cammell and Nic Roeg's Performance (1970), which was partially inspired by the Krays. Nor does he slavishly takes us through their lives in the way that Peter Medak did in The Krays (1990), starring Martin and Gary Kemp. Instead, a little bizarrely, he has turned a film about Britain's most notorious gangsters into a love story. The film foregrounds Frances, one of the least well-known characters in Kray twin history. In a beguiling performance, Emily Browning plays her as a free-spirited but naive and ultimately tragic figure who is both devoted to Reggie and desperate to get away from him and his toxic world. She provides the film with an emotional core it wouldn't otherwise have had.
Legend, as its title suggests, isn't a social realist account of Reggie, Ronnie and their misdeeds. Hardy plays both villains on a grand scale. There is some stomach churning violence here but the film portrays the Krays in a glamorised, nostalgic fashion. This is certainly not a version that Nipper Read would have endorsed but even he might have admired the sheer effrontery and flamboyance of Hardy's brilliant, double-barrelled performance.
Reuse content