"It's Hell, it's Heaven: the amount you earn/Determines if you play the harp or burn," German playwright Bertolt Brecht wrote of Hollywood after his stint as a screenwriter in the so-called City of Angels in the 1940s
Brecht's sardonic view of Tinseltown is endorsed in David Cronenberg's luridly enjoyable new feature, Maps to the Stars. The film, pitched somewhere between horror and satire, portrays a city in which ordinary human values have become entirely twisted.
In one sense, Maps to the Stars is very traditional fare. From The Day of the Locust to A Star Is Born, there have been plenty of other films looking at the underbelly of Hollywood. Cronenberg's screenwriter, Bruce Wagner, has acknowledged the influence of F. Scott Fitzgerald's The Pat Hobby Stories (one of which was called "The Homes of the Stars".) Written when Fitzgerald's own Hollywood career was at a very low ebb, these were cautionary tales about a hapless screenwriter who had been semi-successful in the "good old silent days" but is now an alcoholic has-been, desperately trying to eke out a living.
The Pat Hobby Stories have a certain forlorn charm. Maps to the Stars is altogether nastier. Whether its viciousness reflects the reality of today's Hollywood or the temperament of the film-makers is a moot point.
The first images of the film are of Agatha (Mia Wasikowska) fast asleep on the back of a bus, travelling into LA. She is wearing a baseball jacket with a "Bad Babysitter" logo on its back. That's the name of a Home Alone-style movie franchise. Agatha has a scarred, badly burned neck. In a film industry that sets so much stock on good looks, it is immediately apparent that she is a pariah. A chauffeur, Jerome Fontana (Robert Pattinson), is waiting for her. Inevitably, like every other good-looking young man in town, he's an aspiring actor and writer as well as a driver.
At first, Agatha seems akin to the character played by Naomi Watts in David Lynch's Mulholland Drive (2001), a deluded, star-struck ingenue drawn to Hollywood like a moth to the flame. She says she comes from Jupiter... Jupiter, Florida, and that she has been befriended by Carrie Fisher on Twitter. But we quickly realise that she already has history with the city and is not as innocent as she may appear.
As Cronenberg introduces us to the other characters, only slowly do the links between them become apparent. There is Havana Segrand (Julianne Moore), an ageing diva desperate to play a role made famous by her actress mother (who died in a fire many years before) in a remake of an old classic called Stolen Waters. There is the young Bad Babysitter star Benjie Weiss (Evan Bird), a young, foul-mouthed teenager who earns up to $300,000 a week. He is just out of rehab but can hardly be blamed for his drug problems. "That kind of income would fuck up Mother Teresa," one of his advisors helpfully points out. Benjie has an ultra-pushy mother (Olivia Williams) and a self-help guru dad (John Cusack).

Cronenberg built his reputation as one of the supreme chroniclers of body horror. The Canadian film-maker has directed films with exploding heads (Scanners) and strange gynaecological obsessions (Dead Ringers). He is equally at home making exploitation pics, mainstream thrillers and house films. One of the fascinations of Maps of the Stars is the way it smuggles in ideas and motifs you'd expect to find in his earlier, lower budget genre work. There is certainly a surprising amount of blood spilled here – menstrual blood, the blood of murder victims who've been bludgeoned to death with Oscar-like statuettes and even, in one of the film's strangest scenes, the blood of a pet dog.
The language is as lurid as the imagery. Early on, we hear Benjie excoriating his "Jew faggot" manager. "Why don't you show me your cunt. I know you have one," the 13-year-old boy yells at the bearded middle-aged man, who has to soak up the insults. Havana, meanwhile, makes her personal assistant wait on her even when she is on the toilet, gleefully breaking wind.
In the Hollywood of Maps to the Stars, everyone despises everyone else. There is a cult of youth. Benjie and his teenage friends refer to any female who is over the age of 23 as "menopausal". At the same time, he is extremely threatened when an even younger child actor starts stealing scenes. When characters begin relationships, it is either to research their next role or screenplay they are writing – or to get ahead. The casting couch remains as busy as it ever has been.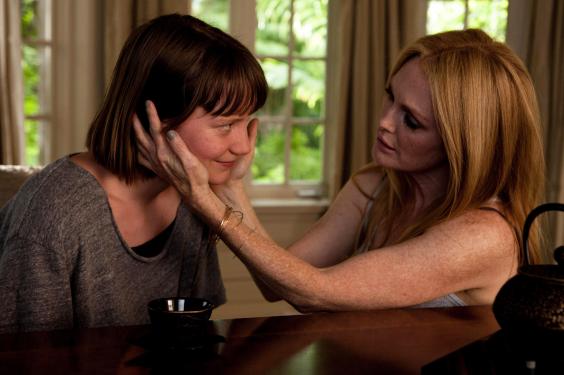 At times, especially in the earlier scenes, the film plays like a comedy. Julianne Moore (who deservedly won the Best Actress award at the Cannes Festival) offers a very entertaining modern-day version of the Gloria Swanson-like icon fighting to hold on to her fast-fading power and status. She's a pill-popping neurotic who speaks in half-baked New Age clichés, but who is utterly ruthless when chasing a role. Robert Pattinson is charming and unctuous by turns as the narcissistic chauffeur whose loyalty can be broken in an instant. Wasikowska brings a kooky creepiness to her character, a "disfigured schizophrenic" as she is styled at one stage.
The humour fades as we gradually realise how desperate and tormented the characters have become. Wagner's screenplay throws in incest, madness and ghosts. Gradually, against the odds, we begin to feel sympathy for these supremely brattish Hollywood archetypes, cursed by their own pursuit of wealth and fame and for whom success is only ever a short-term barrier against failure. As Brecht noted all those years ago, and as Maps to the Stars underlines, they are living in a leech-infested swamp – and they are all going to sink into it sooner or later.