As the Berlin Film Festival waits for the media storm that will come with the premiere of Fifty Shades Of Grey next Wednesday, the screening of Mr Holmes this weekend took place with little commotion. That is a pity because this turns out to be a fine film.
It is made by the producers of The King's Speech and boasts a wonderful performance from Sir Ian McKellen as a 93-year-old Sherlock Holmes. The great detective's intellect and memory have been blunted and he has bitter regrets over events in a case long ago, whose details he is trying to piece together in a story he is writing.
Mr Holmes is based on Mitch Cullin's novel A Slight Trick of the Mind. Early on, as Holmes is shown in retirement in post-Second World War Britain, living in a cottage by the coast and tending his bees, the film risks seeming quaint.
What makes it progressively more moving is a complex, multi-layered script and the performance from Sir Ian, which is reminiscent of Victor Sjöström in Ingmar Bergman's Wild Strawberries as another old man looking back on his life. Sir Ian is first seen in a railway carriage, scowling at a boy who does not know the difference between bees and wasps. He is a curmudgeonly old man whose intelligence and deductive reason enable him to understand perfectly the behaviour of the people around him but who is less successful in fathoming deeper human emotion.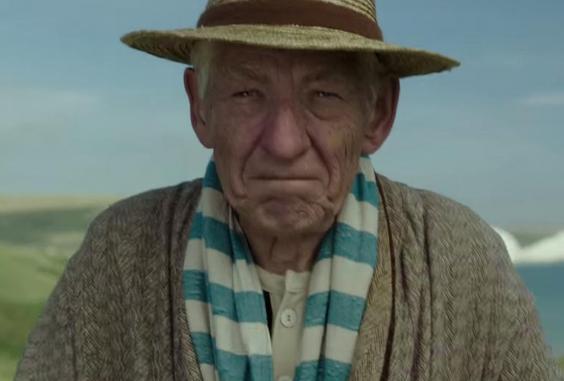 Watson is long since dead. Holmes has become a writer and is working on his own literary version of one of his cases, involving a bereaved young woman. He was hired by her husband to tail this woman and to work out why she has been acting in such a mysterious way.
The focus of the film is less the case itself than Holmes' battle with his failing memory and his sense of guilt, which he cannot quite explain. Sir Ian plays Holmes in very subtle fashion. At times he shows his character's arrogance and smugness. The actor also captures brilliantly the detective's sense of panic as his mind and his body begin to fail him. His relationship with Roger, a working-class youngster in whom he sees traces of himself, is handled in gentle and comic fashion. The film is handsomely shot in British heritage cinema style. It is also often very witty, too.
Mr Holmes contains enough references to Conan Doyle's stories to keep fans of the detective happy. However, it is far more than just a spoof film or Sherlock done in an OAP, Last of the Summer Wine way. This is a story about ageing, regret and redemption and that is the elementary reason why it is so effective in tugging at our emotions.
Reuse content