It's a strange fact that some of the best and most successful British comedies in recent times have been rooted in communities experiencing extreme hardship.
Pride, a surefire crowdpleaser, follows on from The Full Monty, Brassed Off and Billy Elliot as a story set in a Britain whose industrial base is being shattered. It somehow manages to be accessible and very funny without trivialising the issues that it is addressing.
This is a feelgood movie, steeped in 1980s nostalgia and featuring scene-stealing turns from such redoubtable British character actors as Bill Nighy and Imelda Staunton. Alongside the Bananarama and Boy George references, the film includes scenes of homophobic violence and industrial strife. The culture-clash comedy here always has an edge.
Pride begins in 1984. Margaret Thatcher is in power and spreading discord wherever she goes. The miners have begun their strike. Far away from the picket lines, Joe (George MacKay), a youngster from Bromley, is tricked into carrying a banner during a Gay Pride march.
The problems facing the lesbian and gay community in London seem a long way removed from those of the miners protesting against pit closures in south Wales. This, though, is not the way young firebrand Mark (Ben Schnetzer) sees it. Realising that both groups are reviled in the same way by Thatcher, the tabloid press and the police, he launches Lesbians and Gays Support the Miners (LGSM).
The miners and their wives regard their new-found champions as if they are from Mars. The men's sense of self-respect has been eroded anyway during the strike by their increasing reliance on their womenfolk – and the idea that they are now dependent on financial support from lesbians and gays is too much for many of them to stomach. "They don't want to take our money because we're poofs," is how one of the gay characters starkly sums it up. The director Matthew Warchus relishes visual contrasts and jarring juxtapositions. Some of the jokes are very obvious but that doesn't make them any the less effective. The dour machismo of the miners is contrasted with the flamboyance of the lesbians and gay men. Much of the humour revolves around the misunderstandings between the two communities and their growing fascination with one another.
There is a wonderful scene early on in which miners' representative Dai (Paddy Considine), dressed in a tweed jacket and looking like a geography teacher, addresses a gay and lesbian audience in a London nightclub. They're a rowdy crowd but he wins them over with his blunt, plain-spoken humour and humanity. "When you're in a battle against an enemy so much bigger and stronger than you, to find out you have a friend you never knew existed is the best feeling in the world," he tells them.
The scene is echoed later on when Mark speaks to miners in a village hall in Dulais. His jokes fall utterly flat. The suggestion that at least one-fifth of the miners are probably gay themselves is especially badly received. It's left to the disco-dancing prowess of Jonathan (Dominic West in flamboyant groove) to convince at least the women that they have something to learn from the activists.

It's not just Jonathan's John Travolta-like moves that inspire them – it's his encouragement to stand up for their own rights rather than to defer always to their husbands. These women, especially the older ones, have just as much appetite for mischief and outrage as their London visitors. At one stage, we see Welsh matriarch Hefina (a wonderfully fiery Imelda Staunton, in a performance that is part Mother Courage and part Hilda Ogden) waving a gigantic pink dildo with unabashed delight.
Stephen Beresford's screenplay combines broad comedy with subtle observation. In amid the jokes about lesbian cuisine and the Welsh mining community's near religious obsession with bingo, Beresford doesn't skimp from addressing the devastation that will face the miners if the pits close. Nor does he shy away from referring to the fear that the gay community feels at the threat of HIV/Aids. Pride plays like a mainstream family comedy – and yet it is frank in its depiction of sexual desire.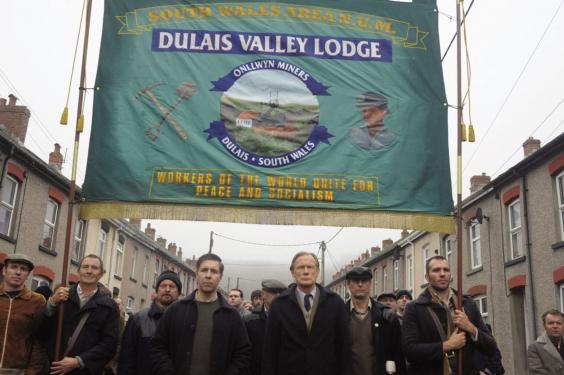 As in old Ealing comedies, small-timers take on big, bad authority figures. Warchus, whose only previous feature film was the downbeat Sam Shepard adaptation Simpatico (1999), is an experienced theatre director who delights in working with an ensemble cast. Given that the film is about celebrating camaraderie and solidarity, it wouldn't have been fitting to have included grandstanding star performances. Instead, Pride is bursting with enjoyable character turns. Bill Nighy underplays beautifully as a dapper old gent whose brother died in the pits years before. The film sketches in miniature dilemmas and dramas that other directors might have based entire movies around.
Every protagonist here has his or her own secret or battle. For example, there is a coming-of-age story about Joe, still living in home-counties suburbia and terrified of telling his deeply conservative parents that he is gay. There is the mother/son story about a bookshop owner, Gethin (Andrew Scott), who yearns for his deeply religious mum back home in Wales but hasn't seen her for years.
Pride teeters throughout on the edge of corniness. Just occasionally, when they're using the music of Bronski Beat or of the Welsh singing solemnly in chorus, the film-makers crank up the emotions in self-conscious and manipulative fashion – and we risk gagging on just a little too much bread of heaven.
Even so, at the most overwrought moments, a strain of deadpan irony helps to undercut the schmaltz. It helps that this really is an inspiring story. Its appeal lies not just in its humour but in its joyous celebration of decency, tolerance and consensus at one of the most divisive times in recent British social history.
Reuse content