Michael Winterbottom's new feature is dedicated to Meredith Kercher, the 21-year-old British student murdered in Perugia, Italy, in 2007. It is loosely inspired by Angel Face: Sex, Murder, and the Inside Story of Amanda Knox, the 2010 book by the Newsweek and Daily Beast journalist Barbie Latza Nadeau.
Nadeau arrived in Perugia the day after Kercher's body was discovered. As her editor-in-chief, Tina Brown, wrote, Nadeau attended almost every session of the murder trial and cultivated "cops, lawyers, judges, witnesses, jurors, friends and families". Her book explored the hedonistic student subculture in the town. She also focused closely on the personality of Amanda Knox, the American student who, together with her boyfriend Raffaele Sollecito, was charged with Kercher's murder. The film is released just as Italy's highest court has been ruling on Knox's conviction. However, The Face of an Angel bears as little resemblance to the typical "true crime" movie as Laurence Sterne's Tristram Shandy (also adapted for the screen by Winterbottom, as A Cock and Bull Story) does to a conventional novel.
Face of An Angel
Face of An Angel
1/7 Face of An Angel

Cara Delevingne and Daniel Brühl in 'The Face of an Angel'

2/7 Face of An Angel

Genevieve Gaunt plays Jessica Fuller, a character based loosely on Amanda Knox, in the film The Face of an Angel

3/7 Face of An Angel

Genevieve Gaunt plays Jessica Fuller, based on Amanda Knox, in the film The Face of an Angel

4/7 Face of An Angel

Sai Bennett plays murdered British student Elizabeth Pryce in The Face of an Angel

Press handout

5/7 Face of An Angel

Cara Delevingne The Face of an Angel

6/7 Face of An Angel

Kate Beckinsale stars in The Face of an Angel

7/7 Face of An Angel

Daniel Brühl in The Face of an Angel
In the film, all the names of the real-life principals have been changed. Instead of Knox ("foxy Knoxy" as she was nicknamed by the tabloids), we have Jessica Fuller (Genevieve Gaunt) or "Jessica Rabbit", as she is nicknamed, slightly witlessly, here. The victim is now called Elizabeth Pryce (Sai Bennett). The location has been moved from Perugia to nearby Siena. This is a determinedly self-reflexive affair. It is a story about a film-maker, Thomas Lang (a soulful, world-weary Daniel Brühl), trying to work out how to make a movie about the case. "You can't tell the truth unless you make it a fiction," he is told early on, advice which Winterbottom himself has taken to heart.
The Face of an Angel is a fascinating but perplexing film, which typifies its director's offbeat approach to whatever subject matter he tackles. Winterbottom is one of Britain's most prolific film-makers and one of the few regarded as an "auteur" by international festivals and critics. He has made literary adaptations, sci-fi films, social-realist dramas, comedies, biopics and pulp thrillers, but he never adheres closely to genre conventions – one reason why his work has done only patchy box-office business.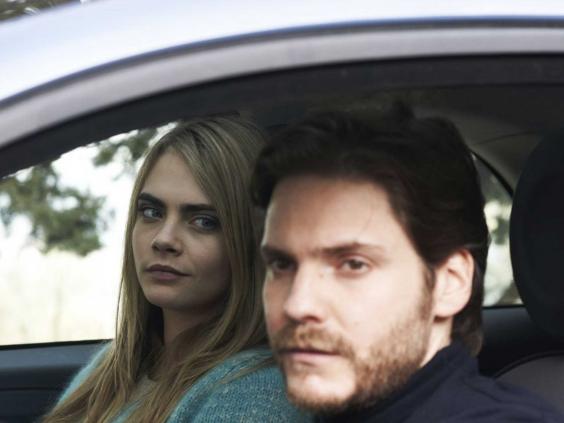 You can't help but admire his gumption in straining out the sensationalism in the Meredith Kercher case – the very reason that his movie attracted such interest. Instead, he uses the murder as the starting point for a movie about love, grief, the nature of creativity and "truth," journalistic bad faith and middle-aged angst. Yes, he risks navel-gazing. At its best, though, the film has the same uncanny feel as Nic Roeg's Don't Look Now, another film about bereavement and twisted relationships that masquerades as a thriller.
Winterbottom makes excellent use of his Siena locations. The Tuscan city's maze-like medieval streets and its beautiful apartments, with their air of fading grandeur, add to the ghostly feel. One character, the mysterious landlord and blogger Edoardo (Valerio Mastrandrea), looks a little like Nosferatu, always lurking in shadowy alleyways.
The main protagonists here aren't the victim or the alleged killers. They are the movie director and journalists trying to make sense of the murder case, projecting their own fantasies and prejudices on to it.
The reporters form a close-knit group. Most have multiple outlets, blogging and contributing to TV coverage as well as reporting for traditional print media on a story that is beginning to consume their own lives. Thomas has an affair with Simone Ford (played by Kate Beckinsale as a glamorous but very pragmatic figure), whose book on the murder Thomas is planning to adapt. Paul Viragh's screenplay is as interested in the details of their private lives as he is in those of Jessica or of Elizabeth.
Ambiguity is introduced at every opportunity. Early images show a beatific-looking child on the beach. She has the face of an angel herself but she is Lang's daughter. He is separated from his wife and keeps in touch with the child by Skype, chattering away with her in breaks from his morbid research for a film that might never be made. Equally "angelic" in her own way is the British student Melanie (Cara Delevingne), a beautiful young woman roughly the same age as Kercher at the time she died, who becomes his unofficial tour guide in Siena.
There are so many angles that Lang cannot begin to work out how to organise the material in a "meaningful way". This provokes consternation with his producers, who want a tidily plotted drama, the more lurid the better. Thomas is heading in a very different direction. Not knowing how the story ends intrigues him.

At times, The Face of an Angel risks becoming as tasteless as the tabloid coverage Thomas deplores. Instead of homing in on the sex lives and drug habits of the students in the victim's circle, Thomas seeks out parallels with Dante's Divine Comedy. It is difficult to see why the musings of a film-maker in a creative rut are any more insightful than those of the journalists. He is as opportunistic as they are, seeing the case as a chance to kickstart his faltering career. There is something creepy about his relationship with the much younger Melanie, played by Delevingne in a sweetly ingenuous fashion that recalls Mariel Hemingway in Manhattan.
The film pulls in different directions. We are given plenty of gruesome details about the case. We learn that the victim's body was covered – something the criminologists think that only a woman would have done. There are many shots of knives that might have been murder weapons and plenty of speculation about the American student's love life. At the same time, Winterbottom is striving for a "higher" truth that transcends the media coverage and gives us insights into our own voyeuristic fascination with the case. Whether he succeeds in making us remember what he has claimed is the most important aspect of the story – namely that a young woman has lost her life in tragic circumstances – is another question altogether.
Reuse content