"Oh my god, we are starting right there," says Steve Carell. I've just asked him if he thinks capitalism makes us morally corrupt. It's the dilemma his character, Mark Baum, faces in The Big Short, the Golden Globe-nominated drama that deals with the 2008 economic crash.
Baum is based on Steve Eisman, a hedge-fund manager who bet that the US sub-prime housing market would cause the banks to lose billions. So it's not such an odd question, yet Carell gathers his thoughts before answering, "I don't know. I'm just an actor," he says. "I don't think that it's necessarily true. I think it can, but I don't think it's a steadfast rule." 
I must admit I was expecting a more animated answer from the man whose first brush with the mainstream was doing a pastiche of investigative journalism on The Daily Show, where he worked alongside Stephen Colbert and Jon Stewart. 
It's also odd, given the way his career has been shaped by making observations on real-life events, that he decided to hide behind being "just an actor". The Daily Show was political satire. He proved himself to be one of the great comedians of his generation in films such as Anchorman and The 40-Year-Old Virgin, one of the best comedies made this century, which he co-wrote with the celebrated director Judd Apatow. Carell is a very funny man. At least he is on screen. In person, he has a mild manner and speaks at a slow, deliberate pace that seems designed to give him time to weigh up every response. 
Even as he has moved from doing comedy to more serious roles in recent years, it is reality that interests him. In Foxcatcher, for which he received an Oscar nomination, he played John du Pont, a US philanthropist and wrestling coach-turned-murderer.
In Freeheld he plays Steven Goldstein, the placard-waving founder of Garden State Equality, who campaigned in support of police officer Laurel Hester as she fought to have her pension benefits transferred to her same-sex partner. Carell, 53, will also be starring in Battle of the Sexes, about the infamous 1973 tennis match between Billie Jean King and Bobby Riggs. 
Carell says of his penchant for playing real  people: "There is something accessible about portraying a real-life person and a historical event, and there is a responsibility built into that as well, which I like. You still have free rein to interpret, but the groundwork is already laid and, with the reality, you don't have to build much in terms of your own reality because it already exists." 
Apart from Du Pont, he has tried to meet the person he is playing in order to discover that reality. For The Big Short, he met Eisman. "I tried to get an idea as to what made him tick and what he was feeling through this period of time [in the months before the crash]," explains Carell. 
"There was a sense of outrage that he exudes, and still does. I think all of these guys are still reeling from what happened, even seven years later. They are all still angry and none of them can quite believe that nobody went to jail and no reforms were put in place." 
Judging by the roles he picks, he seems politically engaged. Yet when I ask if away from the screen he shares that outrage or likes to crusade or support campaigns, he again replies with a straight bat. "I don't really wear my politics on my sleeve. I just tend not to." 
And yet he is enamoured by characters who have a bee in their bonnet. The Big Short is reminiscent of The Daily Show in its use of comedy to highlight malaise in society. "It was the sense of outrage that drew me to the part in The Big Short," says Carell. "It was the conflict that I sensed within Eisman that about what he stood to gain from the collapse of the economy. There was such a grey area to the guy that I thought was interesting and unique, that I liked him. He's a very intelligent, brash, outspoken, sensitive person and I was drawn to that."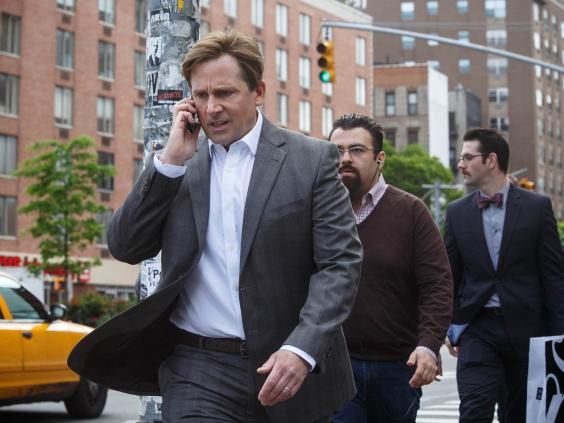 The Big Short is directed by Adam McKay, who was first introduced to the Massachusetts-born Carell in Chicago by Carell's then-girlfriend and now wife of 20 years, Nancy. At the time, Carell was performing with the comedy troupe The Second City, where Stephen Colbert was once his understudy.
It was McKay who gave Carell the part of weatherman Brick Tamland in Anchorman, which brought the actor international fame. Yet he says it has taken him more than two decades to understand Carell. "I really got Carell on this movie," says McKay. "Working with him on this film was very different to the comedies. I just realised he has a great instinct for when it's for real and when it's bullshit." 
The films you'd expect to have won Best Picture that haven't
The films you'd expect to have won Best Picture that haven't
1/15 Citizen Kane (1941)

Long revered as one of the greatest films ever made, Orson Welles' debut - a film à clef focused on tycoon Charles Foster Kane - was just another nominee back in the day, losing out to How Green Was My Valley.

2/15 Vertigo (1958)

Not only did Alfred Hitchcock never win an Oscar (save for his memorial award in 1968), neither did any of his films - one of which is Vertigo, a classic that won Sight & Sound's once-a-decade greatest films of all time poll in 2012.

3/15 The Graduate (1967)

One of the films that kickstarted the New Hollywood Cinema, The Graduate may have won director Mike Nichols an Oscar, but ultimately lost out to Norman Jewison's In the Heat of the night.

4/15 2001: A Space Odyssey (1968)

The crème de la crème of Hollywood filmmakers would have you believe that Stanley Kubrick's sci-fi classic remains one of the most influential pieces of cinema there is. The Academy didn't agree, however, nominating Kubrick for Best Director and awarding the visual effects in favour of even considering 2001 for Best Picture.

5/15 Taxi Driver (1976)

Despite not winning the main award, the Academy showed they had good intentions by nominating Taxi Driver in four categories - that both All the President's Men and Network also lost out to eventual winner Rocky shows that, ultimately, it never really stood a chance.

6/15 Apocalypse Now (1979)

Francis Ford Coppola's ambitious Vietnam War epic received a grand total of eight nominations, but only went home with two prizes (for cinematography and sound) losing out to drama Kramer vs. Kramer.

7/15 Raging Bull (1980)

Of all the Oscar blows dealt to Martin Scorsese over the decades, none landed harder than Raging Bull's losing out to Robert Redford's weepie Ordinary People, an oversight many consider one of the Academy's most infamous.

8/15 Blade Runner

Another sci-fi classic overlooked by Oscar was the hugely influential Blade Runner which didn't even get nominated in the Best Picture category. That Ridley Scott's latest sci-fi The Martian received seven nominations could signal how the Academy are finally taking responsibility for their past errors.

9/15 Goodfellas (1990)

Having awarded both The Godfather parts I and II Best Picture in 1972 and 1974 respectively, you'd think Scorsese's gangster classic stood half a chance; but no - Kevin Costner's directorial debut Dances With Wolves was the most appealing choice for voters.

2012 Getty Images

10/15 Pulp Fiction (1994)

New talent on the block Quentin Tarantino's second feature won him the coveted Palme d'Or at Cannes - a success he failed to match back on home turf; while he won an Original Screenplay Oscar, Pulp Fiction got beat by Forrest Gump.

11/15 The Shawshank Redemption (1994)

...and it wasn't the only one. Frank Darabont's adaptation of Stephen King's prison-set novella The Shawshank Redemption also fell victim to Robert Zemeckis' Oscar-friendly Forrest Gump. We don't see that film sitting atop the IMDB top 250 though, do we?

12/15 Fargo (1996)

You may think it was remiss of the Academy to shun Fargo but it did come pretty close to winning, its chances bolstered somewhat by seven nominations and two wins (Actress for Frances McDormand and Original Screenplay for the Coen Brothers). It lost out to The English Patient.

13/15 Saving Private Ryan (1998)

Having won Best Director five years previous for Schindler's List, everybody expected Steven Spielberg's next war epic to scoop all the top awards. Cue Shakespeare In Love upsetting the establishment.

14/15 The Social Network (2010)

David Fincher's generational Facebook drama got shunned in favour of British patriotism in an Oscar two-horse race for the ages that ultimately saw The King's Speech crowned winner.

15/15 Boyhood (2014)

For last year's Oscar race, you were either team Birdman or team Boyhood (not forgetting outside bet Whiplash, of course). Each represented a different facet of movie-making that posited them as favourites; that Richard Linklater's labour of love - shot intermittently over 12 years - failed to win may still come as a surprise.
So how has Carell changed in that time? "You know what… he's always been a good guy," McKay tells me. "But he's gotten very sweet. He's a very sweet guy. I love my family like crazy, but you can see with him that every time he's away from his family it pains him. I get this warmth from him. Our relationship has evolved and we were always friends through the Anchorman things, but I feel like we have really become friends now. It's kind of warmer and sweeter, and that's the things I see. Maybe that's from doing more dramatic roles;  he's opening up a little more."
The actor seems happiest when talking about his process, or other people. Carell says: "I love working with directors and I love exploring. It's interesting. Did you see The Truman Show? The scene where [Jim Carrey] is in the boat and he bumps up against what is essentially the edge of the set, and he realises that there is no more there. It's interesting to think of that in terms of your brain, and when you find yourself bumping up against the limits of what you perceive as your frame of reference, or your ability, or the things that are established to yourself. I think with the right director that can expand out, because that director is giving you a licence to go to other places that you haven't established for yourself."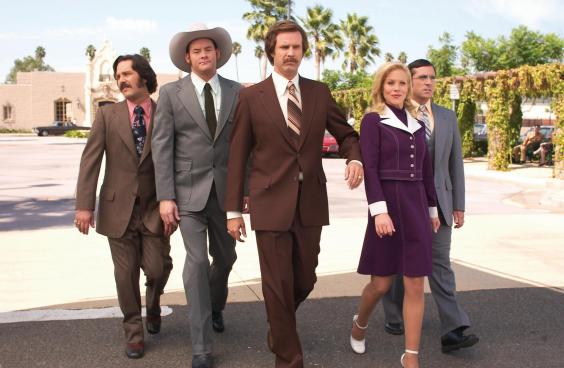 So are the boundaries put on Carell the same as those for Truman – an expectation that he will be funny and entertain? Have his recent dramatic roles been his attempt to confound expectations?
For the first time, Carell becomes animated when he says: "I don't care how people perceive me. I think to choose parts based on how it's going to be perceived and how people will interpret me as an actor doesn't help me. If people think of me as a comedic actor that's fine, and as a dramatic actor, whatever. I'm fortunate to be getting jobs and working, so people can think what they want."
At the Golden Globes last Sunday, it was a surprise that host Ricky Gervais didn't make jokes at Carell's expense. Carell has been the butt of the British comedian's gags ever since Carell took on the principal role in the US version of Gervais's The Office.
It was some feat that Carell managed to make a success of the role. He also dismisses the supposedly divisive presentational skills of Gervais, saying: "I don't think he is divisive in any way. Everyone I know is a fan." 
One ambition Carell has managed to cross off his bucket list is to get to work with Woody Allen again. He starred in Melinda and Melinda in 2004 and more recently he replaced Bruce Willis in an as-yet-untitled drama.
He says of Allen: "I don't know what I was expecting. He was very nice, he was very smart. I think the part that I expected was that he was quiet. He is not an overly gregarious person, but he is methodical and really respects actors. I don't know, he's the type of person you just don't question."
'The Big Short' is released on Friday