Wim Wenders' relationship with the Venice Film Festival began in very inauspicious circumstances. The German director (the director of such classics as Paris, Texas and Wings Of Desire and whose latest feature Les Beaux Jours d'Aranjuez premiered in Venice this week) first came to the festival over 40 years ago. His movie The Goalkeeper's Fear Of The Penalty (1971) was playing but Wenders didn't make it to Venice in time for the screening.
"I was shooting my next movie in Spain so I took a plane. I arrived at the airport. Nobody was waiting. Nobody knew my name. I made my own way to the Lido (the festival's base). I took public transportation. I arrived at the theatre… and the film was over." The audience had left. The only two people still around were the leading actor and actress. The latter was crying and her make-up "was all fucked up". The former was in a rage. "He had started to drink. They said 'you fucking idiot. This is our only chance'.  For the first time we were at a festival – and nobody was there. Nobody took our picture, nobody asked a question."
The next day, Wenders left the festival. Neither he nor his cast had done a single interview. His most vivid memory of the trip was being woken up at 5am by the police. They wanted him to come down to the station to confirm that the German man who had been arrested for being drunk and disorderly the previous evening (and who had beaten up the bar keeper at the Excelsior Hotel) really was the actor in his movie.
Wenders departed with his tail between his legs. Several months passed. A strange looking package that had been re-addressed many times was delivered through the post. It was the international critics' award from Venice. He'd won it without even knowing and the prize had finally reached him.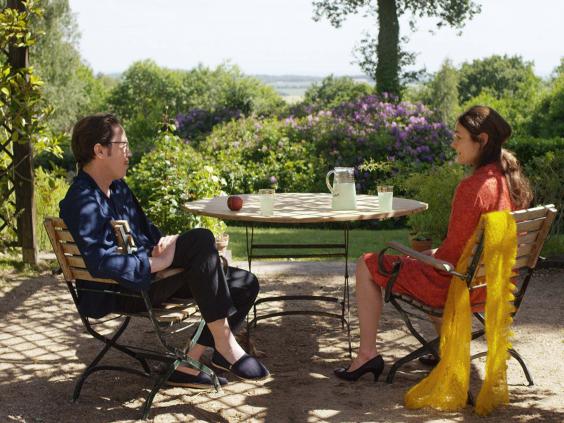 Interviewed on a broiling afternoon in the shade in an upmarket Venice hotel, Wenders, now 71, is treated with a deference that he could have dreamed of in the early 1970s. Publicists scurry around him, making sure that he is comfortable.
His new film, just like the one he brought to Venice all those years ago, was written by his friend, the playwright Peter Handke. It's a meditative chamber piece, set in a garden just outside Paris. A writer is sitting inside, typing as he looks out the window. As if coaxed into being by his imagination, a man and a woman materialise on the terrace. In the course of the film, they have a long, rambling discussion about their childhood memories and the differences between men and women. They're recalling their early sexual experiences.
James Cameron's Avatar this is not but Wenders has still shot it in 3D. I ask him why.
Culture news in pictures
Culture news in pictures
1/30 30 September 2016

An employee hangs works of art with "Grand Teatro" by Marino Marini (R) and bronze sculpture "Sfera N.3" by Arnaldo Pomodoro seen ahead of a Contemporary Art auction on 7 October, at Sotheby's in London

REUTERS

2/30 29 September 2016

Street art by Portuguese artist Odeith is seen in Dresden, during an exhibition "Magic City - art of the streets"

AFP/Getty Images

3/30 28 September 2016

Dancers attend a photocall for the new "THE ONE Grand Show" at Friedrichstadt-Palast in Berlin, Germany

REUTERS

4/30 28 September 2016

With an array of thrift store china, humorous souvenirs and handmade tile adorning its walls and floors, the Mosaic Tile House in Venice stands as a monument to two decades of artistic collaboration between Cheri Pann and husband Gonzalo Duran

REUTERS

5/30 27 September 2016

A gallery assistant poses amongst work by Anthea Hamilton from her nominated show "Lichen! Libido!(London!) Chastity!" at a preview of the Turner Prize in London

REUTERS

6/30 27 September 2016

A technician wearing virtual reality glasses checks his installation in three British public telephone booths, set up outside the Mauritshuis museum in The Hague, Netherlands. The installation allows visitors a 3-D look into the museum which has twenty-two paintings belonging to the British Royal Collection, on loan for an exhibit from 29 September 2016 till 8 January 2017

AP

7/30 26 September 2016

An Indian artist dressed as Hindu god Shiva performs on a chariot as he participates in a religious procession 'Ravan ki Barat' held to mark the forthcoming Dussehra festival in Allahabad

AFP/Getty Images

8/30 26 September 2016

Jean-Michel Basquiat's 'Air Power', 1984, is displayed at the Bowie/Collector media preview at Sotheby's in New York

AFP/Getty

9/30 25 September 2016

A woman looks at an untitled painting by Albert Oehlen during the opening of an exhibition of works by German artists Georg Baselitz and Albert Oehlen in Reutlingen, Germany. The exhibition runs at the Kunstverein (art society) Reutlingen until 15 January 2017

EPA

10/30 24 September 2016

Fan BingBing (C) attends the closing ceremony of the 64th San Sebastian Film Festival at Kursaal in San Sebastian, Spain

Getty Images

11/30 23 September 2016

A view of the artwork 'You Are Metamorphosing' (1964) as part of the exhibition 'Retrospektive' of Japanese artist Tetsumi Kudo at Fridericianum in Kassel, Germany. The exhibition runs from 25 September 2016 to 1 January 2017

EPA

12/30 22 September 2016

Jo Applin from the Courtauld Institute of Art looks at Green Tilework in Live Flesh by Adriana Vareja, which features in a new exhibition, Flesh, at York Art Gallery. The new exhibition features works by Degas, Chardin, Francis Bacon and Sarah Lucas, showing how flesh has been portrayed by artists over the last 600 years

PA

13/30 21 September 2016

Performers Sean Atkins and Sally Miller standing in for the characters played by Asa Butterfield and Ella Purnell during a photocall for Tim Burton's "Miss Peregrines Home For Peculiar Children" at Potters Field Park in London

Getty Images

14/30 20 September 2016

A detail from the blanket 'Alpine Cattle Drive' from 1926 by artist Ernst Ludwig Kirchner is displayed at the 'Hamburger Bahnhof - Museum for Contemporary Arts' in Berlin. The exhibition named 'Ernst Ludwig Kirchner - Hieroglyphen' showing the complete collection of Berlin's Nationalgallerie works of the German artist Ernst Ludwig Kirchner and will run from 23 September 2016 until 26 February 2017

AP

15/30 20 September 2016

A man looks at portrait photos by US photographer Bruce Gilden in the exhibition 'Masters of Photography' at the photokina in Cologne, Germany. The trade fair on photography, photokina, schowcases some 1,000 exhibitors from 40 countries and runs from 20 to 25 September. The event also features various photo exhibitions

EPA

16/30 20 September 2016

A woman looks at 'Blue Poles', 1952 by Jackson Pollock during a photocall at the Royal Academy of Arts, London

PA

17/30 19 September 2016

Art installation The Refusal of Time, a collaboration with Philip Miller, Catherine Meyburgh and Peter Galison, which features as part of the William Kentridge exhibition Thick Time, showing from 21 September to 15 January at the Whitechapel Gallery in London

PA

18/30 18 September 2016

Artists creating one off designs at the Mm6 Maison Margiela presentation during London Fashion Week Spring/Summer collections 2017 in London

Getty Images

19/30 18 September 2016

Bethenny Frankel attends the special screening of Disney's "Beauty and the Beast" to celebrate the 25th Anniversary Edition release on Blu-Ray and DVD in New York City

Getty Images for Walt Disney Stu

20/30 17 September 2016

Visitors attend the 2016 Oktoberfest beer festival at Theresienwiese in Munich, Germany

Getty Images

21/30 16 September 2016

Visitors looks at British artist Damien Hirst work of art 'The Incomplete Truth', during the 13th Yalta Annual Meeting entitled 'The World, Europe and Ukraine: storms of changes', organised by the Yalta European Strategy (YES) in partnership with the Victor Pinchuk Foundation at the Mystetsky Arsenal Art Center in Kiev

AP

22/30 16 September 2016

Tracey Emin's "My Bed" is exhibited at the Tate Liverpool as part of the exhibition Tracey Emin And William Blake In Focus, which highlights surprising links between the two artists

Getty Images

23/30 15 September 2016

Musician Dave Grohl (L) joins musician Tom Morello of Prophets of Rage onstage at the Forum in Inglewood, California

Getty Images

24/30 14 September 2016

Model feebee poses as part of art installation "Narcissism : Dazzle room" made by artist Shigeki Matsuyama at rooms33 fashion and design exhibition in Tokyo. Matsuyama's installation features a strong contrast of black and white, which he learned from dazzle camouflage used mainly in World War I

AP

25/30 13 September 2016

Visitors look at artworks by Chinese painter Cui Ruzhuo during the exhibition 'Glossiness of Uncarved Jade' held at the exhibition hall 'Manezh' in St. Petersburg, Russia. More than 200 paintings by the Chinese artist are presented until 25 September

EPA

26/30 12 September 2016

A visitor looks at Raphael's painting 'Extase de Sainte Cecile', 1515, from the Uffizi Gallery in Florence during the opening of a Raphael exhibition at the Pushkin State Museum of Fine Arts in Moscow, Russia. The first Russian exhibition of the works of the Italian Renaissance artist Raffaello Sanzio da Urbino includes eight paintings and three drawings which come from Italy. Th exhibit opens to the public from 13 September to 11 December

EPA

27/30 11 September 2016

Steve Cropper and Eddie Floyd perform during Otis Redding 75th Birthday Celebration - Rehearsals at the Macon City Auditorium in Macon, Georgia

Getty Images for Otis Redding 75

28/30 10 September 2016

Sakari Oramo conducting the BBC Symphony Orchestra, the BBC Symphony Chorus and the BBC Singers at the Last Night of the Proms 2016 at the Royal Albert Hall in London

PA

29/30 9 September 2016

A visitor walks past a piece entitled "Fruitcake" by Joana Vasconcelo, during the Beyond Limits selling exhibition at Chatsworth House near Bakewell

REUTERS

30/30 8 September 2016

A sculpture of a crescent standing on the 2,140 meters high mountain 'Freiheit' (German for 'freedom'), in the Alpstein region of the Appenzell alps, eastern Switzerland. The sculpture is lighted during the nights by means of solar panels. The 38-year-old Swiss artist and atheist Christian Meier set the crescent on the peak to start a debate on the meaning of religious symbols - as summit crosses - on mountains. 'Because so many peaks have crosses on them, it struck me as a great idea to put up an equally absurd contrast'. 'Naturally I wanted to provoke in a fun way. But it goes beyond that. The actions of an artist should be food for thought, both visually and in content'

EPA
"In my conviction, 3D is the most tender, gentle and friendly language the cinema has ever invented," Wenders declares, speaking very fervently in spite of his otherwise mild-mannered demeanour.  "Unfortunately, it is never used to that purpose but always for the opposite. It is a cold, violent medium, used for kids and not adults. It is always being used and abused."
It is Wenders' conviction that 3D is the filmmakers' best tool for representing nature and that it has an intimacy that 2D lacks. "Your eye is more guided, you're more concentrated, you're more looking at the faces of the actors. The 3D makes you follow the conversation more immersively…in 3D, other parts of your brain are involved. You are participating in different ways and parts of your brain that are completely dead when you watch a flat movie are also active."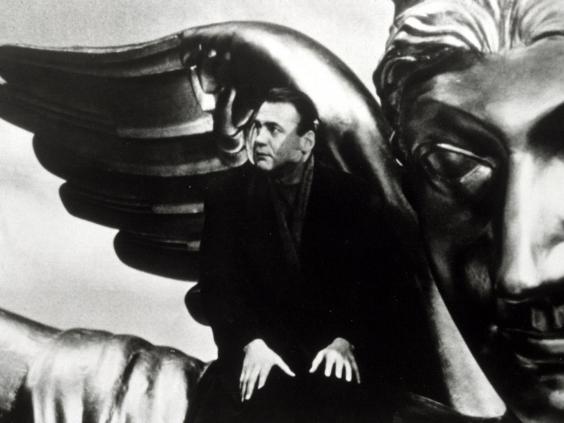 Not that Wenders is forsaking conventional 2D storytelling altogether. His next film, Submergence, due to come out next year and starring Alicia Vikander and James McAvoy, is in 2D. This is a dark romantic thriller about a water engineer in Somalia kidnapped by Islamic jihadists. "We try to understand these people – of who they are and why they think like they do," he says of the intentions in making the movie.
Les Beaux Jours is in a very different register. It begins in poetic fashion with shots of empty Paris streets at dawn as his friend Lou Reed's song Perfect Day plays on the soundtrack. This, Wenders explains, is a small homage to Reed (who died in 2013.) The film also has an appearance from Nick Cave, a regular collaborator with Wenders (and who first worked with him on Wings Of Desire.) The music in the film comes from a jukebox. Cave's song Into My Arms ("one of my favourite love songs ever") is one of the records on the writer's jukebox but the gaunt and imposing Australian musician suddenly appears in person at the piano.
Wenders describes the jukebox as "almost another character" in the film. When he was a young filmmaker, before he was able to store 18,000 songs on his smartphone, he used to haunt bars which had jukeboxes. That was sometimes the only way to listen to music. "I called it [the jukebox] a life-saving machine. I still have an emotional relationship to this old machine."
The German director describes himself as "the opposite of nostalgic". For all of his use of devices like a typewriter and a jukebox in Les Beaux Jours, he has fully embraced the possibilities of digital filmmaking.
A proud European, he also clearly has a very ambivalent relationship with US culture in general and with Hollywood in particular. In one of his 1970s films, Kings Of The Road, there is a famous line, "the yankees have colonised our subconscious". I ask him if, 40 years on, he is still distrustful of US cultural hegemony.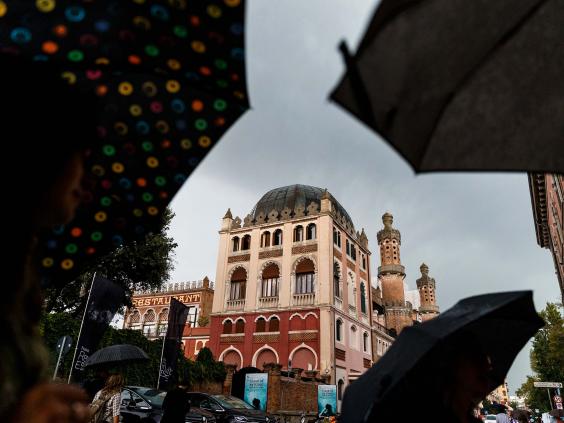 "To reduce the yankees to Hollywood is maybe totally appropriate today," Wenders mulls the question. "A lot of opinions that people have today, American opinions, are formed by movies. Even the American way of life is an invention by the movies."
Wenders then begins to speculate about new technology, the movies, the movies and human development. "Present culture is being invented by media and movies are still a very important part of the media. More and more, we are a product of technology and very soon it will enter in our genes. Already, I see it in my tiny grandchild. The little guy is two years old and he operates the iPad better than I do. Nobody showed him… he enters and knows his way. It is like his genes understand. Nobody showed him how to open it or bypass the security. He does things that you would not believe."
Wenders can't judge whether this is for "the better or for the worse" but he is certain that technology is changing the "basis of our thinking…it changes our memories, our relations to first hand experience. We are still a generation that can touch a tree and cherish this first-hand experience". For his grandson, though, first-hand experience doesn't matter so much. The image is more important than "the real thing, which bothers them. Things will change more than what we want. Who knows what two or three generations from here will think of first-hand experience, of touching things, of being somewhere for real," he says the word with an exaggerated emphasis. On this note, the interview is brought to an end by the deferential publicists. On this occasion, unlike on his first visit, everyone knows he is in town.