Since its formation 16 years ago, Big Scary Monsters has grown from a one-man bedroom operation into an international label that releases some of the most exciting contemporary alternative rock acts of modern times. The list of bands that have released career-defining albums or been nurtured through BSM is tremendous – Modern Baseball, Get Cape. Wear Cape. Fly, The Fall of Troy, Beach Slang, La Dispute, Pulled Apart By Horses, Minus The Bear, Meet Me in St Louis, Tallships, Toe, mewithoutyou, Caspian, TTNG, Joyce Manor, Gnarwolves, Cursive, Kevin Devine – it's a veritable slew of names that have helped define math-rock, post-hardcore, emo and post-rock in the 21st century.
Big Scary Monsters is celebrating its 200th release, a major milestone for an independent label that has weathered the most uncertain financial times in the history of recorded music. That the label has not just survived but prospered during this period is testament to the passion it displays and a huge victory for the independent Davids over the major Goliaths. We spoke to founder Kevin Douch about the history of the label and how it has grown to become one of the most well respected independent labels in alternative music.
BSM beginnings (or The Bands with Terrible Names): 2001-2005
Kevin Douch grew up in Grove, a small village 15 miles south-west of Oxford. Despite a few notable big-hitters (Radiohead, Supergrass, Foals), the small university city is not known for its burgeoning music scene, playing host to just a modest smattering of small clubs and pub venues. As the 20th century ushered in the dawn of the 21st, Douch became enthralled by the burgeoning emo and post-hardcore scene, which was slowly but surely beginning to take precedence over the increasingly watered down, polished angst of nu-metal. He would pore over magazines, hoping to glean any information he could about this alternative subculture and the bands that ruled it. "I was in a small village on the outskirts of a small city," he says. "So there weren't that many people who were into the same music as I was, but those of us that were bonded together and would discover it in little bubbles. My friends and I were all getting into that music at the same time; we were all going to see bands simply because they came here when many others wouldn't – it didn't matter if we hadn't heard of them – and that created this whole scene for us in a small pocket. A handful of us took it further and delved deeper into that music as the internet became more commonplace."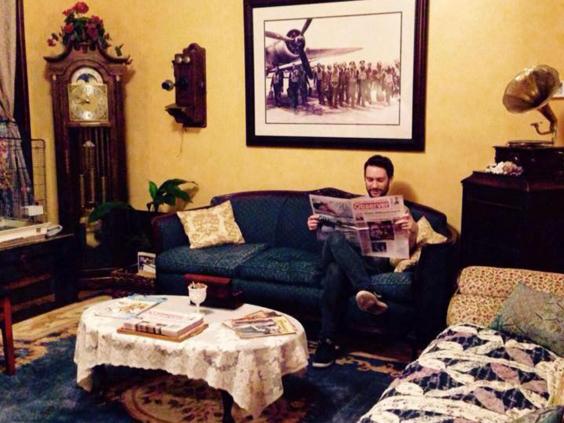 The internet was still very much in its infancy, certainly as a platform to discover new music. This was a time of dial-up connections and 56k modems,  when a three-minute song could easily take an hour to download. But it opened Douch and his friends up to a whole host of wilfully obscure bands from all over the world, the majority of which "would amount to nothing, but we loved them anyway". As his passion for the obscure, experimental acts of the alternative blossomed, everything else in Douch's life began to become secondary. He and a contingent of friends would regularly take the bus from Grove to Oxford to catch sets by the likes of Hundred Reasons, Lostprophets, Kneejerk, Stegal, Black Candy and Will Haven.
Douch initially founded the label as a means of putting out a compilation of some of the bands that stoked his passions. In January 2001, six months before reaching the legal drinking age, he put out the first Big Scary Monsters release, prophetically titled A Taste of the Horrors to Come. "I think it was about 20 tracks," he says of the compilation now. "And it had a really eclectic mix of nu-metal, ska and hardcore bands on it. For £100 I made 100 CDRs and of those 100, I'd guess only 10 worked, because a lot of CD players and computers back then just wouldn't play CDRs properly. My friend put on an all-dayer at The Wheatsheaf in the centre of Oxford, which had some of the bands from the compilation playing, and that was the beginning of BSM."
To the 17-year-old Douch, Big Scary Monsters became an outlet to gain kudos and notoriety among his friends. "At that point, the label existed in so much as I would walk around Grove telling people I had a record label. I didn't have any bands, didn't have any plans for it and that's pretty much how it existed for at least a year." As the label initially existed primarily for bragging rights, the first year of BSM's catalogue was modest, with just the Horrors... compilation and a couple of split 7ins to the label's name. But Douch eventually plucked up the courage to ask a band he really admired to release something on his label.
"I saw this nu-metal band called Imprint at The Wheatsheaf and I really liked them, so I sent their singer, Leander, a message asking if they would like to sign with us. He messaged me back and said, 'We've split up ... but I've just started a new band called Hiding With Girls. Do you want to put out our single?' So we did that. It was a single called Marty McFly, a two-track CD that we had pressed in Australia because somebody had told me about a pressing plant there where you could get stuff done cheaply. I believe the currency exchange worked out in our favour but, obviously, they took so long to ship and cost so much money in shipping, by the time they turned up at my bedroom in Grove, it wasn't really worth it. That said, we pressed 500 and they did quite well: the band got a two-page feature in Kerrang!, they got on some good tours and overall it did much better than I had expected it to."
The release and relative success of the Hiding With Girls single marked the point that Douch caught the bug: he started to become serious about signing other bands and developing the label beyond merely releasing compilations and 7in splits. "I used to joke at that point that we would only work with bands that had terrible names. So our first few signings were Hiding With Girls, My Awesome Compilation, Jeniferever, My Favourite Co-Pilot, Emotive Exposed, FogDonkey... we somehow kept managing to work with these bands that had appalling names, but we had a good crop of artists that I loved."
BSM's roster was expanding, but financially the operation was still very hand to mouth. "We were only concentrating on one release at a time," says Douch. "Because if one bombed, that would've been the end of the label. We'd press 500 CDs and once we'd sold enough to have some money in the bank, which, incidentally, was just the bank account my parents had set up for me when I was about 12, I would sign another band and put out their CD. We've always been set up so modestly, there were no real overheads, so if things ever did get tough or go wrong, it wasn't too bad. We didn't have a large operation where I had to meet certain targets or a big expensive London office with 10 employees that I was responsible for. The fact that we've never had much money has inspired us to work creatively, to find workarounds and solutions to problems, which I'm really grateful for because it's made it more interesting along the way. In the 16 years I've done this there have been so many labels that have come and gone that have done things in a very different way to us. Labels appear, throw a lot of money at a band who are big for five minutes and then they're gone; there's no longevity in that. So I definitely think my frugal nature has helped us to stick around and grow, slowly but steadily." 
The ascendance of math rock and learning to fly: 2005-2009
Douch moved onto the Cowley Road in Oxford, a 1.5-mile stretch that acts as the city's central hub of music and bohemia. He was in a prime location, living opposite one of the city's most popular music venues, The Zodiac (now the Oxford Academy), and would regularly work out various schemes and scams to get into the venue each evening with his friends for free. Around this time, Douch heard a demo from a promising new singer/songwriter who was writing heartfelt personal songs that combined elements of folk and indie with electronic flourishes. His name is Sam Duckworth, but at the time, he was more widely known as Get Cape. Wear Cape. Fly. "A friend emailed me and said, 'You've got to listen to this guy, he's recorded a couple of demos and they're great.' So I started talking to Sam and eventually we met up in a Wetherspoons in Angel when he was 17. We chatted and started working together from that point."
The label first released a split with Get Cape. Wear Cape. Fly and The Remarkable Rocket in January 2005, which was followed up three months later with his debut self-titled EP. "He started playing shows and it just grew and grew. It was brilliant for a couple of years; it was just crazy the stuff that was happening for him. We got to see him play big festivals and headline huge shows. We'd be sitting having a coffee and people were coming over, asking for autographs and photos. He was really starting to get recognised and get a lot of exposure, and that was a really cool time for the label.
"I remember seeing him play the main stage at Reading Festival; I bumped into the brother of one of my best mates from school and he asked, 'What are you doing these days?' So I told him I run a label and he asked what bands I work with and I tentatively pointed at the stage and said, 'Well ... this guy!' And it was just one of many moments that added maybe an extra month or two of longevity to how long I was willing to keep doing the label. Things like that really kept me going through that period. I think I would have given up if we'd not got Sam or someone like him on the roster to give us that boost. Part of the reason I had started BSM was the glamour that I assumed happened in the music industry all the time, and that was something I hadn't really been privy to until that time."
Big Scary Monsters also started to add a whole swathe of math-rock to their roster, a complex amalgam of post-hardcore and progressive rock that is synonymous with atypical rhythmic structure, odd time signatures and angular melodies. The scene in the UK was particularly flourishing at this time and the label was fortunate enough to snag many of its best bands, including Meet Me in St Louis, This Town Needs Guns, Secondsmile and Tubelord. With all the attention that was being foisted upon Get Cape. Wear Cape. Fly, it allowed these less conventional bands a brief look behind the mainstream curtain by association alone. "That really began to define the label because it was a UK scene, which a lot of people got into and have fond memories of. There are a lot of big bands now that came through from that scene. We never worked with Foals, but they were playing shows with those bands, at some point they probably supported Meet Me in St Louis at The Wheatsheaf – there would have been things like that going on. And that was a really cool period for the UK independent scene and we were kind of in the middle of it, without even intending to be."
You could pinpoint this era, around 2007-08, as the time Big Scary Monsters really started to make themselves known within the music industry; it defined the label and gave them the math-rock tag that people still strongly associate with them today. "Perception's a hard thing to shift once it's there," says Douch. "We do still have some math bands, so I do understand it, but at that point, it was very much what we were doing. There were one or two bands that wouldn't have necessarily fitted in with that scene, but the majority of our roster did. I'd say for at least the first seven years or so of the label, the criteria for signing a band was purely based on my tastes. If I liked a band, I tried to sign them, but if I didn't, I wouldn't and I was always quite proud of that. There were bands I turned down that I thought could potentially go on to sell a lot of records, but if I wasn't into it, I wouldn't sign it."
But Douch was beginning to think outside of that potentially confining box, and began to wonder if it might be wise to expand the label beyond the parameters of his taste alone. "I wanted a band that would go in a different way musically to what we had and have the potential to be bigger commercially," he says. "I think the first band we signed that had the potential to have that reach was probably Pulled Apart By Horses. We did their debut single, Meat Balloon, which the guy interning for us at the time was really passionate about, but I remained unconvinced. I'm really glad he persuaded me to do it, because he was dead right, and I actually did get into that band in a massive way eventually. But I think that was the first time I took a punt on signing a band that, initially at least, wasn't to my tastes. In the end, I was disappointed we didn't get to work with them for longer."
The American invasion: 2009-2017
One of Douch's ideas to expand the label was to start drawing in bands from across the pond, and in 2009 he got a chance to do just that. "I found out that the UK Trade and Investment arm of the government would give companies grants to go to SXSW (an annual conglomerate of film, interactive media and music festivals that takes place in Austin, Texas). At this point, Hassle Records used to rent a hotel suite in Austin and they said I could sleep on the sofa, so I got free accommodation and £500, which just about covered the flights. We went with a view to signing Kevin Devine, an American artist from Brooklyn, New York, who I really admire. He was one of the first people we worked with who I was a little bit starstruck by. Up until that point, all the bands we'd signed had been small UK bands; the biggest thing that had happened to most of them was signing to BSM and people would listen to them because they were on our label. But when we signed Kevin Devine, the tables were turned for perhaps the first time and people would maybe start looking at BSM because we happened to be his label. So that was an interesting shift in dynamics. He's opened numerous doors for us and signing him felt very much like the beginning of the American invasion of bands that we have on our roster now."
In July 2009, Big Scary Monsters released Brother's Blood, the first of Devine's albums for the label. It's a partnership that has been mutually beneficial to both parties and Devine remains BSM's longest serving artist, with a total of 14 of his releases appearing on the label, including splits and EPs. Devine's relationship with BSM defines the perks that have attracted so much American talent to BSM over the past eight years. "I think it was good for him to have a label that could orchestrate things over here in the UK. Over the years I've booked his hotels, his trains, I've hired cars, I've been on hand to do whatever he needs to help facilitate coming over to the UK. That's the role I've taken on for numerous bands, we do as much or as little as anyone requires. In Kevin's case, it just helped to have someone here who has local knowledge. Over time, I found him a booking agent and a PR person in different territories, I put him forward for certain tours ... just help facilitate the campaigns. We've always worked on a one-album rolling deal, that's what we have for every band, we've never signed a band for more than one record. If they're happy with a job, if we're happy with how it's gone and if everyone wants to keep working together, we do. I don't really believe in giving someone a four-album deal and forcing them to stick with us if it doesn't work; that's not fun for anyone. So we do one-album deals, and with Kevin we've done five studio albums, each one by one, which I think speaks well of both parties."
The signing of Devine marked a new period and different challenges for the label; for the first time, rather than working with a band from their debut release, Big Scary Monsters had to adapt to working with bands that were already established and maintain or even grow the exposure that they already had. Over the years, the label has worked with many bands this way; Minus The Bear, La Dispute, Cursive, mewithoutyou, Caspian to name a few, and many of the releases those bands have put out on the label have been career-defining records for them. "It was an interesting challenge to work with an artist in a different way," says Douch. "Rather than taking their first record and trying to grow them, we were taking an established artist and seeing how we could develop them further. With the best of intentions, sometimes you work with an artist on their fifth or sixth record, and the reality is it can sometimes be difficult to find an angle to write about that people can really get behind. So beyond Kevin, we started working with some bands that were big but perhaps had lost a little bit of their relevance; we were aiming for the same target but from the opposite direction. That was a real shift in the way we did things and it made me think about the way we do stuff and what we can actually deliver to the bands we work with."
With recent releases from Balance and Composure, Beach Slang, The Fall of Troy, Modern Baseball and Tiny Moving Parts all receiving high praise and critical acclaim, Big Scary Monsters is not only continuing to thrive but releasing some of the strongest albums in its repertoire. With so much success behind him, it seems unlikely that Douch will be slowing down any time soon. "Every time I thought to myself, 'I need to stop and get a real job now,' there would be something that would pull me back in. I remember promising myself, when I turn 21, I'll quit. And I got to 21 and I was like, 'I'm kind of still enjoying this actually... maybe when I get to 23.' Then 25, then 30... Now I'm 33 and I've given up promising myself. What we do is a tiny bubble and I'm completely fine with that. Ninety-nine per cent of the world will never have even heard of any of the bands we work with – and that includes bands like Modern Baseball and La Dispute, who play to a lot of people all over the world. They're a tiny niche, but those bands still manage to make a career out of music. We deal with PR people that we like and distributors that we like and journalists that we like and I don't ever have to reach outside of that world. I like our little bubble and I'm proud of it."
Big Scary Monsters' pop-up is open from 12pm-7pm at Hackney Down Studios in London until 4 February
Reuse content