In a London hotel lobby just off Marble Arch, two members of Circa Waves are slumped in armchairs looking slightly sorry for themselves. 
It's the morning after the Brit Awards, and the indie-rock band spent their evening at Universal's after-party drinking some very dubious-sounding cocktails.
"I was quite socially aware of everyone who was there, so I drank through it," frontman Kieran Shudall admits, perking up when coffee arrives. "But then when I bumped into someone I admired, I didn't want to talk to them in case I said something stupid."
They seem unfussed about the main event, having expressed either indifference or disdain for it in the past: "Sam [Rourke, bass] gets frustrated about the icons we used to have and that we still listen to, like Bowie, Carole King – those people who used to represent artistry," Shudall says. "But I do think there are artists like Matty [The 1975] and Skepta, it's cool to have them."
"But it's really weird to have them sitting alongside people like Little Mix, who win the award for Best Single," guitarist Joe Falconer adds. "It's almost as if it's an honourable mention rather than an actual celebration of those people."
Little Mix's award and the mutters that it should have gone to The 1975 bore some resemblance to the debate at the Grammys, where Twenty One Pilots won over Rihanna – many fans of the former suggested that the duo deserved it more because they wrote the music themselves.
"That's a bit of a weird, grey area," Falconer says. "The other one is Best Video, which is such a bizarre award for the artist to go like 'yeah we won!' over the director, the crew, when most of the time the artist probably didn't come up with the idea. I think it's all a bit pointless anyway, those awards."
"Hey, I'm all in it for the Brits, baby," Shudall grins. 
Reflecting on what took place at the Brit Awards where Matt Healy from The 1975 pleaded for fellow artists not to "stay in their lane", Shudall notes that it's not always easy for bands to suddenly just step up and "be political".
"People are scared of saying something wrong," Shudall says. "I was always fearful of saying anything because I don't know much about politics. But now I'm kind of like, just because I don't follow it too closely doesn't mean I don't care about things. That's why I wrote the song 'Different Creatures' on Syrian refugees."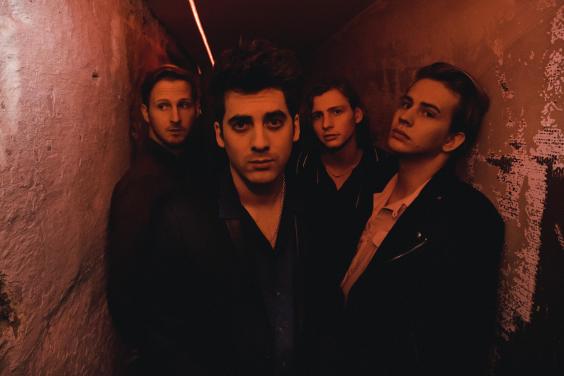 They're looking forward to the release of their second album, also titled Different Creatures, but are still trying to work out how the songs work best live.
"The build-up to this so far… we had a taste at Ally Pally with Two Door [Cinema Club], and it felt like we were a different band almost, like everything's coming together," Falconer says. "As soon as we played those songs for the first time live... I've not seen our fans react to anything else like that before."
Some might say it was risky to make such a noticeable changeover in sound from their (very well-received) debut Young Chasers in 2015.
But Shudall, who seems impressively astute when it comes to the UK industry, felt that audiences are hungry enough that they'll readily consume something different without needing to be eased into it.
"Everything moves quicker, band trajectories are shorter," he observes. "With the first album we did a deluxe version and people would just buy that, and there's none of the bit where you planned out the sort of 'journey' with the album. We just wanted to make the strongest record we could have. We do it like a setlist almost, there's an ebb and flow."
"We're aware that while a lot of our fans consume music in this new way, we're still album purists," Falconer says. "You can kind of do both."
Circa Waves definitely don't give the listener any time to catch their breath on their latest work: Different Creatures bursts in with opener "Wake Up" and follows with two more blistering rock tracks before easing things up with "Out On My Own".
This latest album saw them work with legendary producer Alan Moulder at his studio in Willesden Green – "We got the special treatment," Shudall says – and it sounds as though he and the band got on famously.
"I think he's the most patient man in the world," Shudall says. "I feel like we connected on how I wanted something to sound by the end of the record."
While some artists will wax lyrical about the "creative tension" that they feel had a positive effect on their work when a producer made things difficult, Falconer preferred working with someone who listened to their ideas. 
"I found that myth of 'creative tension' quite interesting," he says. "We've worked with a couple of people where it hasn't quite worked out.
"What was good about working with Alan was the way you two [said to Shudall] were sat together… everything's considered, no ideas are sacred."
"You understand why so many artists who are supposedly difficult to work with love working with him," Shudall nods. "It was a bit of a bromance."
It sounds as though the band feel more "together" than they did for their first record where, as Shudall puts it, they were "dropped in at the deep end" when they met at Liverpool Sound City in 2013.
"We'd barely met one another, we didn't know what the sound was," he says.
"It's like getting a job and not knowing what you're supposed to be doing," Falconer suggests. "We had the skills to do it, but it took a while to figure it out. We're not unhappy with the first record, but we want to stick around, we want to become a big band."
Different Creatures, then, is just that: returning as a different beast that bares its teeth and roars in comparison to the more polite debut album.
Shudall is refreshing to talk to in that he's entirely honest about his ambitions for the band.
"Someone said that in an interview – I think it was Bastille – where the journalist asked where he [frontman Dan Smith] thought he'd be in five years and he said he thought he'd be working in HMV or something. Imagine being that successful and still thinking that.
"In five years I see us being close to headlining Reading and Leeds. Why the f**k not? Why would you try and limit yourself? It's not healthy. He's a good songwriter, he should just go for it, that's what we're doing."
This is the perfect trajectory for the band, he says: Circa Waves started out in the small tents and are already on fifth or fourth-from-headline slots at some of the biggest festivals in the UK.
They've been talked about as a band who, alongside Foals, could go onto become some of the UK's most promising new headline acts.
"I think Foals are the perfect band for us as a comparison," Shudall says. "We look at them and they're a force to be reckoned with, you see how they've come since the first record. 
"I don't think it's healthy as an artist if you're content. It drives you mad when you're obsessing over how the snare drum sounds, but if we didn't do that then we wouldn't be the band that we are."
They look slightly taken aback when I tell them how few women are appearing on this year's Reading and Leeds line-up, where the band are set to perform.
"The thing that gives me hope is that there are so many incredible female artists, and it's getting to the point where it will be impossible to ignore," Falconer says.
"In many ways, the current, top headliners are being knocked off from a booking point of view. Festivals are [supposed to be] about discovering bands. I feel like the general mood is changing.
"And it's like you were saying with the Brits, they're not really representing artists as they should be. And they're aware it, but it's like trying to turn the Queen Mary II – that's a boat reference for non-Liverpool residents..."
"We're just pushing Liverpool tourism," Shudall grins, and proceeds to plug a few of the other excellent Liverpool bands currently on the scene.
Perhaps there's something in the water there, but there's a definite confidence in many bands from Liverpool that can be hard to find in London.
"The Vryll Society's lead singer, he's the most confident man you will ever meet," Shudall says. "I saw him there once, we'd just done Brixton, and he saw me and said, 'I'll see you at the top, man' and just walked off! And I was like, 'Fair enough'. He's a f***ing great songwriter."
Shudall still writes for Circa Waves in Liverpool and sends demos to the rest of the band. He says he'd like to work alongside them more often but "they all f***ed off to London".
"I don't know anyone else who's so meticulous about demos," Falconer says. "[To Shudall] Your demos pass for good recordings for a lot of people."
"I wrote about 150 songs in the first four months of last year, demoed 40 of them, and sent maybe 10 of them over to people," Shudall reveals. "I wrote so many bad songs to get to the good ones.
"I try to channel each one of the guys when I'm making the demos. That music-picky guitar thing is to do with the way Joe plays, and the bass I play quite erratically like how Sam does."
Between the heavier rock songs there's a wonderful acoustic song called "Love's Run Out" where you can hear Shudall speaking at the end of the track: "She text me during that."
It's an intimate, humorous moment that gives fans something of an insight into their chemistry in the studio.
"I'd put my phone on the side for the song, which was a one-take thing," Shudall says laughing. "And my girlfriend - who the song is about - was texting me so my phone was vibrating through the whole thing and I was like 'why would you do this to me now?'.
"We kept it in there because it makes it a bit personal. I've always loved those Beatles records where you can hear Ringo shouting in the background and stuff. I think sometimes you want to make the listener feel like they're in the studio with you."
"I think it also means it doesn't feel too polished, not presenting it as the most perfect representation of this song," says Falconer. "It's a record made by human beings."
Different Creatures is out now via Virgin EMI
Reuse content