Back from a boy's trip to Amsterdam after the summer festival season, Don Broco are sitting out of some rare September sunshine and in the murky gloom of the Big Chill in London.
They're still buzzing from the release of their latest album Automatic, which, despite mixed reviews from critics, has been receiving positive feedback from their fans.
The record, and their new image, is a dramatic move away from the rock-based sound of debut LP Priorities that caught the attention of Kerrang! magazine, featuring slick pop tracks that recall Maroon 5's jump from Songs About Jane to It Won't Be Soon Before Long.
Noting the Maroon 5 comparison as a positive thing, frontman Rob Damiani says the transition from rock to pop was never a worry for the band.
"We always thought we'd change as a band, from album to album," the 28-year-old explains.
Reading Festival was the band's first performance since Automatic's release, so they have only just been able to gage how their audience would react to the new material.
"Obviously at the back of your mind you're hoping fans are going to love it," Damiani says. "For us, if you listen to our proper back catalogue, we've always been this band constantly trying to define who we are from song to song.
"I think our hardcore fans knew that was part of the deal, that you had to accept a kind of variety."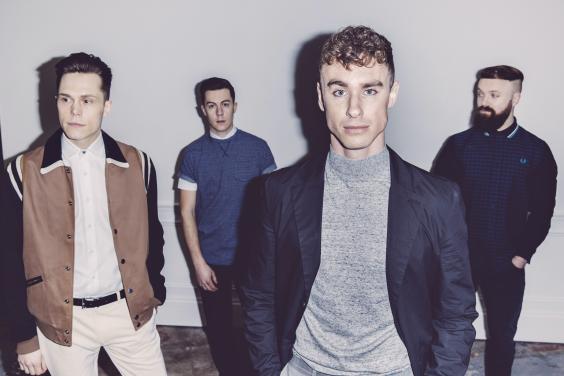 For a band who are teetering on the line between upcoming and successful, streaming is a particularly sensitive subject.  Guitarist Simon Delaney says they're "exactly the size that puts them at the biggest disadvantage": big enough to chart, but not enough to garner millions of streams on a platform like Spotify.
"So when you're up against artists like Taylor Swift or Ed Sheeran… those artists have a very strong chart position based on their streaming as much as their album sales," he says.
Where do they want to be in the next five years?
"The biggest artists in the world," Delaney says, deadpan.
"We've love to be in the position where we got to play bigger venues," Damiani says, more seriously. "Starting out, we never expected to get where we are this quickly.
"But as soon as you tick off a few things… Reading and Leeds was the be all and end all for us. But with Brixton on the horizon now, again, that was something we only talked about as a kind of dream. You revise your goals quite frequently."
"I'd love to get to the stage where we don't have to be worrying so much about what we can do with the live show," Delaney says.
Themes for their tour will continue around the album's aesthetic, they say, which is probably best described as a kind of neon glamour: lots of palm trees and azure swimming pools.
"We'd fill an entire arena with water and make everyone swim," bassist Tom Doyle throws in, also looking enthusiastic at the thought of neon palm trees.
"Neon is very hard to transport though…" Delaney says.
"Apparently Bastille learned that the hard way," drummer and vocalist Matt Donnelly nods.
What is abundantly clear and in many ways, admirable, is their apparent lack of concern for anyone who might leap at the chance to accuse them of "selling out" by their genre cross-over.
"There's good and bad music in any genre," Damiani says with a shrug. "There is some lazy pop music, but you realise people's tastes are pretty eclectic, especially these days.
"It's very cool to sneer at pop music, but I think deep down… everyone sings along to Taylor Swift. And there's just as much crap rock music as there is crap pop music."
"I think a great pop song stands the test of time just as much as an experimental indie track," Delaney says. "It takes you back to a time as a kid where you danced around your room to the Spice Girls."
"You do see a lot of artists dipping their toes into pop music now and then," Damiani notes. "I heard the latest song from The Weeknd ["I Can't Feel My Face"] which is pure dance pop, but it works.
"It's great, and I don't think it's exactly The Weeknd that I fell in love with but I still enjoy it. And as an artist I think you should be allowed to do what you want to do. The public doesn't get to decide that."
Don Broco are on tour in the UK throughout December 2015. Their new album Automatic is out now
Reuse content