And they're off. The European festival season has started. For British music lovers, tired of trudging across muddy fields in the rain, these continental offerings can make for a very attractive offer.
Splash out a little extra for a villa, and you can have yourself a glorious Mediterranean holiday while keeping up with the sounds du jour. And no need for a tent! From the azure seas of Corsica to a fortress in Serbia, here's a run-down of the ten best European festivals. 
Calvi On The Rocks, France, 5-10 July
For a week at the beginning of July, those in the know in Paris decamp to the Mediterranean island of Corsica. There they are treated to the very best of groove, funk, swing, pop and tropicales in a luxurious setting beach setting. This year, James Blake's 1-800 Dinosaur, Nicolas Jaar's Darkside, Buraka Som Sistema and Hercules and the Love Affair are just some of those who will be taking of the soundsystem.  When you tire of the main stage Théâtre de Verdure, sneak off to find the hidden beach or head for an Off Calvi fringe event. And then, of course, there's the plethora of exceptional local restaurants to treat yourself to come dinner time. Tres chic!
Calvi On The Rocks, Corsica, France. 6-day ticket €228.50 (+ booking fee)
Melt!, Berlin, 18-20 July
This 3-day dance extravaganza takes over the "city of iron" museum in the industrial town of Gräfenhainichen for the seventeenth time this July. Only a 45-minute drive from the airport, or a short journey on one of the regular shuttle buses from the train station, the site provides a special, eco-friendly Green Camp free of charge when booking your ticket. Boasting an eclectic line up ranging from the bluesy dub of Darkside to the experimental house of Four Tet, there's something to get everyone dancing. You'll even get the chance to see the elusive band of the moment, Jungle.
Melt! Festival, Ferropolis, Gräfenhainichen. Weekend ticket €135.90 (inc. booking fee)
Benicassim, Spain, 17- 20 July
One of the better-known festivals amongst British music lovers, Benicassim 2014 hosts the highly acclaimed psychedelia disciples Tame Impala and the perfect-for-summer serenading of Paulo Nutini. The Libertines are set to storm the Spanish stage with the ramshackle era-defining riot of duo Pete Doherty and Carl Barat. Kasabian will bring their raucous rock n roll and Chase and Status will get feet moving as a sure-fire highlight at the four day Mediterranean musical mecca.
Benicassim, Costa Azahar, Spain. Weekend ticket £159 (+ booking fee)
Outlook, Pula, 4-7 September
Described as 'Europe's leading Bass and Soundsystem Culture Festival', Outlook, set in the ancient Croatian city of Pula, has to be one of the most picturesque festival locations around. The stages present a welcome change from the usual stuffy tents with venues such as Noah's Ballroom and The Garden providing a much more stimulating backdrop for acts and revellers alike.  Neo-soul sensation Ms. Lauryn Hill kicks off the weekend with an opening concert at the impressive Roman amphitheatre alongside the deep atmospherica of Submotion Orchestra. Gentleman's Dub Club are set to deliver their energetic live show before sets from Truth, Prince Fatty and Moodymann.
Outlook, Fort Punta Christo, Pula, Croatia. Weekend ticket £140 (£11 booking fee) opening concert separately ticketed £35 (standing)
Roskilde Festival, Denmark, 29 June - 6 July
The Rolling Stones, Kasabian and the Arctic Monkeys make up the stellar headliners set to rock the socks off punters at Danish festival Roskilde this July. The largest cultural festival in Europe features a host of arts stages to nicely complement the music. A just announced highlight: two members of Pussy Riot are set to give a talk encompassing punk, politics and much besides.                                                                                                                                                                     
Roskilde Festival, Roskilde, Denmark.  Full ticket £225 (+ booking fee)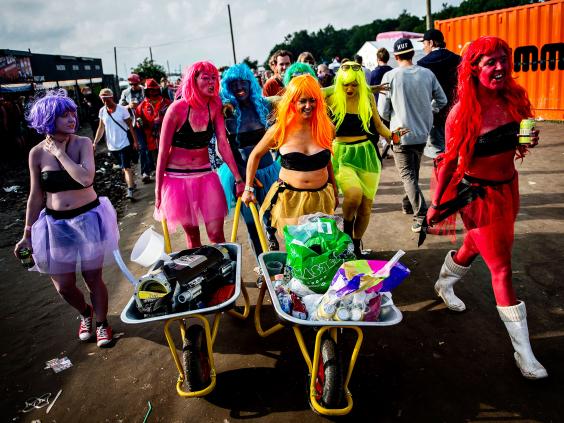 Rock En Seine, France, 22-24 August
Now in its 12th year, Rock en Seine is an annual French festival which takes place just outside Paris, in the Domaine national de Saint-Cloud. The Prodigy will no-doubt deliver a set of blistering beats while Lana Del Rey will keep things cool with her distinct brand of pop.  Meanwhile festival favourites Queens of the Stone Age are sure to offer a rapturous set of their rock and roll hits. All in the scenic setting of the chateau's landscaped gardens.
Rock En Seine, Paris, France. Weekend ticket €119
Exit, Serbia, 10-13 July
Originating as a student anti-government protest in 2000, Exit takes place in a fortress on the right bank of the Danube River. Disco goddess Gloria Gaynor headlines on the Friday before Damon Albarn brings a set comprised of songs from his tender solo debut Everyday Robots. Rudimental offer up feel good vibes alongside synthpop duo Hurts and Mighty Oaks provide some chilled indie folk. The Lawrence brothers exhibit their infectious house as Disclosure ahead of dubstep king Skrillex and the newly reformed Deep Dish. All that before Sunday headliners and Britpop legends Suede bring the festival to a close.
Exit Festival, Petrovaradin Fortress, Novi Sad, Serbia. Weekend ticket £95 (+ booking fee) camping pass £25 (plus booking fee)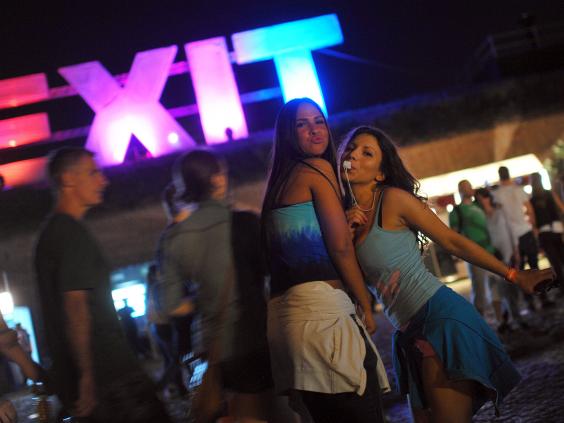 Soundwave, Croatia, 17-21 July
Soundwave is the perfect festival for those who like their dance music. Located in the gentle hills over Tisno, the secluded setting makes for the perfect spot for punters to get down to acts such as  Fat Freddy's Drop. And when the sun goes down on each of the five days of drum and bass, dub step and dance, the 3,000 revellers can indulge in a plethora of all-night after-parties – before the music starts again in the morning. The village of Tisno is just a ten-minute walk from the festival site, and offers a host of restaurants, cafes, apartments and small boutique hotels.                   
Soundwave, Tisno, Croatia. Weekend ticket £98 (+ booking fee)
Pukkelpop, Belgium, 14-16 August
Founded in 1985 as a small, local festival, Pukkelpop has had many ups and downs, with one particularly memorable year seeing The Ramones play a set in a children's petting zoo. This year, a diverse range of acts from Outkast, Tinie Tempah and Calvin Harris to Gogol Bordello and Janelle Monae will ply their trade on stage at Belgium's second biggest festival with a whopping 180,000 attendees in 2009. Slowly but surely overcoming the tragedy that beset it in 2011, when storms killed five people.
Pukkelpop, Hasselt, Belgium. Weekend ticket €175
Worldwide Festival, France, June 30 - July 6
The baby of Gilles Peterson, the man with the most diverse record bag in music. In the picturesque town of Sète on the Cote d'Azur, punters are treated to an eclectic mix of world music and electronic music heavyweights. This year sees seminal Japanese DJ Toshio Matsuura and French Martinique composer Chassol play alongside Fourtet, Floating Points and Theo Parrish. Not forgetting the irresistible techno favourites Little Dragon and jaunty psych folk from Connan Mockasin. All hosted at five unique venues across the town, from the harbour to the beach.
Worldwide Festival, Sète, France. Weekend tickets €209
Reuse content