Around seven years ago, Jack Savoretti was touted as a rising star. He was pitted alongside Paolo Nutini, a fellow genetically-gifted Anglo-Italian with a guitar and a few melancholic stories to tell. Through word of mouth via his hairdresser, he earned himself a management deal with Natalie Imbruglia's manager and so began his career, when he was aged 20. He sat in front of many high-powered music executives who told him how they'd change his world.
But not all those dubbed with one-to-watch status wind up happily. Some are not yet ready for the limelight; they need more fine-tuning. Some end up being pushed in directions they don't want to go, their independence and creative freedom stripped from them, and they are left in a musical abyss, with no label or money to support them. They are swiftly forgotten and quickly replaced by another one to watch.
Savoretti was one of these casualties. Aged 25, he decided there was too great a disparity between what he wanted to achieve in his career and what his management deal wanted from him. He wanted to keep his style (soulful, dreamy, folk-tinged acoustics) simple, he wanted to tour more and he didn't feel developed enough to be thrust into the mainstream arena yet.
One Sony executive even asked him to change his Italian surname out of fear it sounded too "world music".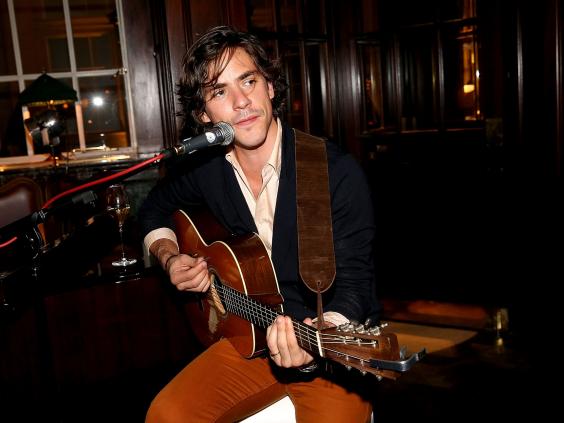 "It's a bit like someone telling you to go play in a Premiership team when you haven't practised," he explains over lunch in a London cafe. "You're going to look like an idiot. I thought: 'Wait, I'm not up to standard with others around me. Let me get good, then I'll be able to play with those guys.' It was an uncomfortable situation. It was all rushed."
He decided to pull out of his deal and was promptly sued. His second album, Before The Storm, was also axed (although it was later released online).
"Ironically, in my attempt to avoid the sharks, I ended up in bed with the sharks. It all got a bit nasty," he says.
Aged 26, newly married and with a baby on the way, he was forced to live off his savings for two years. The music executives who had once been so keen to sign him refused to touch him and he realised how tough it was to be without that rising-star tag. His career was seemingly over.
"It got pretty real and pretty dark," he recalls. "I wasn't very stable at times. It got dark and I didn't handle it that well. I owe my wife a good pregnancy the next time round. But we survived it."
However, as the old adage goes, the harder you work, the luckier you get, and Savoretti, admirably, didn't give up. His experiences served as the foundation for his largely autobiographical forthcoming album, Written in Scars, and he was signed again earlier this year. His latest material, which is richer than his previous work, was co-written by Sam Dixon, who works with Adele and Sia, and Matt Benbrook, who collaborates with Paolo Nutini and Jake Bugg.
"Every song was written on the same day it was recorded," he says. "It was genuine, spontaneous and getting through the storm inspired it, These aren't stories, they're autobiographical."
Savoretti was born in the UK to Italian parents. When he was seven he moved to Switzerland where he attended an international school, at which he acquired his transatlantic drawl. He taught himself to play the guitar aged 14, but never wanted to go into music. Writing was his goal, but he was, he says, "a pretty shit writer". In the end, he decided to move to San Francisco where he planned to go to film school, but he was stopped by dramatic, history-making news.
Rock and pop highlights of 2015
Rock and pop highlights of 2015
1/5 Mark Lanegan Band - touring from 20 January

The most intriguing performance prospect of a fairly docile January is the arrival of the Mark Lanegan Band for a clutch of shows in support of the recent masterly album Phantom Radio. Expect soul-ravaged blues fatalism as Lanegan confronts dark memories and apocalyptic visions with apparent sangfroid, his baritone croon traversing soundscapes of chugging electropop, spiralling guitars and courtly pop melancholy.

Kevin Nixon/Future Publishing/REX

2/5 Bob Dylan - Shadows in the Night released 2 February

An album on which Dylan sings Sinatra, a performer in whose voice he claimed to hear "death, God, the universe, everything". He's eschewing the usual swaddling orchestrations in favour of relaxed small-combo versions, recorded with his own band. They're not cover versions, he explains: "They've been covered enough. Buried, as a matter of fact. What me and my band are basically doing is uncovering them. Lifting them out of the grave and bringing them into the light of day."

Getty Images

3/5 The War on Drugs - touring from 16 February

2014's breakout US indie band will arrive for a string of British dates. Songwriter/frontman Adam Granduciel's blending of Dylanesque vocals, stadium-pop melodies and guitar drones should appeal to fans of Neil Young and My Bloody Valentine alike, and these shows offer the perfect opportunity to check whether they're as loud and overbearing as Sun Kil Moon's Mark Kozelek claims in his amusing song "War on Drugs: Suck My Cock". Thankfully, music is big enough to accommodate both.

Rex Features

4/5 The Jesus and Mary Chain - touring from 16 February

Having bowed to the demand to perform their debut Psychocandy in its entirety – a move that places them firmly in the rock-heritage classicist ranks, rather than the punk-nihilist cadre of their original 1980s inception – the re-formed Mary Chain take their sweet white whine around the country. Expect: great tunes; loud feedback. Don't expect: a revolution.

5/5 Nicki Minaj - touring from 28 March

Initial reaction to Nicki Minaj's new album The Pinkprint is mixed, but however its more assertively autobiographical songs transfer to the live arena, bangers like "Want Some More" and "Anaconda" suggest that her upcoming shows should pack some punch. And the flamboyant diva can surely be relied on to put on a show. But what will be the colour-scheme? Think pink.

Getty Images
"I flew from Zurich to LA on 9/11," he recalls. "I was in the air when it happened. I was asleep when someone woke me up because there was an army jet nearby. The pilot said in a very thick, German accent that we were not being allowed into US air space because of acts of terrorism, which sent the flight into a frenzy. He reassured everyone, but said that the Pentagon was hit on one side and the Twin Towers were no longer – not very delicate phrasing."
He was taken on a detour to Montreal where he stayed in a hotel room with a distraught Texan man who couldn't reach his girlfriend who was working in the Twin Towers at the time.
"I sat next to him in the airport because I had cigarettes and he smoked," says Savoretti. "The first time he saw what happened on the television he nearly collapsed and drank the entire minibar. I don't even know his name. I remember him waking me up to tell me his girlfriend was OK. It was all pretty surreal."
Savoretti did eventually make it to the West Coast, but hated living in LA so moved to London to study film instead. He describes the course as "a waste of time" and would go home in the evenings and write songs instead, until his fateful meeting with that manager.
"I'd tell anyone starting in music, 'don't think that you and your songs alone will get you anywhere'," he says. "It's the people around you who define your career. That's the protection you pray for when you're in the lions' den, you'll be applauded, but you'll also be massacred."
Now 31, with his second child on the way, life for Savoretti is very different to back in 2007 when his career first began. On 4 March, he will play for the first time at the Hammersmith Apollo. Whether this spells his rebirth or not, the music world will find it hard to keep this determined, earnest storyteller down.
"It's been a slow ride and it's always been uphill," he says. "But we've finally got hold of the reins and everyone here knows how to climb that mountain. I don't know if there is a peak or if you ever feel that you've reached it. I just want to keep getting better and better and hopefully be able to take care of everyone better. I don't know how to do anything else."
Jack Savoretti's new album, 'Written in Scars', is released on 9 February on BMG Chrysalis
Reuse content