From Keanu Reeves to Ryan Gosling, Johnny Depp to Juliette Lewis and Jared Leto, actors have always fancied themselves as rock stars. Even Bruce Willis has released three albums. And while some have proved themselves the real deal, they tend to get stick for showing off and daring to try something new. Perhaps that's why the British actor Paddy Considine, who formed his largely unknown band Riding the Low in 2006, has kept his musical side low profile, quietly establishing himself as a lead singer as well as a leading man.
Indeed, this is Considine's first music interview for a national newspaper. He is preparing to perform at the Forgotten Fields festival this weekend with the rest of his band – Chris Baldwin on guitar, Dan Baker on lead guitar, Justin Chadwick on drums and Richard Eton on bass. All are from his hometown, Burton upon Trent in Staffordshire, where he still lives. Having spent years playing his autobiographical songs on the pub circuit, largely around the Midlands and later in the north of England, Considine, 41, is excited that his band is picking up momentum. Their second album, Here to Help the Neighbourhood, will be released this year.
"Most people get over the fact it is me and just see the band; that is the great thing about Riding the Low," says Considine. "Being an actor in a band is looked upon as a problematic thing. You are meant to stick to one or the other. Nobody has ever told me what to do. One thing that punk has taught me is that it is not an exclusive thing. Rock'n'roll is my right."
Considine got his big music break last year, after Tim Burgess of the Charlatans invited him to perform at his curated Tim Peaks Diner event at Festival No 6 in Portmeirion, Wales. Considine had contacted Burgess after reading his book Telling Stories, to discuss meditation. "The conversation developed and Tim generously offered to let us play at Portmeirion," says Considine. It led to the band supporting the Charlatans at the O2 Academy in Leicester this year. "I didn't get stage fright. We were ready. We did our history off-camera. We have evolved. We have got better. At first it was raw – all we had was arrogance. We had a long way to go and we learnt our craft at all these pub gigs. We didn't expect a leg-up just because an actor is in the band."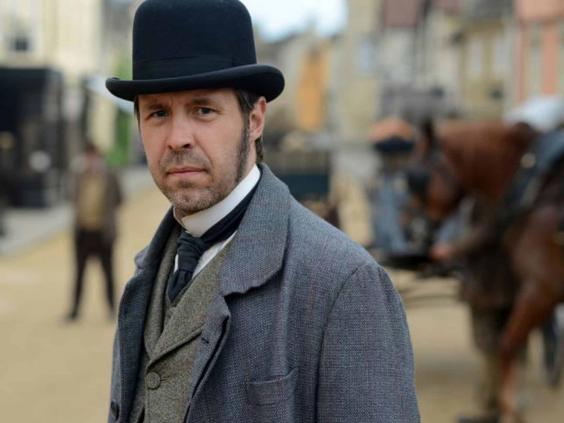 Considine is best known for collaborating with Shane Meadows on films such as Dead Man's Shoes, which he co-wrote and starred in, and for writing and directing his first Bafta-winning feature film, 2011's Tyrannosaur. He will shortly direct and star in his new film, Journeyman, about a boxer who gets brain damage, and plays Banquo in the new Macbeth film, opposite Michael Fassbender. He doesn't bring any "Peter Gabriel theatrics" to the band, though. "It's a raw rock'n'roll thing – the performance is in the songs."
Considine started off as a drummer and didn't consider being a singer until 2002, when he saw the American rock musician and singer-songwriter Robert Pollard, the leader of the indie rock group Guided by Voices. "I just had a transforming moment and thought, 'I want to do that'. At that point I was writing songs. My wife had bought me a guitar. Some of the songs were good. I thought it was a fleeting thing so I got them recorded with my friend Nick Hemming [lead singer with the Leisure Society], and I got a band together," says Considine. "When we got into the practice rooms and brought the songs to life, it blew me away. So I just booked a gig in a pub in Burton upon Trent."
The band's set list includes "The Dizzly Doodah Man" about a ghost Considine used to see as a young child; "Rocky 99" about his mother's ill health and decline – "but she held on till the end: it's about defiance; it's an uplifting song"; and "Great Day Out for the Boys" about someone's self-destruction – "but the soul in the person just wants to come back home".
"It is not a gloomy set – there is darkness in the songs, but not brooding. There is hope," says Considine. "I don't labour over lyrics – it's only later that I realise what I was writing about, and it is quite enlightening to me."
Considine has known Riding the Low's bass player, Eton, since they were teenagers, when they formed a comedy metal band with Hemming called Grunt. "We performed in Richard's dad's living room." By 1990 Considine and Eton had enrolled on a National Diploma in Performing Arts at Burton College, where they met the director Shane Meadows; there they formed a new indie pop band, with Hemming, called She Talks to Angels. "The music changed a bit. We came out of metal and were listening to Blur and Jesus Jones and even The Levellers," says Considine. "It was a year before that little adventure came to an end. We all got tired of each other. We were on the dole and stuck in Richard's dad's living room."
Considine quit the acting course and left the band. The others stuck together and re-formed, calling themselves Oslo. They appeared on Jools Holland's show, but Considine had moved on to study photography at the University of Brighton, where he formed a new group, a Britpop band called Pedestrians.
After graduating, Considine put his musical aspirations aside in 1997 when Meadows cast him in a few short films and his second feature film, A Room for Romeo Brass, in 1999. His acting career then took off when Pawel Pawlikowski cast him in 2000's Last Resort and 2004's My Summer of Love. He later landed roles in big-budget films including The Bourne Ultimatum, Hot Fuzz and The World's End.
For Considine, writing songs is just an extension of writing films. "The songs are from the same place that Tyrannosaur came from. It's just a different canvas. Riding the Low is the platform to get all that poetry out and writing I need to shift."
Acting has left him largely disillusioned. "Acting doesn't do enough for me. When you act in a film, it's done. You watch it two years later and are so detached from it. There is no gratification and so I don't watch any of my performances," he says. "Sometimes a role comes along that is worth it – Pride and Macbeth were both amazing experiences for me. With acting I am always relying on other people to inspire me. There are certain roles you want that you are never going to get. A director just told me he couldn't give me a role I really wanted because he wouldn't get the finance. They have to risk casting the wrong actor to get money for films."
Journeyman, an original script by Considine, will be the first film that he will direct himself in. "I love directing. Directing myself might be a stretch too far but I haven't found anyone else to be in it," he says. "With my writing I just let go and let it take its course," he says. "When I first got into Robert Pollard it opened a door. I tuned into him as a creative force – not just in my song-writing but also in my approach to writing films. I didn't have to apply logic listening to Pollard. It taught me to go with my gut instinct and follow my feelings, rather than my intellect."
Paddy Considine performs with his band Riding the Low at Forgotten Fields, 7 to 9 August (forgottenfields.co.uk)
Reuse content