On the empirical evidence, it's a shoo-in. He's been all over the UK over the last week: touring arenas, popping up on last Sunday's X Factor, bedazzling Nick Grimshaw on Radio 1's Breakfast Show the following morning. Britain has embraced the 41-year-old American to such an extent that he was accorded the responsibility/honour of being the opening singer on the BBC's all-star, charity-cum-corporate ad reboot of The Beach Boys' "God Only Knows".
His second solo album, released in March, has been one of the year's entertainingly simpler pleasures, despite its would-be hi-falutin'  typographical title: it's styled G  I  R  L, with two spaces between the capital letters, because Pharrell "wanted it to read differently in text. 'Cause there's so much between those letters. You know?"
Not really, but the album's appeal is easier to understand. It has spun out a selection of dancefloor-friendly hit singles, starting with the still-inescapable "Happy" – global sales of 10 million and counting – and continuing through the spring and summer with "Marilyn Monroe" and "Come Get It Bae". Next month he releases another one, "Gust of Wind".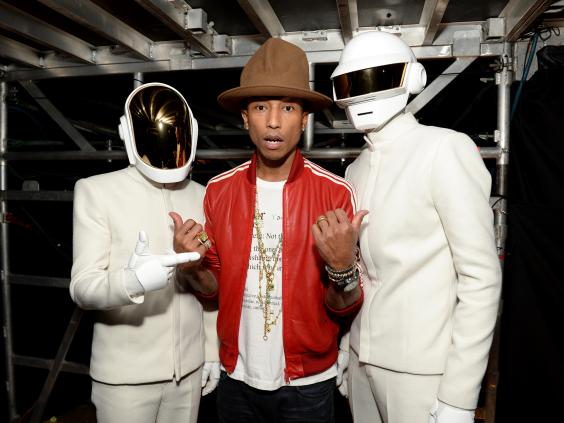 Meanwhile, the two global smashes with which he dominated last year's airwaves – Daft Punk's "Get Lucky", and Robin Thicke's "Blurred Lines" (Pharrell co-wrote both) – continue to enjoy hefty cultural traction. Although not, in the case of the latter, for entirely positive reasons.
But considering Pharrell's signature song, it's probably the defining global pop song of the last year. "Happy" started out as a number written for the soundtrack of Despicable Me 2 but became a worldwide anthem to unfettered, joyful expression. There are online fan tribute videos aplenty, although one in particular is vexing the normally horizontally laid-back Pharrell.
In May, seven Tehrani youths were arrested for posting a clip of themselves dancing to "Happy". The video went viral, and last month they were sentenced to 91 lashes and six months in jail.
Their punishment was suspended, but Pharrell is patently pained. Is there anything he could do to mitigate their punishment?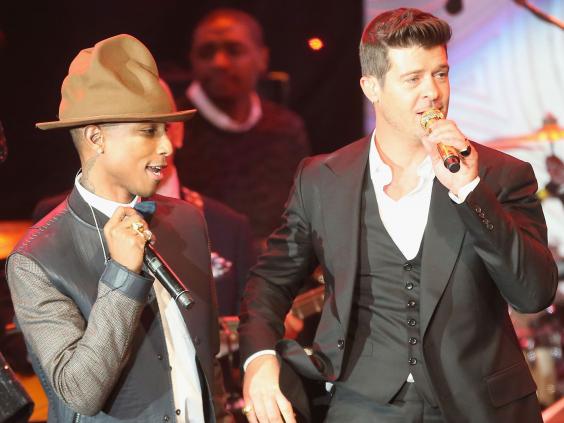 "There's so much that I would love to do. But how do you do that, in country like that? I tweeted back at the Iranian prime minister – I just asked them why were these kids were being detained. And I don't know if he responded," he sighs. "I don't think he did. But I definitely tweeted to him. 'Cause he [had] said: we shouldn't frown upon people being happy, or people dancing, or expressing themselves. Or something to the effect that we can't be too stringent. And I just responded, 'well, let the kids go'."
It's a terrible blip in a year full of skyscraping highs. Speaking of which: Pharrell is also responsible for the Hat of the Year. His "Buffalo" headgear, a vertiginous version of an old Vivienne Westwood design that he premiered at the Grammys in February, has become the defining look of 2014.
But as we might have come to expect from the Virginia Beach native who shot to prominence co-writing and co-producing hits for others (Nelly's "Hot In Herre", Britney Spears's "Slave For U", Gwen Stefani's "Hollaback Girl", Kelis's "Milkshake", the backbone of Justin Timberlake's Justified album), Pharrell is, to his credit, a generous performer.
So at London's O2 last week, Pharrell shared the love. He pulled dozens of fans from the audience – first boys, then girls – onto the stage to enjoy a moment dancing in his spotlight. His five dancers, The Baes, had their own interlude – a highly entertaining "twerk-off", if you like – complete with on-screen directions on how we might follow them on Twitter.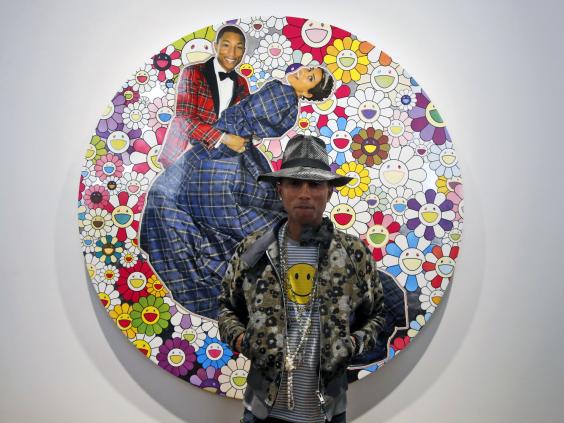 He even gave a shout-out to his booking agent, John Giddings. We could anticipate, say, God being thanked. Or Pharrell's five-year-old son, the (of course) hiply-named Rocket. But the guy who booked the gig?
"Because he got me to the arena," shrugs Pharrell by way of explanation when we meet in his Mayfair hotel the afternoon after the show. "He got me to the O2, two nights in a row, sold out. And when he first brought me over here, 13, 14 years ago, we were barely playing rooms of  100, 200 people."
He's also not afraid to share the love with brands. Such is the model-handsome man's global style cachet, everyone wants a piece of him. Pharrell is in bed with Uniqlo (a T-shirt and jackets line), Sony (a joint-venture label, I Am Other), and Adidas (sponsors of he and The Baes' tour apparel). New York buses are currently emblazoned with adverts for his collaboration with G-Star.
"We're recycling plastic instead of making new polyester," he says in his soft speaking voice. "So we have a sustainable business. And while recycling plastic is not a perpetual solution, it's better than making new. It reduces the carbon footprint." And do these plastic jeans feel OK?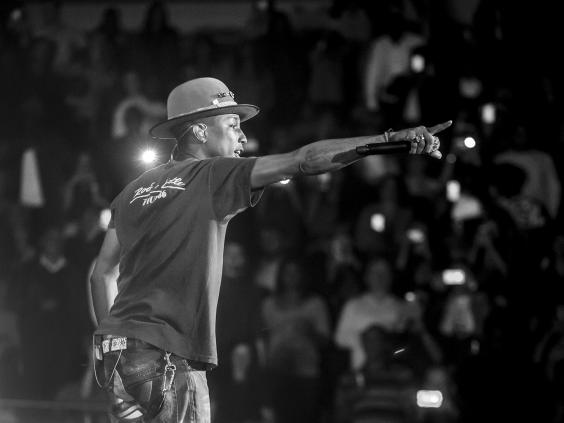 "Yeah, it's not different," he says, proffering a denim-clad leg for a fondle. They're accessorised today with a pair of the limited edition red Timberland boots that Pharrell "curated", personally customised with colourful daubed words: "Chanel", "Punk Tribe", "Human Connect". They're buzz phrases "that mean something to me". The never-knowingly-understyled musician is also rocking ropes of shiny necklaces, a royal blue suede bowler hat and a hot pink woman's coat by Céline.
"It's a female brand," he acknowledges, "but it fit me and I liked it, so I just wear it. I like things that fit me, and I don't really see a line… I mean, a dress is different," he smiles. "And heels and shit. Nah, man, I can't pull that off. I can pull off a pink jacket." As is his gnomic want, Pharrell pauses. "I'm happy to be able to express myself and be who I am."
Pharrell, then, is in much demand. Even during our interview. Within 95 seconds of our starting he has been distracted.
"Lindsay!" he shouts over my shoulder. "How crazy is that?" It's Lindsay Lohan. The troubled actress is staying in the same hotel during the London run of Speed-the-Plow, the David Mamet play with which she's attempting something of a comeback. She approaches our table, apologetically. "I must have an old number for you or something…" she says tentatively.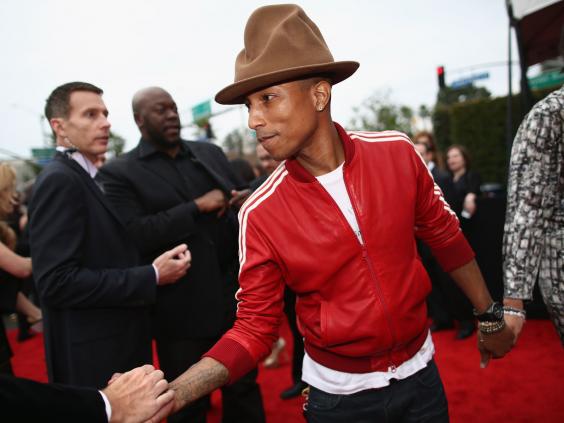 "No, I texted you back!" says Pharrell, mega-watt charm on full beam. "I said, 'how are you, how's it going, congratulations on the show…'"
"Thank you," replies Lohan. "How long are you here for? I have a show tonight and two tomorrow. It's the end of the week and I'm exhausted."
"Listen, I'm so happy…" begins Pharrell. Effortlessly, and entirely naturally, he slides into the smooth, silky, verbosely encouraging mode he applies to his job as a judge on the American edition of talent show The Voice.
"You'll see in my text, I just said: where you are… without judgement, where only talent can secure your position, and this is great because the world gets to see that you wouldn't be there if you weren't incredibly talented… You know, it's a play, so everyone has to be in sync. If one person's off, the whole thing's off."
"Oh yeah we've dealt with that!" she says quickly, referring to widely publicised opening-night jitters.
"So the world gets to see this incredible balance that you bring to people that you work with," continues Pharrell's spiel, "and that you do more than hold your own. I'm hearing that you shine in it."
"Thank you," breathes Lohan, her bee-stung lips trembling. "One of our guys didn't show up for my first matinee. And they were gonna cancel the show. I was like, 'you're not cancelling the show 'cause then it's my fault, it's my ass'. So I called the understudy and said, 'please come in.' Which was interesting…"
Clearly empowered by her brief audience, Lohan glides off and Pharrell sits down with a jangle of jewels. He is, it's clear, an entirely magnanimous man; what we might call beatific dudeness appears to be his default setting.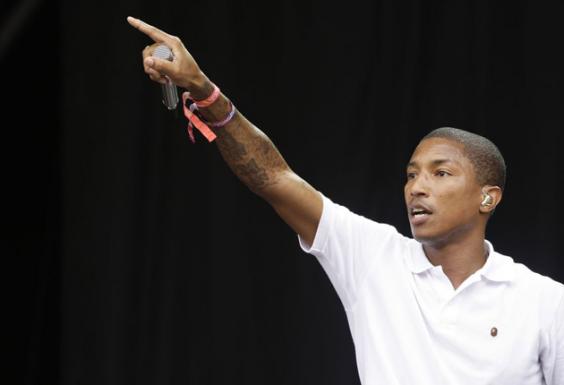 Take the ongoing legal case surrounding "Blurred Lines". Marvin Gaye's heirs are suing the song's composers over its alleged similarities to the soul legend's "Got To Give It Up". The case goes to court in Los Angeles in February, so all parties must be careful over what they say.
But last month depositions given before a judge by Pharrell and Thicke were published. Among other revelations was the fact that, in Thicke's own admission, the creation of the song in the studio "would have happened with or without me… none of it was my idea… I was drunk… [and] I'd say 75 per cent of it was already done when I walked in". Pharrell, he clarified, "geniused the whole" song.
How did Pharrell feel about Thicke's confession? Again, he pauses before answering.
"I haven't really had a thought. My reaction to that whole entire situation is that, here's a guy who is incredibly talented, with a masterful voice. And… the success hit him very fast. But I think he's gonna be fine.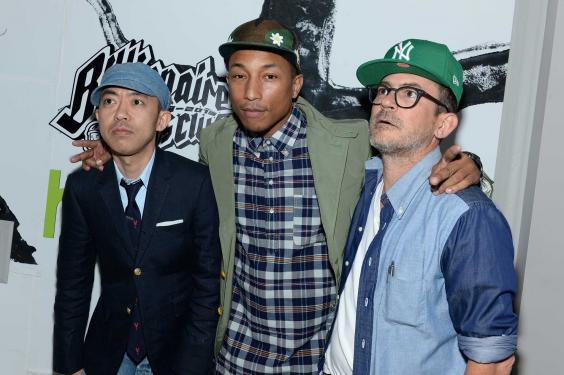 "The beautiful part about this is," he continues in his thoughtful, R&B-Yoda style, "that I feel like Robin learnt so much about himself in this scenario – and not many people see the kind of fame that he's seen, and could continue to see if he wants it. His voice is that good. His piano playing is that good. His writing is that good. What he's realised out of all this is, he has the ability to do and be whatever it is he wants to be. And we'll see what he decides."
So Pharrell wasn't frustrated that Thicke was getting some of the credit for a song that was, it now transpires, pretty much all his work?
"No. Because he inspired me. What am I without the inspiration that he gave me from just being who he was?"
The court case also means that discussion of lyrics from "Blurred Lines" refuses to die down. Pharrell, a man who hymns girl-power at every opportunity, insists he has no regrets. Is that true? Not even about a line like, "I'll give you something big enough to tear your ass in two"?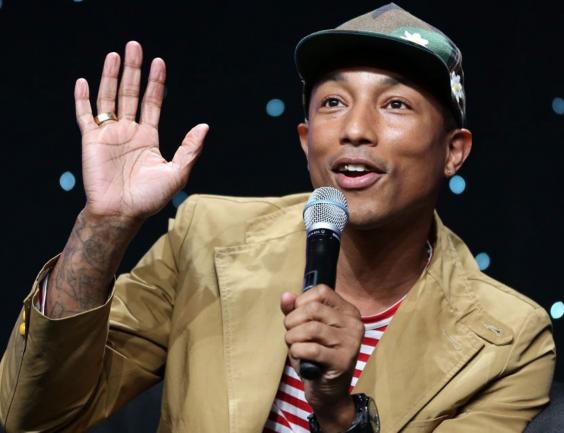 "I didn't write that. That was T.I.'s part," he says, referring to the song's other writer.
The chorus – "I know you want it" – was that T.I.'s part too?
"No, I wrote that. But what's wrong with that? I know I want it!"
Some commentators have called it a "bit a rape-y".
"Mmm. Well they have some creepy friends. Because, by the way, when did I say it meant sex?"
It's heavily inplied.
"When did I say anything about sex?"
We go round the houses a bit. Finally Pharrell says: "You have to make sure that you're coming from a decent place. And I was coming from a decent place. Because when you look at the song in totality you realise that the song's about a woman who wanted to… who felt something, but decided to take it out on the dancefloor. I'd never want to say anything about sex. Like, 'rape-y' would mean, 'I'm gonna do this to you, you know you want me to do that to you…'"
He's leaning forward and looking at me intently now, giving me the full Lohan.
"The song was a pie-in-the-sky idea of a conversation that never took place! The song ain't about doing it! Nothing ever happens. 'Cause she's a good girl. Duh!"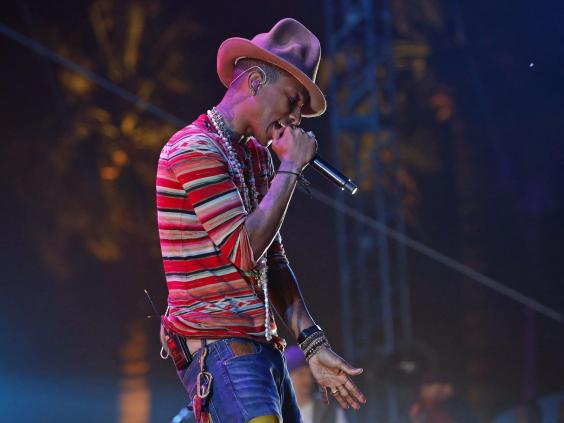 So: it's not a misogynistic stance, it's a male fantasy and a strong female who's rejecting that?
"Hello!" he exclaims. "You're the first journalist that's ever figured that out. Say it again – it felt so good to my ears… the song is about rejection."
Hmmm. Just like Pharrell Williams's currently rocket-powered career, I think this one will run and run. But right now, the eternally positive, occasionally waffle-y singer is concentrating on the job at hand: continuing the G  I  R  L tour. For all his coolest-guy-on-the-block status, Pharrell appreciates that he only became an arena-filling sensation in his forties. So he knows what he's about: entertaining his adoring audiences. At the O2 he seemed genuinely humbled by the rapturous response he gets.
He nods and smiles. "I feel like that every night."
But now we're being interrupted again.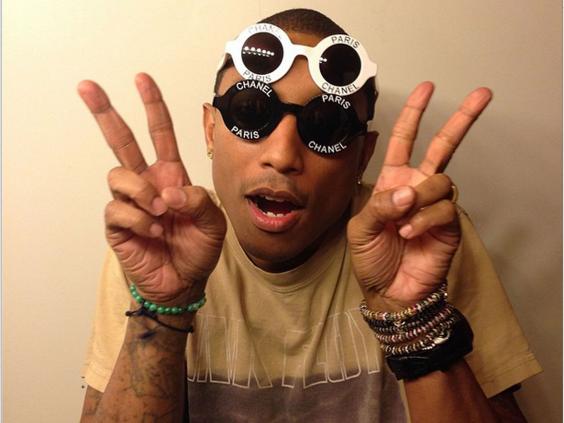 "I work for a lingerie company," says a woman who has sidled up. "We do Stella McCartney, Elle McPherson and a bunch of others. I know  that sometimes you're interested in doing fashion collaborations…" she says with some understatement.
Pharrell raises a perfect eyebrow. "I don't know if I can pull off lingerie, though…" he smiles.
Well, if anyone can…
'Gust of Wind' is out on 9 November
Reuse content