In an East London members' club, where the male clientele are near-uniformly whiskered and bespectacled, Paul Van Haver – or Stromae, to give him his pop star moniker (it's an anagram of maestro) – cannot help but stand out, and not merely because he is six foot plenty. Half Rwandan, half Belgian, he is as thin as an HB pencil, boasts cheekbones that have strayed from the catwalk, and a pair of translucent green eyes you'd swear were contact lenses but are, he insists, quite real.
As befits someone that has just launched his own fashion line – "fashion label is too big," he corrects. "Fashion capsule" – he looks very tailored, in an outfit comprising at least half the colours of a rainbow, but nothing can detract from the fact that the man is also wearing a pair of grandad slippers. He holds an index finger aloft, as if it were an exclamation mark. "Not slippers, no! These are Maians, a Spanish label. Shoes. Nice, huh? Très confortable."
This morning, the 28-year-old goes pretty much unnoticed amid the bustle of second-generation Nathan Barleys, but he likely won't for much longer. Stromae is, after all, Europe's biggest pop star. His new album, Racine Carrée ("Square Root"), comes out in the UK in the autumn, but it has already sold 2.5 million copies across the Continent since being released there last year. On top of that, his artfully choreographed, and often discomforting, videos have been viewed over 200 million times on YouTube, and he has collaborated with Kanye West, will.i.am and Tinie Tempah. He also recently sold out three London shows in a matter of minutes, and is performing in a primetime slot at next weekend's Glastonbury; it's clear Europe's best-kept secret is about to become a big deal on these shores.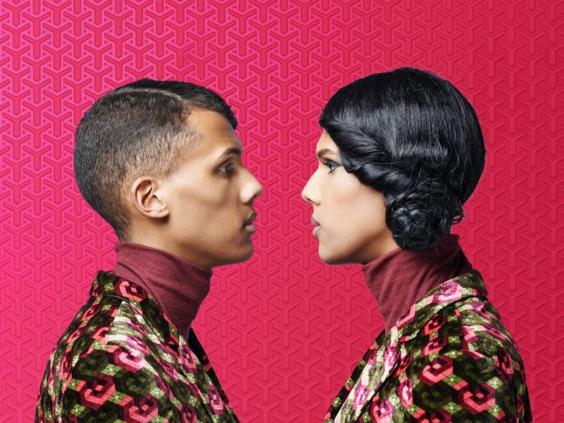 He also has friends in high places: former French President Nicolas Sarkozy is a fan, and when the Belgian Prime Minister Elio Di Rupo met Barack Obama recently, he presented him with a copy of the album. "Why?" Van Haver repeats when I ask about his PM's choice of gift. He shrugs. "Oh. Well, I suppose I represent Belgian culture."
And why has Stromae risen so far? Perhaps because his music is such a fascinating curiosity. On the one hand, it's straightforward Euro-dance, banging, euphoric, and striving towards the transcendent, but on the other, it is lyrically bleak, entrenched in social issues such as the financial crisis, sexually transmitted diseases and absent fathers.
"I make dance music because I love to dance," he says, in mellifluous English. "But I want to think at the same time. It's good to think about real life, no? Because real life isn't just dreams and happiness." He recently came to the attention of Damon Albarn, who has requested a meet with a view to collaborate. Van Haver's initial response was: who?
He laughs with embarrassment. "Not to offend, of course. I know the music of Blur, and the other one, Gorilla?" Gorillaz. "Yes, Gorillaz. I just didn't know the … how you say? The name."
Van Haver was born in Belgium in 1985. His mother already had two children from a previous relationship, and her partnership with Van Haver's architect father didn't last. He left the family to return to his native Rwanda, where, a decade later, he was killed during the genocide. His mother went on to have two further children, but it was her middle son who proved the hyperactive one. School was a challenge.
"The only thing I could concentrate on for more than 20 minutes," he says, "was music. I needed rhythm, songs. I needed to compose." Influenced by the Congolese rumba his parents introduced him to, and also anybody, as he puts it, with a melancholic timbre ("Piaf, Brel, even Adele – [she's] an old soul, I think"), he began to make music the only way he knew how: on a computer. He served time in a hip-hop duo in the early Noughties, "because at the time, hip hop was la mode", and then went solo in 2009. His 2010 debut album, Cheese, established him throughout the Eurozone – its single, "Alors on danse", reached No1  in 19 countries – but it is Racine Carrée that looks set to take him global, no mean feat for an artist who refuses to pander to an international market by singing in music's common tongue.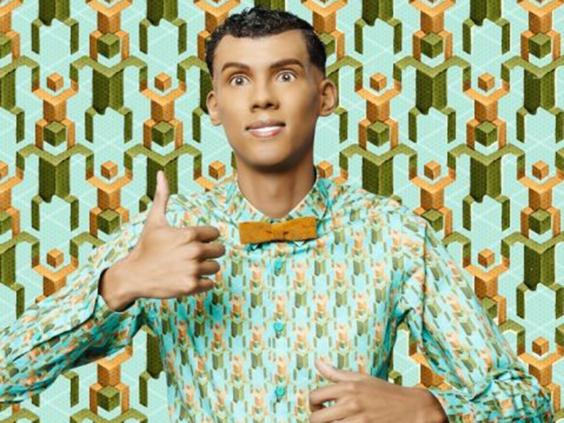 "To sing in English? Non," he says, frowning. "OK, perhaps one or two songs, but otherwise I think it is the worst mistake. You sing in your own language, you bring texture to the world, oui?" Teetering on the cusp of mega-stardom has made this already deep thinker brood all the more, and for much of the hour I spend with him, his face is creased by a contemplative frown. He talks about the rigours of fame and of being constantly recognised in Belgium, France, Germany and beyond. "People with camera phones," he laments. Money hasn't made him happier, he says, and the high-profile collaborations only make him feel awkward, shy and unsure of himself.
Much of this angst he pours into his work. The video to recent single "Formidable" (150 million  views and counting) casts him as a pseudo-drunk staggering around Brussels while a hidden camera captures the response of passers-by who are either mildly horrified by the sight of their biggest celebrity in his cups, or mockingly amused. See, he wants to tell them, I'm nothing special, I'm just the same as you.
"I felt very drained after making that video, depressed," he says of a society so quick to judge. Not that he is complaining, he adds. "It is difficult to complain, because my job is to be loved. But I want more and more to be … solitaire, you know?"
He does have a girlfriend, he admits, but, reluctant to discuss his private life, describes instead his perfect day. "It's to be back home, in Brussels, to get into my car, alone, and just drive."
He attempts a smile now, suddenly aware that what started out as a conversation celebrating his success has ended up as a monologue of grave introspection. His feet shuffle in his Spanish slippers, and when he talks next, he gazes off into the middle distance, eyes unfocused. "I'm trying to stay normal, that's all. But it's hard. Everything has changed. Success is a gift, but it's a handicap at the same time, I think."
Stromae plays Glastonbury next Sunday. His album 'Racine Carrée' is released on 15 September
Reuse content