Ella Henderson sits in the corner of an east London restaurant, mulling over a coffee gone cold, and playing with strands of her hair. Having long since ditched the cute vintage look she sported on The X Factor two years ago, she has been more recently "smouldering" in outfits more befitting an emergent pop sophisticate. Today, at least, she is dressed down, and inconspicuous, in an oversized sweatshirt and jeans. The 18-year-old appears make-up-free, her deep brown eyes gazing out into the world from beneath heavy lids.
This far into our complicated relationship with the X Factor machine – a show we don't so much love to hate as hate to love – it is difficult not to get parental over its recent graduates. They arrive on to the show fresh-faced and sweet, before becoming transformed into heavily henna'd pop puppets, former identities quashed in favour of newly toothpaste-bright smiles and Mariah Carey vocal habits. X Factor fame comes quick, and just as quickly expires. Its carcasses are scattered across pop's peripheral wasteland: Steve Brookstein, Leon Jackson, Alexandra Burke, Matt Cardle.
Henderson, fingers crossed, might just be different. She didn't win the show, which helps. In fact, she came a lowly sixth, then disappeared, content with a slow development deal rather than rush-releasing a cover version while still fresh in the public's mind. Today, it takes her less than 15 minutes for her to tell me that, "I'm just a girl from a small fishing town in Grimsby", and another 10 to insist that she hasn't undergone media training because, "I'm not a robot, I'm a human being." In other words, she might just have emerged from the whole thing unharmed and uncorrupted.
When she released her debut single earlier this year, "Ghost", a full-bodied pop song co-written with OneRepublic's Ryan Tedder, it sailed to No 1, making her debut album, Chapter One, among the most anticipated pop releases of the year. "I was never going to go on X Factor, you know," she says. "I always thought you needed balls to do something like that, and I didn't have any." At some point, though, we must surmise, she grew a pair.
X Factor: The real winners
X Factor: The real winners
1/12 One Direction, series 7 (Winner: Matt Cardle)

Arguably the most successful X Factor act of all time, the boy band were put together by the judges after originally auditioning individually. They came third on the show, but with a combined wealth of £70 million and the best-selling album of 2013, they're definitely the real winners.

Getty Images

2/12 Cher Lloyd, series 7 (Winner: Matt Cardle)

She came fourth in the competition but went straight to number one with her debut single "Swagger Jagger" and has been highly successful in the US.

Getty Images

3/12 Jedward, series 6 (Winner: Joe McElderry)

Louis Walsh loved them, but Dublin brothers John and Edward Grimes were seen as a joke act and came sixth. But they were soon the ones laughing - their music and television career was last year estimated to have earned them €6m.

Getty Images

4/12 Ella Henderson, series 9 (Winner: James Arthur)

A strong favourite to win, the teenager only came sixth in the singing competition. However, her debut single "Ghost" went straight to number one in the UK and remained in the top five for eight consecutive weeks.

Getty Images

5/12 Olly Murs, series 6 (Winner: Joe McElderry)

The loveable runner-up has released four number one singles and went double platinum with his second, self-titled album.

Getty Images

6/12 JLS, series 5 (Winner: Alexandra Burke)

Despite finishing in second place, "Jack the Lad Swing" went to number one with their first two singles, "Beat Again" and "Everybody in Love". They have sold over 10 million records worldwide but split in 2013.

Getty Images

7/12 Amelia Lily, series 8 (Winner: Little Mix)

The teenager reached number two with her debut single "You Bring Me Joy" after coming third on the show. She is set to release a second album this year.

Getty Images

8/12 Rylan Clark, series 9 (Winner: James Arthur)

Despite finishing up fifth, Rylan has become a big TV star. In 2013 he won Celebrity Big brother and now co-hosts Big Brother's Bit on the Side. He has also had several presenting roles on ITV's Daybreak and This Morning.

Getty Images

9/12 Rebecca Ferguson, series 7 (Winner: Matt Cardle)

The runner-up released her debut album Heaven to commercial and critical success and it went double platinum in the UK. In 2012 she was nominated for two MOBO Awards.

Getty Images

10/12 G4, series 1 (Winner: Steve Brookstein)

The singing quartet, described by Simon Cowell as the "real winners" of the first series, went on to sign a £1.5 million album deal with Sony BMG. They spilt in 2007 but will be playing a one-off reunion concert at the Barbican later this year.

Getty Images

11/12 Stacey Solomon, series 6 (Winner: Joe McElderry)

She has yet to release an official album, but has since carved out a highly successful career as a presenter and reality TV star. In 2010 she was crowned Queen of the Jungle on ITV's I'm a Celebrity... Get Me Out Of Here!

Getty Images

12/12 Union J, serie 9 (Winner: James Arthur)

They're not quite One Direction, but the boy band have done well considering they finished in fourth place. They made an appearance in 2013 movie Kick Ass 2 and their second album is due out later this year.

Getty Images
Ella Henderson was born in Tetney, that little fishing town of hers, in 1996, the youngest of four children. She grew up listening to her grandfather's record collection – Ella Fitzgerald, Billie Holiday, Frank Sinatra – and was soon singing along, teaching herself to play the family piano that had been ignored by her three older siblings. "I'd started writing poetry, too, and soon I was lost in my own little world," she says. "I'd let my thoughts run wild while listening to Motown, jazz and blues. I just wanted to be surrounded by music all the time."
By the age of 10, she decided that Grimsby could no longer contain her. "I needed to be somewhere I could develop my skills, somewhere far away," she says. She sought out three appropriate schools, two in London, one in America. Her parents, not quite ready to relinquish their precocious daughter just yet, came up with a compromise: Tring Park, in not-so-far-away Hertfordshire. "It was great, because we studied things like singing, dancing and acting, but not all of it appealed," she admits. "I mean, I didn't really want to learn about the history of Broadway, did I?"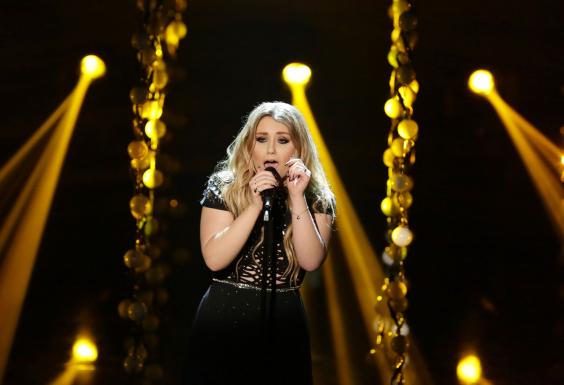 No, she didn't. Instead, she had her own plan. "School was a bubble, it was comfortable, and safe, but I didn't want safety or comfort. I wanted experience. I wanted to get out there in the world, and get my foot in the door of the music industry. I knew that it could be a harsh business, but I wanted to experience it first hand. I wanted to move to London, find a flat, live with some friends, write songs, play gigs, and then, by the time I was 21, 22, walk into a record label and see if I could get some sort of artistic development deal. I wanted to be a songwriter, a performer."
But Tring Park was no Brit School, with no ties to the industry, and so she decided to give X Factor a go. She was convinced she would never actually get on TV ("it's an entertainment programme as much as it is a talent show, and I didn't think I fit that criteria"), but hoped that by playing her own song she would catch the ear of somebody important. Nevertheless, she did make it onto the show, and into the live finals. For a while, she was favourite to win.
When she was unexpectedly voted off with still six weeks to run, Adele tweeted support for her, while host Dermot O'Leary suggested she might be one of the most gifted contestants the show had yet seen. Others agreed, and by the following Monday morning she was being courted by four record companies, before signing to Simon Cowell's SyCo label.
Cowell wasn't on the judging panel in her year, so the first time she met him was in a record company boardroom, he one side of his desk, she the other. She has faced questions about pop's premier panto dame ever since, of course, and though she may have elected not to undergo media training, her public thoughts on the man are impeccably diplomatic. "I don't know what I was expecting," she says of their first meeting, "but it was such a chilled conversation, and he is just a normal guy. It was humbling to sit in a room with him, and talk on the same level. He said he wanted ours to be a long-term deal, and for me to take as long as I liked. He's been so encouraging all the way through."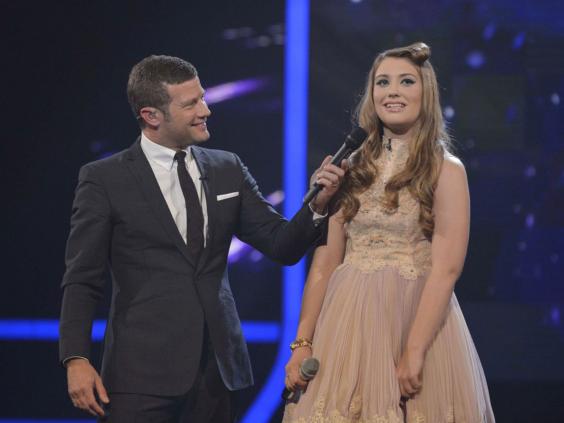 Cowell did what he always does with amateurs, and put her in the studio with his most experienced songsmiths – Ryan Tedder, Steve Mac, Salaam Remi – which is why the resulting album, Chapter One, sounds so vorsprung durch technik, so ruthlessly efficient. If at times it's a little anonymous, anthemic-pop-by-numbers, it is always emboldened by Henderson's powerful voice, and is never more affecting than on the lovely track "Hard Work". The single "Ghost" seems unlikely to be its only No 1.
Nevertheless, she remains a product of X Factor, which means that it could all still go wrong. Her series winner, James Arthur, has had an infamously difficult ride to date, and even Leona Lewis hasn't had a proper hit for some time. But Henderson, who lives alone in south-west London having deemed east London "too cool", insists she is a realist. She's been tested by certain friendships ("anyone who is a weak link in my life is – well, they're not gone, but you stay closest to the people you trust the most, don't you?"), and the man she is currently dating is, "someone I knew before, but the two of us together..." and here she smiles shyly, "it's a recent thing".
And that is all she will say on the subject. She is in the spotlight now, and so she needs to tread carefully here, to stage-manage her private life in attempt to stay in control of it. "I don't expect anything from all this, you know," she says. "I just see it as a head start, and I'm lucky to have had it. I'm exactly where I want to be now, and I'll work hard to stay here."
Ella Henderson's new single, "Glow", is out on 14 September. 'Chapter One' is released on 22 September
Reuse content