Anne Hathaway and Kristen Stewart have stuck two fingers up to the haters with a humorous appearance in Jenny Lewis' latest music video.
The Hollywood actresses, along with 21 Jump Street's Brie Larson, are garbed in horrific Adidas tracksuits, trucker caps and fake moustaches in the indie artist's video for Just One Of The Guys.
Scroll down to see the video
Using minimal props and a sparse set, the video starts with the honorary band members singing along to lyrics while they (pretend to?) strum on guitars.
The somewhat Robert Palmer-esque set-up then moves into the women taking on a more hirsute and comedy-masculine appearance while mouthing lyrics such as: "No matter how hard I try to be just one of the guys/There's a little something inside that won't let me."
The song by Lewis, who is the former frontwoman for now-defunct Rilo Kiley, comes from her third solo album The Voyager which is released on 29 July.
Hathaway and Kristen can be seen in the video busting some serious moves as they portray a exaggeratedly stereotypical 'lads,' complete with breakdancing and 'gangster' poses.
In fact in one scene, one of the women pulls a Liam Gallagher, hunched over while smacking a tambourine. It's uncanny.
The catchy tune appears to be Lewis' tribute to the biological clock: "When I look at myself, all I can see/I'm just another lady without a baby."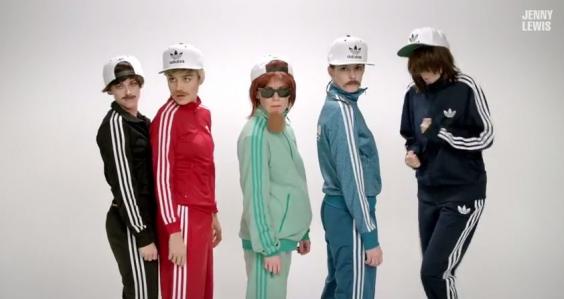 Lewis, who was a child actress counting The Golden Girls in her portfolio, told Rolling Stone earlier this year that this latest album was the hardest she'd ever made.
She said: "After Rilo Kiley broke up and a few really intense personal things happened, I completely melted down. It nearly destroyed me.
"I had such severe insomnia that, at one point, I didn't sleep for five straight nights. Many of the songs on The Voyager came out of the need to occupy my mind in the moments when I just couldn't shut down."