Harry Styles might have claimed that One Direction are "even bigger" than The Beatles, but Paul McCartney vehemently disagrees that any modern band will ever take his band's crown.
The British singer and former Beatle, 73, believes the "Yellow Submarine" gang rose to global fame because they wrote their own music.
"We came out of a very rich period but let's not forget, those four boys were f**king good," he told Esquire magazine. "Name me another group of four chaps or chapesses who had what The Beatles had. Lennon's skill, intelligence, acerbic wit, McCartney's melody, whatever he's got, Harrison's sprituality, Ringo's spirit of fun, great drumming.
"We all played, which is pretty hard. You don't get a lot of that these days. We wrote some pretty good stuff, our own material. We didn't have writers."
Pop music: Good years and bad years
Pop music: Good years and bad years
1/6 Good year: 1963

The breakthrough year for pop. The Beatles and The Beach Boys (pictured) released their debut albums three days and 5,000 miles apart, while Bob Dylan kick-started the folk boom with the single "Blowin' In The Wind" and the album The Freewheelin' Bob Dylan.

Hulton Archive/Getty Images

2/6 Bad year: 1960

It might not have been as bad were it not for what happened in 1958, when Elvis Presley was drafted into the US Army. He was replaced by prefabricated teen icons like Fabian, Pat Boone (pictured) and Frankie Avalon, and pop again became the province of Middle of the Road novelty pap.

Hulton Archive/Getty Images

3/6 Good year: 1975

The high watermark of pop's diversity: stadium rock (Born To Run); stadium prog (Wish You Were Here); Krautrock (Neu!'s 75 and Kraftwerk's Radio-Activity, pictured); confessional songwriting (Blood On The Tracks and Tonight's The Night); proto-punk poetry (Patti Smith's Horses); art-rock sophistication (Steely Dan's Katy Lied and Joni Mitchell's The Hissing Of Summer Lawns).

AFP/Getty Images

4/6 Bad year: 1985

Some measure of how bad the year was can be gleaned from knowing that of the year's top 10 best-selling albums four were Now That's What I Call Music and Hits compilations. Anthems abounded: "We Are The World", "Shout" and "I Want To Know What Love Is" were the biggest singles, while album were dominated by Dire Straits' Brothers In Arms and Phil Collins' (pictured) No Jacket Required.

AFP/Getty Images

5/6 Good year: 1997

The last great heave of BritPop saw the mandatory No 1 albums for Blur and Oasis. But the genre was bursting at the seams, struggling to accommodate the huge success of Radiohead's (pictured) neo-prog milestone OK Computer and the soundscaping innovations of The Prodigy and The Chemical Brothers.

Hulton Archive/Getty Images

6/6 Bad year: 2011

2011 really stands out for the cumulative impact of Cowellism, as the album charts were littered with the output of his telly talent shows, such deathless innovators as One Direction, Susan Boyle, JLS, Alfie Boe, Olly Murs (pictured), Joe McElderry, Matt Cardle, Rebecca Ferguson and Will Young.

Getty Images
The Beatles formed in Liverpool in 1960 and went on to become one of the most iconic and influential bands in the history of music.
"Could that happen again? I don't know," McCartney said. "I wish people well but I have a feeling it couldn't."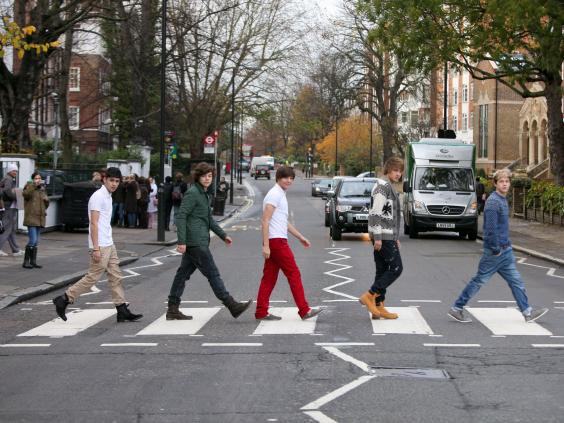 Styles said last February that his experience of touring with mega famous boy band 1D was comparable to that of The Beatles decades beforehand.
"Stepping off the plane, the girls, the madness, it was exactly the same as when we got there - just 50 years earlier," he said, before quickly adding: "But none of us think we're in the same league as them music-wise. We'd be total fools if we did. Fame-wise it's probably even bigger, but we don't stand anywhere near them in terms of music."
Reuse content