It might not bring peace to Syria and end global poverty but the United Nations has done its bit to increase international harmony by unveiling the "world's happiest playlist."
Ed Sheeran, James Blunt, David Guetta and John Legend were among the musicians and actors who contributed to the UN's official feel-good selection, designed to spread cheer among listeners and raise awareness of the International Day of Happiness on Friday.
Ban Ki-moon, the UN secretary general, led the way with his nomination for Signed Sealed Delivered by Stevie Wonder, himself a UN messenger of peace, who advocates on behalf of people with disabilities.
Ban said: "On this day we are using the universal language of music to show solidarity with the millions of people around the world suffering from poverty, human rights abuses, humanitarian crises and the effects of environmental degradation and climate change."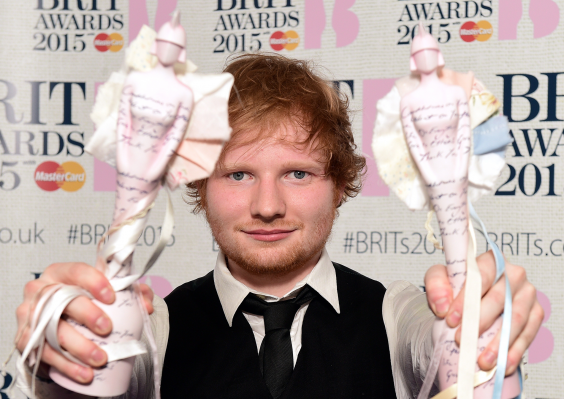 "The pursuit of happiness lies at the core of human endeavours," said Ban, adding that he is never happier than when he listens to Stevie Wonder.
Sheeran chose the female liberation anthem Independent Woman by Destiny's Child, whilst James Blunt, whose music brings both happiness and misery to many, offered We Are Young by Fun - a song he said "celebrates the moment."
Zip-a-Dee-Doo-Dah by James Baskett was included at the request of actor Michael Douglas, who said it "always makes me smile, especially during the muddy season."
Fatboy Slim opted for Harvest For The World by The Isley Brothers because "we can solve most injustices if we unite behind a backbeat."
John Legend's happy song is Got To Give It Up by Marvin Gaye, "because the beat is so infectious and fun."
The celebrity playlist created by MixRadio, and available for free on the website
www.happysoundslike.com
, failed to include the most obvious recent example of an upbeat anthem, the international hit
Happy
by Pharrell Williams. Sheeran warned in a video message for the UN: "Even though it's a happy song, a dark meaning lies behind it. Very dark…"
Pharrell himself modestly chose This Must Be The Place, a 1983 track by Talking Heads. The singer took part in a ceremony, lighting the Empire State Building yellow to mark Happiness day. He said: "In a year where there is so much turmoil in the world, from social conflict to climate change, we need moments to stop and celebrate happiness. We believe that happiness can change the world."
The UN urged supporters to join the "Global Happy Party" by uploading photos and tweets under hashtags #HappySoundsLike, #happyday and #happyplanet. However some cynics used to the hashtags to suggest that a sunny playlist alone was insufficient to effect meaningful global change.
Since 2012, when the UN General Assembly declared the first International Day of Happiness, which recognised happiness as a basic human right, the number of people killed in terrorist attacks and the world's 20 bloodiest wars is estimated have increased by at least a third.
#HappySoundsLike…the UN playlist
A R Rahman  - Infinite Love by A R Rahman
Andra Day - If This World Were Mine by Luther Vandross
Angelique Kidjo - Pata Pata by Miriam Makeba
Ban Ki-Moon - Signed Sealed and Delivered by Stevie Wonder
Britney Spears – Kiss by Prince
Carl Barat - The Who Who Song by Jackie Wilson
Charli XCX - Say You'll Be There by The Spice Girls
Charlize Theron - Every Teardrop is a Waterfall by Coldplay
Cody Simpson - Three Little Birds by Bob Marley
Cody Simpson - Mambo No5 by Lou Bega
Conchita Wurst - All The Lovers by Kylie Minogue
Damian Lazarus - I am the Black Gold of the Sun by Rotary Connection
David Carreira - Love Never Felt So Good by Michael Jackson & Justin Timberlake
David Fonseca - Kiss Me, Oh Kiss Me by David Fonseca
David Guetta – Imagine by John Lennon & Yoko Ono
Ed Sheeran  - Independent Woman by Destiny's Child
Fatboy Slim - Harvest for the World by The Isley Brothers
Groove Armada - For Once in My Life by Stevie Wonder
Henry Krinkle – Recognise by Oscar and Martin
HMD - Days Like This (DJ Spinna Mix) by Shaun Escoffery
James Blunt - We Are Young by Fun
John Legend  - Got to Give it Up by Marvin Gaye
Juan Diego - Florez Largo al factotum by Rossini
Lang Lang - Made to Love by John Legend
Michael Douglas - Zip-a-Dee-Doo-Dah by James Baskett
Midori - The Russian Dance from Nutcracker by Tchaikovsky
Nicole Sherzinger - Three Little Birds by Bob Marley
Paloma Faith - I Feel Good by James Brown
Pharrell - This Must Be The Place by Talking Heads
Mr Vegas - My Jam by Pitbull & Mr Vegas
Rob Da Bank - Your love keeps lifting me (Higher and Higher) by Jackie Wilson
Tiesto - Red Lights by Tiesto
Tinie Tempah – Shout by Isley Brothers
Yo-Yo Ma - Prelude from Bach Suite No. 1 conducted by Pablo Casals
Yulia Savicheva Nevesta - (Невеста, Юлия Савичева)
Reuse content