Daft Punk, Macklemore & Ryan Lewis and a bizarre hat-wearing Pharrell Williams were the big winners at the 56th annual Grammy Awards in Los Angeles on Sunday.
The French dance duo took home Album of the Year and Dance/Electronica Album for Random Access Memories and Record of the Year and Pop/Duo Group Performance for last year's catchy "Get Lucky".
Williams, who has achieved chart success with his latest single "Happy", was awarded Producer of the Year alongside his "Get Lucky" accolades, while Macklemore & Ryan Lewis picked up New Artist, Rap Performance and Rap Song for "Thrift Shop" and Rap Album for The Heist.
Justin Timberlake won three awards, while New Zealand's Lorde reigned for the girls, winning Song of the Year and Pop Solo Performance for "Royals".
"Thank you everyone who has let this song explode, because it's been mental," she said while accepting her trophies.
Among those who lost out on awards were British DJ Calvin Harris, singer-songwriter Taylor Swift, electro act Disclosure and comeback star David Bowie.
Grammy Awards 2014: Best pictures
Grammy Awards 2014: Best pictures
1/14 Grammys 2014

One of the 33 couples who married at the Grammy Awards during a performance of Macklemore & Ryan Lewis' 'Same Love'

GettyImages

2/14 Grammys 2014

Beyonce performs 'Drunk in Love' at the Grammys

Getty Images

3/14 Grammys 2014

Taylor Swift head-banging her way through 'All Too Well'

Getty Images

4/14 Grammys 2014

Rock band Imagine Dragons with their award for Best Rock Performance

Getty Images

5/14 Grammys 2014

Daft Punk arrive at the Grammys. The electronic duo won four awards including Best Album of the Year

Getty Images

6/14 Grammys 2014

Macklemore and Ryan Lewis with their four Grammy awards

Getty Images

7/14 Grammys 2014

Madonna arrives at the awards ceremony sporting a glittery tooth guard

Reuters

8/14 Grammys 2014

Katy Perry performing on-stage during the 56th Grammy Awards

Getty Images

9/14 Grammys 2014

Tony Iommi (L), Ozzy Osbourne (C) and Geezer Butler (R) of Black Sabbath pose in the press room after winning Best Metal Performance

Getty Images

10/14 Grammys 2014

Lorde performing at the ceremony. The 17-year-old won Song of the Year and Pop Solo Performance

Getty Images

11/14 Grammys 2014

Kendrick Lamar and Imagine Dragons appear from a cloud of smoke to perform together

Reuters

12/14 Grammys 2014

Pharrell Williams accepts the award for Record of the Year with Daft Punk

Reuters

13/14 Grammys 2014

Sir Paul McCartney performs with Ringo Starr on stage

Getty Images

14/14 Grammys 2014

Sean Lennon, Yoko Ono and Charlotte Kemp Muhl on the red carpet

Getty Images
As ever, there were some memorable live performances during the ceremony at the Nokia Theatre. Macklemore & Ryan Lewis sung their gay-acceptance hit "Same Love" and 33 couples - some same-sex - got married in the middle in the performance as Queen Latifah officiated.
Madonna joined in wearing an all-white suit and hat, performing "Open Your Heart" and some of "Same Love" with Mary Lambert. Keith Urban cried and Katy Perry caught a bouquet during the performance.
Beyonce kicked off the Grammys with a steamy and smoky performance of "Drunk In Love", wearing a revealing black outfit. Jay Z emerged in a fitted suit to rap his verse, and the couple - parents of little Blue Ivy - held hands and danced together.
Imagine Dragons and Kendrick Lamar collaborated on-stage to create an electrifying performance, as the acts sported all-white and went from rap song to rock song.
Robin Thicke performed with Chicago, singing the group's hit songs before going into "Blurred Lines". Thicke finished the performance singing on the floor.
Perry sang "Dark Horse" in an eerie forest with fire that mirrored the song's vibe, and John Legend and Taylor Swift - who whipped her head, and hair, back and forth - played pianos during their slow songs. Pink twirled in the air in her signature Cirque du Soleil-form.
Swift, who was nominated for Album of the Year, lost Country Album in a surprise upset to rising singer-songwriter Kacey Musgraves.
"Oh my goodness. Oh my god. I can't even. I can't even," said a teary-eyed, but happy Musgraves, whose Same Trailer Different Park won the honour. "I got to make a record that I poured myself into and I'm so proud of."
The singer also beat Swift to the Country Song and was nominated for New Artist.
Macklemore & Lewis' wins come after the Grammy rap committee almost ousted the group from its categories.
A source told the Associated Press that the rap committee rejected the duo, but that was later overruled by the general Grammy committee. The rap committee felt Macklemore & Lewis should qualify for the pop awards instead because of their massive success on Top 40 radio.
Justin Timberlake won Music Video for "Suit & Tie", which also earned Jay Z a Grammy. Jay Z and Timberlake also won Rap/Sung Collaboration for "Holy Grail".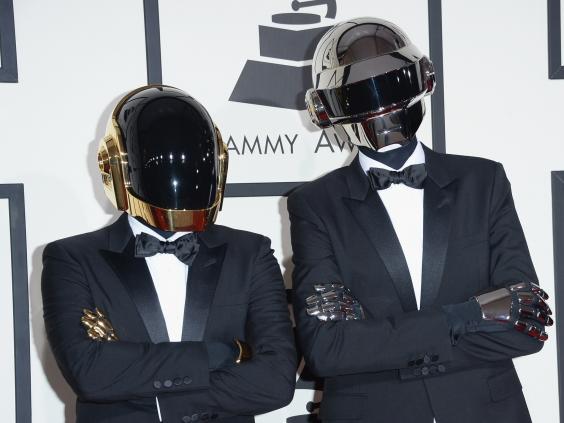 "I want to thank God - I mean a little bit for this award - but mostly for all the universe for conspiring and putting that beautiful light of a young lady in my life," Jay Z said, looking at Beyonce. "I want to tell Blue that, look, 'Daddy got a gold sippy cup for you."'
Jay Z, keeping up the decade-long Grammy tradition of rappers leading in nominations, was the night's front-runner with nine.
Sir Paul McCartney, engineer Bob Ludwig and gospel singer Tye Tribett were double winners, while Imagine Dragons, Bruno Mars and Rihanna also picked up trophies.
With additional reporting from AP
Reuse content