Classically trained pianist turned electronic artist James Blake pulled off a shock by beating David Bowie and the Arctic Monkeys to win the Barclaycard Mercury Prize.
Londoner Blake triumphed at the second time of asking after he was nominated for the prize in 2011 for his self-titled debut album but lost out to PJ Harvey.
"I feel jubilant and confused, wonderful," he said. "It's a moment you don't expect to happen to you, in fact you might even bet against it if you're British."
The musician, who the bookies had put down as a 25/1 outsider, added that despite his surprise he deserved it "as much as anyone else did".
Other artists in the running included favourite Laura Mvula, teenager Jake Bug and dance group Rudimental. Laura Marling also missed out on her third Mercury nomination.
Blake, who turned 25 last month, picked up the award and a cheque for £20,000, for his album Overgrown. He thanked his parents from the stage, "for showing me the importance of being self-sufficient".
"This is the first award I ever won apart from a tennis trophy I won when I was 12 years old," he said afterwards, before joking: "I hold them in equal esteem."
When asked for the response when his name was read out, his eccentric response was to say: "It feels like a dream where you're punching through water. If you're lucky that dream hits them right on the nose. When what you thought wasn't going to happen does, that's very surreal."
Blake, who studied popular music at Goldsmiths came to prominence when he placed highly in the BBC's Sound of 2011, was described in The Independent as a "blend of glitchy electronica and fragile soul stylings".
The musician refused to define his own music, saying: "It keeps changing as I write new music." He added the award would not change him as a person. "The thing that got me here in the first place was not wanting to bend to outside pressures."
He said he did not know what he was going to do with the prize money. "I didn't really think in those terms when I was picking up the award."
The only downside on the night for the winner was when host Lauren Laverne introduced his live performance by calling him fellow singer James Blunt.
The major scalp for Blunt was Bowie. Blake said: "He's amazing to be in the running for this prize after so many albums. A lot of people do their best work when they're young. It's disappointing to me when people don't continue in that vein and don't innovate. David Bowie is an example to people like me who want to keep on innovating." The Thin White Duke did not travel to the award ceremony in London's Roundhouse.
Blake said it was a relief to win the prize for his second album rather than his first. "I think at that point I might not have been able to handle the pressure," he said, adding: "I've been quite lucky. People have gone with me so far."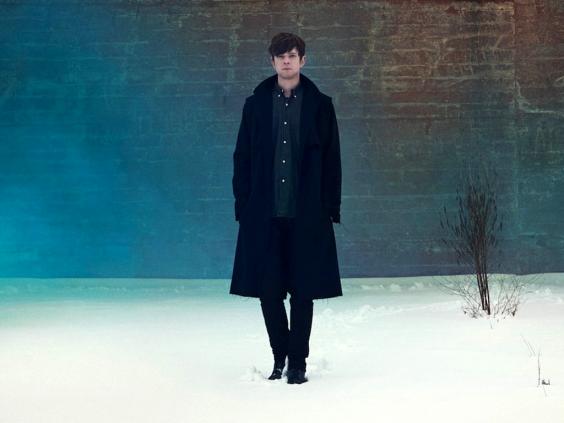 Blake is currently on tour and believes that one of the effects of his winning the prize his audiences might become louder.
The Mercury Prize chooses the winner from 12 albums of the year from the UK and Ireland from all genres of music. This year, the shortlist was chosen from 220 submitted albums.
It is decided on by an independent panel of judges, who met at 5pm and decided shortly before the winner's name was announced. 
It was set up in 1992, with the inaugural prize won by Primal Scream for the album Screamadelica. Last year, the prize was won by Alt-J for their debut album An Awesome Wave.
Bowie did premiere his new video at the awards, which was made for the grand total of $12.99.
Reuse content