Mötley Crue are going out like only they know how, with a farewell UK tour that will feature as many novelty stunts as possible.
The band are calling it a day after 34 years on the road, and have agreed a "death pact" to never play "Girls, Girls, Girls" or "Kickstart My Heart" ever again once the tour, which will cross Europe and include concerts in London, Newcastle, Manchester and Birmingham, is complete.
"This will be the largest production we've ever done," drummer Tommy Lee said at a press conference.
"One of the things will be a ginormous rollercoaster which goes out about 200ft out into the audience and about 60ft into the air. We've also got a new addition called the cruise vest and at the beginning of the show we'll perform a number where a bunch of seats around the stage will rise up with us about 40ft into the air as we're playing."
Alice Cooper will support the hard-partying heavy metal band, who claim to have few memories of their first tour in the UK because they were so goddamn high.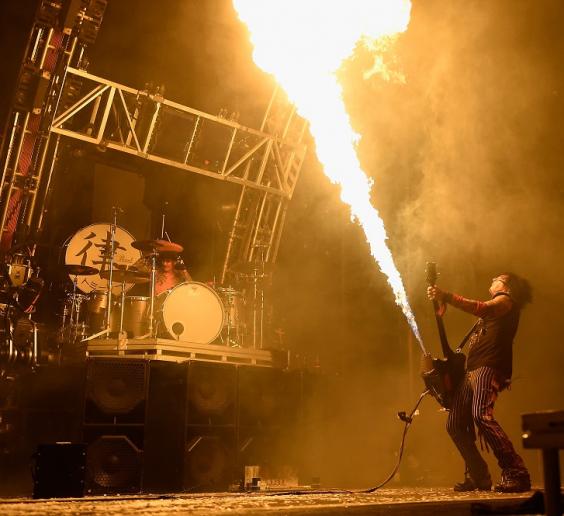 "First time we came to the UK was for Download Festival (then Monsters of Rock) I think, we did a lot of drugs so we don't remember," frontman Vince Neil told PA.
"The tour is kind of bittersweet. Sometimes I will be on stage, looking out and singing, and I will get a little choked up."
Bassist Nikki Sixx, once declared legally dead following a heroin overdose, is expected to be bringing his flame-throwing bass guitar.
"The state of rock and roll right now is so limp," commented Alice Cooper. "There's not a lot of rock and roll bands out there, so that's why you see bands like Motley Crue still killing it."
Mötley Crue will visit Newcastle Metro Radio Arena on November 2, Manchester Arena on November 3, Birmingham Genting Arena on November 4 and London SSE Arena on November 6. Tickets go on sale at 9am on Friday, June 19.
Reuse content