Muse have revealed details of their new single, album and six UK tour dates.
The band will release their new album Drones on 8 June, and will tour the UK next week to promote the record.
Muse will kick off their tour on 15 March at Belfast Ulster Hall, then perform in Glasgow, Newport, Exeter and Manchester before finishing with a show in Brighton.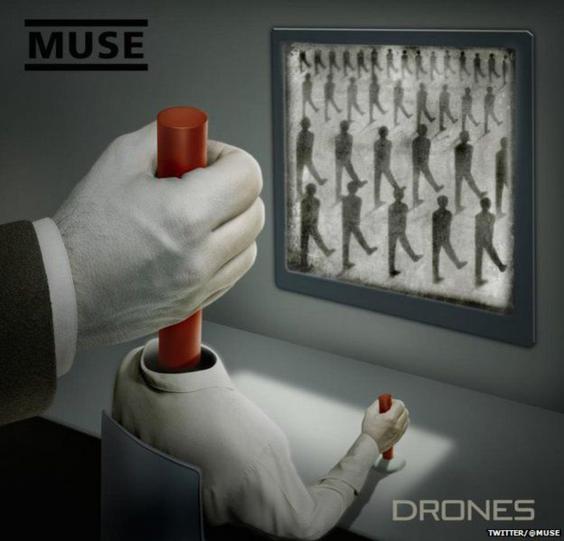 Speaking about the concept behind the band's new album, front man Matt Bellamy said: "The world is run by drones utilising drones to turn us all into drones. To me, drones are metaphorical psychopaths.
"This album explores the journey of a human, from their abandonment and loss of hope, to their indoctrination by the system to be a human drone, to their eventual defection from their oppressors."
But not all fans were as taken in as the album's concept cover art as Bellamy might have hoped.
Rolling my eyes so hard at that Muse album cover

— Anna Birtley (@abirtley) March 12, 2015
oh my god please tell me that Muse album cover is fake

— clean/rad/powerful (@McAllyn) March 12, 2015
Christ, just seen that Muse album cover. Looks like a concept dreamed up by fedora-wearing conspiracy theorist for his GCSE art coursework.

— Jon Bauckham (@JonBauckham) March 12, 2015
That new Muse album cover is awful. 16 years of saying that sentence now.

— Simontologist (@collectionpoint) March 11, 2015
Can't be sure I'll ever stop laughing at Muse's new album cover.

— mof gimmers (@mofgimmers) March 12, 2015
The band also revealed they will release the first single from Drones, "Dead Inside", on 23 March.
Muse tour dates
15 March - Belfast Ulster Hall
16 March - Glasgow Barrowlands
19 March - Newport Centre
20 March - Exeter Great Hall
22 March - Manchester Academy
23 March - Brighton Dome
Reuse content