Just days after Stevie Wonder used his appearance on stage at the Grammys to call for greater access for disabled people, a report has revealed the extent to which those with disabilities are being excluded from gigs and festivals by the UK music industry.
A study of 251 live music venues and 135 festivals, backed by Arts Council England and carried out by disabled music fans on behalf of the campaign group Attitude is Everything (AIE), found that a majority failed to provide adequate information on access for people with disabilities. Among independent venues, 69 per cent gave no prior details at all and 50 per cent of the remainder offered information described by the report as "poor".
The findings provoked Emily Eavis, organiser of the Glastonbury Festival, to "urge all festival and venue organisers to ensure that they provide high quality and comprehensive access information" for disabled music fans.
Fans recounted stories of being ordered out of disabled toilets for taking too long, having their vital medical equipment subjected to searches and being doubted by staff over their need for a raised platform because they are not wheelchair users. 
A survey by The Independent revealed that venues including the 100 Club in London's Oxford Street, considered a birthplace of punk; Brighton's Coalition nightclub and Thekla, an award-winning floating venue at Bristol docks, give no details of access or facilities offered to disabled patrons.
Similar accusations can be directed at Manchester's Castlefield Bowl (which has no website, merely a ticket service), and the Dublin Castle in Camden Town, London, a long-time stalwart of the indie scene and a favourite hangout of the late Amy Winehouse.
Case study: Hanna McKearnen, 23
University student Hanna McKearnen has a genetic condition called Ehlers-Danlos syndrome but doesn't allow it to prevent her watching live music, which she cites as "probably my favourite thing to do".
She has a complex bowel disorder that requires her to have a surgical tube anchored in her stomach and a feeding line linked to a pump, which she carries in a back pack at all times. 
The tube can easily be ripped out in crowds and she is often too tired to stand for a whole performance.
Ms McKearnen, who lives in Ormskirk, Lancashire, said she was treated with little sympathy by venue staff at a gig by indie rock group The Vaccines. 
"The staff went through my bag, which had my pump that I need 24 hours a day, and said, 'Do you really need to take that in?'" she said. 
Although her condition means she cannot stand throughout a show, Ms McKearnen was later questioned on why she was in a disabled area when not a wheelchair user.
As he presented the Song of the Year award at the Grammys on Monday, Wonder, who has been blind since shortly after his birth, light-heartedly informed the audience that the winner's name had been written in Braille for him, before pointedly calling for greater consideration for the disabled. "We need to make every single thing accessible to every single person with a disability," he said, receiving loud cheers in response.
But Suzanne Bull, the chief executive of AIE and a wheelchair user, said festivals and venues were failing to give adequate information on accessibility and would lose out on "the purple pound" – the custom of disabled people. 
"If a venue or festival doesn't provide any access information, I'm at the stage of life where, because I'm older and I can't be bothered any more, then I'll go and spend my money somewhere that the information is really clear," she said.
In its report, AIE said there was a "clear need" for "universal guidance" on disabled access across the industry.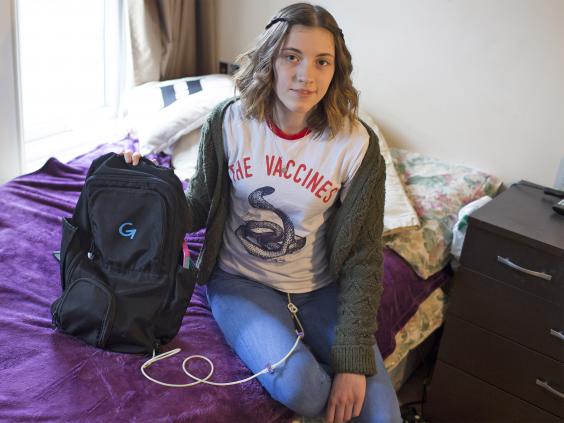 Del Garland, 61, who has impaired mobility resulting from arthritis, stopped going to gigs altogether for many years because of lack of access. He said many disabled music fans didn't attend gigs because of the "sheer misery" of researching the layout of venues. "You think, 'why should I bother handing them my money?' But you are hurting yourself if you really want to see that act." 
Kim Campbell, 34, who suffers from mental illness and panic attacks, applied for tickets for a music festival in the north-east of England, under a scheme that allowed her to bring her carer on the same ticket. "I was told that if I was really a fan we should both pay full price,"  she said.
On another occasion on the south coast, Ms Campbell and a friend with Crohn's Disease left a concert after the friend was suspected by staff of using drugs because of the time she had spent in a disabled toilet.
Daniella Lipscombe needs to watch bands from a raised platform because she has achondroplasia, a form of dwarfism, and is 4ft 5in. At an all-standing Franz Ferdinand concert she was allowed to the front of the crowd only to be pinned against the stage by other fans. Ms Lipscombe, 37, from Bristol, said venues with tiered seats still presented a problem because "even there people stand up and then I can't see".
Reuse content