Pink Floyd's upcoming final album has been named Amazon's most pre-ordered album of the year, two weeks before its release.
Coldplay's Ghost Stories has been overtaken by The Endless River for 2014, with Bruce Springsteen's High Hopes, Paolo Nutini's Caustic Love and Ed Sheeran's X completing the top five.
Due out on 10 November, The Endless River looks set to challenge One Direction's 2013 bestseller Midnight Memories for the most pre-ordered album of all-time.
It must also beat Robbie Williams' Swing Both Ways, Take That's Progress and Susan Boyle's I Dreamed A Dream to take the top spot and currently sits at number five.
Pink Floyd confirmed that The Endless River would be their last album earlier this month. Band members David Gilmour and Nick Mason announced the decision on BBC 6 Music after agreeing to stop releasing new music.
"Rick [Wright, keyboardist] is gone, dead. I'm pretty certain that there will not be a follow up to this," said Gilmour.
"Polly, my wife, thought that would be a very good lyrical idea to go out on. It's a shame but this is the end."
Best guitar riffs of all-time
Best guitar riffs of all-time
1/10 1. Led Zeppelin with Whole Lotta Love

Getty

2/10 2. Guns 'N' Roses with Sweet Child O'Mine

Getty

3/10 3. AC/DC with Back in Black

Getty

4/10 4. Deep Purple with Smoke On The Water

Getty

5/10 5. Derek and The Dominoes with Layla

Getty

6/10 6. The Smiths with How Soon Is Now?

Rex

7/10 7. Status Quo with Down Down

Getty

8/10 8. Dire Straits with Money For Nothing

Rex

9/10 9. The Kinks with You Really Got Me

Getty

10/10 10. Pink Floyd with Money

Getty
The new album is a tribute to Wright, whose talent was "underestimated by the public, by the media and by Pink Floyd at times".
Teenage Egyptian artist Ahmed Emad Eldin has designed the cover art, which depicts a man punting on a sea of clouds towards a glowing horizon.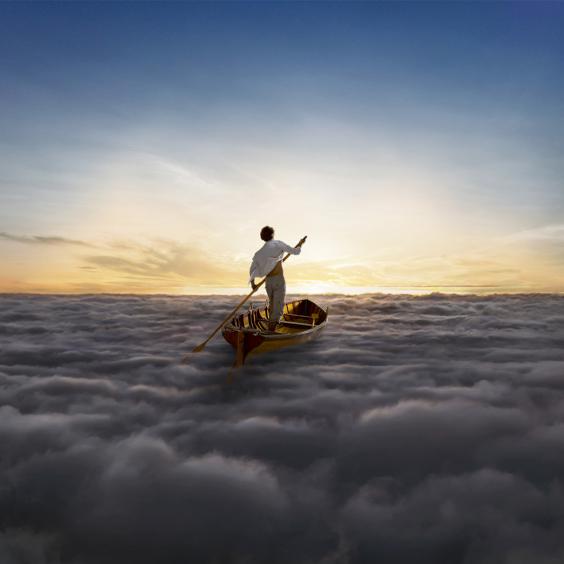 Storm Thorgerson, the graphic designer whose surreal covers for Floyd's classic albums, including The Dark Side Of The Moon immeasurably enhanced the band's mystique, died last year.
Reuse content