It's hard to deny that Pharrell Williams is cool, no matter how you define the word.
From the trademark big hat that on anyone else would look ridiculous to casual dance moves that even Michael Jackson would surely have approved of, the 41-year-old has the effortless pulling power of a teenage newcomer fresh on the scene.
Williams demonstrates his showmanship through a carefully designed set list. "Marilyn Monroe", "Come Get It Bae" and "Hunter" are fresh, sexy and come complete with six top-rate female backing dancers. Surprisingly, they aren't half naked - Williams introduces them all by name and thanks them repeatedly throughout.
Things take an early Noughties U-turn when Shay Haley from Williams' hip-hop group N*E*R*D joins him on stage for old school renditions of "Rock Star", "Lapdance" and "She Wants To Move".
Despite great enthusiasm and energy, this feels disjointed - it's not the Pharrell most of the audience are here to see, but the duo deliver a strong performance regardless.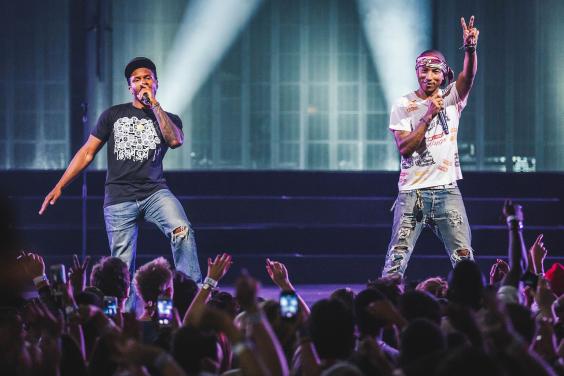 Williams reminds his audience, here for free after winning iTunes ballot tickets, that this gig is all thanks to Apple. He reminds us again moments later, then a third time, then a fourth. Boos are heard and Williams stops just short of whipping out an iPhone 6 for a demo. Bizarre.
Incongruously uncool commercial shout-outs aside, Williams owns his show. Classic songs not everyone knows he penned and produced - Justin Timberlake's "Like I Like You ", Gwen Stefani's "Hollaback Girl" and Nelly's "Hot In Herre" to name but a few - are lapped up as mass sing-a-longs ensue. "Aerosol Can", his rap track with Major Lazer, is a razor-sharp highlight.
Then, finally, the hits come all at once - Blurred Lines", "Get Lucky" and the UK's most downloaded track ever, "Happy", flood in one after the other on a wave of pure mainstream ecstasy. No-one's complaining here. Cameras aloft filming videos for YouTube, this is what Williams' iGeneration fans want. Hell, he even throws confetti cannons into the mix.
Williams has his critics, but for the Roundhouse crowd, this pop culture icon can do little wrong, and everyone goes home smiling.
Reuse content