Elvis Presley might have been the King of Rock 'n' Roll but he would not have got very far on The X Factor, his former wife Priscilla has said.
Mrs Presley, 69, announced that over 300 artefacts from Graceland will be shipped to London and exhibited at the O2 Arena next month, including personal items which have never left Memphis.
The Elvis at The O2 exhibition will include the black leather stage outfit that Elvis wore on the '68 Comeback Special which reignited his career, and the pool table upon which he supposedly challenged The Beatles to a game in 1965.
Mrs Presley, who married Elvis in 1967, told The Independent that his legacy would live on for future generations. But she doubted that today's television talent shows would have captured his electric appeal.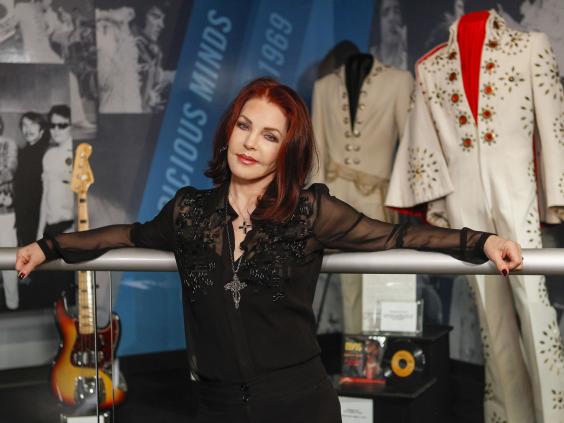 She said: "Elvis was an authentic performer. He believed in raw talent. He was the first true entertainer but I don't think all the lighting and production that goes into those TV performances would have suited him.
"Elvis was about the voice and connecting with people, not all these stage fireworks. People are missing out on that today because singers can't take all those fireworks on tour. Elvis relied on his passion."
"People related to Elvis because of his humble beginnings. It's a wonderful story. It helped that he was a beautiful specimen of a man in every way. He would be just as popular today."
Priscilla turned their Graceland home into a hugely successful public attraction after Presley's death in 1977, when the estate faced bankruptcy. Whilst Elvis never fulfilled his dream of performing in Britain, Graceland is going on tour in his place.
Rooms from the mansions will be recreated at the O2. The objects on display include the 1955 "Pink Cadillac" Fleetwood Elvis used for touring, which he gave to his mother and his black leather suit from the 1968 Comeback Special.
Stars In Their Eyes: Most impersonated music artists
Stars In Their Eyes: Most impersonated music artists
1/8 Elvis Presley

The King reigned supreme over the years and contestants Stewart Duff and Gordon Hendricks were overall series champions with their performances of "Are You Lonesome Tonight?" and "Suspicious Minds" respectively.

Rex

2/8 Dolly Parton

Many contestants made a departure from the "9 to 5" to imitate the country music star. And with her recent success at Glastonbury it seems likely that we could see members of the public belting out "Jolene" in the new series too.

Rex

3/8 Cher

Devotees of the "Shoop Shoop Song" singer will be hoping that people "Believe" in their performance as the artist and Oscar-winning actress.

4/8 George Michael

Fans of the former Wham band member had "Faith" that they could sing their way to victory after emerging from the sliding doors.

Rex

5/8 Celine Dion

It's a tough call to step into the shoes of one of the most successful female artists in pop music history. But Kim Redpath was overall series 7 runner up with her rendition of "Think Twice".

Rex

6/8 Kylie Minogue

Contestants hoped they "Should Be So Lucky" as to win the show by imitating pop princess Kylie Minogue. The new series could see others "Step Back In Time" to impersonate the star – or they might opt for a more modern hit.

Getty Images

7/8

The singer was impersonated on many an occasion, with "Living Doll" and "The Young Ones" being performed over the years.

Getty Images

8/8 Madonna

With a host of hits, Madonna proved a popular choice over the years.

Rex
Mrs Presley said: "We chose personal items which would be of interest to people who had never been able to come to Graceland. The '68 black jacket is iconic because it was the turning point, it reignited his career.
"My personal favourite are the TCB rings which I designed. They are beautiful 16 carat rings inscribed with the words Taking Care of Business and Elvis gave them to the personal people around him.
"There's the champagne bottle from our wedding – the first time I could call myself Mrs Presley. There are also business contracts and items relating to Colonel Tom Parker (Elvis's notorious manager.) They all have fascinating stories attached to them."
A 450-room hotel is now being built at Graceland, which could become a global Elvis "chain". But Mrs Presley's memories aren't all positive. She had to stay in Memphis whilst Elvis was being charmed by starlets when he went to film movies in California.
"I wanted to be with him but I couldn't because I had to go to school," said Mrs Presley, who first met Elvis when she was 14. "I was still getting used to the lifestyle."
Mrs Presley remained on good terms with Elvis, with whom she had a daughter Lisa Marie, after their divorce in 1973. She built a career as an actress and will be appearing in panto in Manchester this Christmas, playing the wicked queen in Snow White.
Elvis at the O2: The Exhibition of his Life – Direct from Graceland. December 12 – August 31 2015. Tickets on sale Friday November 7; www.elvisatthe02.com.
Reuse content