US punk duo PWR BTTM have responded to claims of sexual assault and anti-Semitism against band member Ben Hopkins.
Allegations of historic sexual assault have been made against Hopkins, who was described as "known sexual predator" and accused of making "unwanted advances on minors" by one social media user.
The accusations were made in a private Facebook group before being circulated on Twitter and Reddit by a person who claims to have "personally seen" Hopkins - who uses the pronouns they/them - "initiate inappropriate sexual contact with people despite several 'nos' and without warning or consent". 
Hopkins was also accused of "bullying other queer artists, making unwanted advances on minors despite knowing their age, and emotional abuse in relationships". 
Issuing a statement in response to the allegations, the band said: "The allegations come as a surprise, but we are trying to address them with openness and accountability...
"Unfortunately we live in a culture which trivialises and normalises violations of consent. There are people who have violated others' consent and do not know.
"[Ben] has not been contacted by any survivor(s) of abuse. These allegations are shocking to us and we take them very seriously. 
"Futher, the alleged behaviour is not representative of who Ben is and the manner in which they try to conduct themselves."
You can read the full statement below:
The band added that they have set up an email - which Hopkins "does not have access to" - which they say can be used by survivors or representatives to contact the band about any allegations being made. 
The accuser also shared an image of Hopkins posing next to a swastika symbol on a beach, which they used to draw allegations of anti-Semitism. 
Hopkins has previously apologised for the photo in December 2016, where they tweeted that the photo was taken in 2011 and said: "To anyone who was hurt by this image, know that it was me as a stupid kid and not who I am today, and I am so so sorry."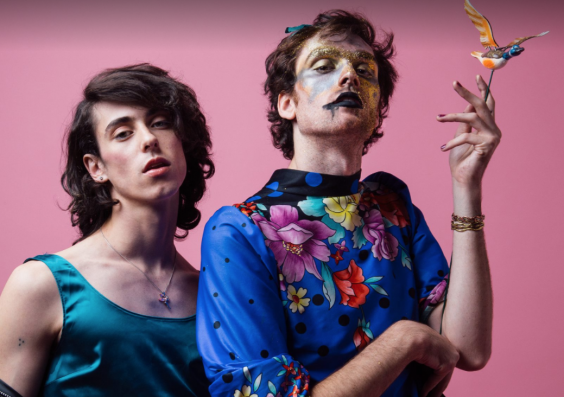 Cameron West, an arranger and musician who has been working with the band, issued a statement on his personal Facebook page saying he would no longer be working with them. 
"Hi everyone. Today, like many PWR BTTM fans, I was shocked to discover that sexual assault allegations were levied against Ben Hopkins," he wrote. 
"From my understanding, these accusations were in fact levied via e-mail months ago, but were left unshared with other members of the band, including myself. In order to provide the highest possible respect to everyone who has come forward, I am hereby ending my tenure with the band as an arranger and touring musician."
T-Rextasy, a band who were scheduled to support PWR BTTM on tour in July, have also issued a statement saying they were approached by someone who "warned us that they had these experiences w [sic] Ben".
"At the time we felt we should continue with the tour," the band said. "We did not want to out the person who had come to us in confidence. We feared that ducking out of a tour offer with no excuse would damage our professional relationships, many connected very personally to PWR BTTM. 
"This in no way excuses us. We were scared and confused but we were also selfish."
Reuse content