Nascent incestuous feelings for his sister aside, is the reason for Luke Skywalker's solitude that he is a repressed homosexual? Is it hard for a Jedi to come out? Is there institutional homophobia at the Jedi Council?
Let's face it, the reason for Luke's lack of love interest thus far in the saga is almost certainly simply down to the fact that the original trilogy chose to focus on Han and Leia for its romantic plot strand (that, and Jedi aren't supposed to love).
That said, it's a screenwriter's job to mine unexplored elements for future films, so it's very possible the idea of Luke being gay has crossed the mind of Star Wars 8 writer/director Rian Johnson.
Mark Hamill was asked about it this week, and said that "of course" it's possible.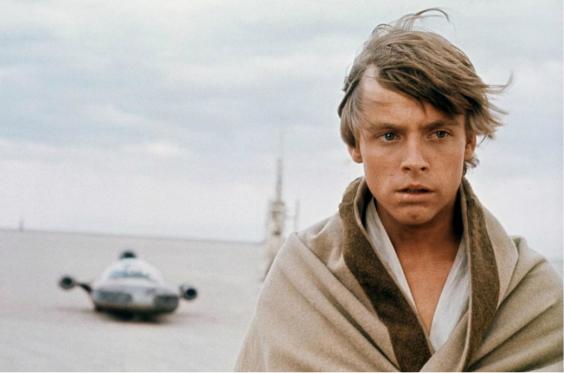 "I just read online that JJ is very much open to that. In the old days you would get fan mail," The Sun quotes him as saying. "But now fans are writing and ask all these questions, 'I'm bullied in school... I'm afraid to come out'."
He continued: "They say to me, 'Could Luke be gay?' I'd say it is meant to be interpreted by the viewer.
"If you think Luke is gay, of course he is. You should not be ashamed of it. Judge Luke by his character, not by who he loves."
If Luke was written as gay, this would seem to injure the fan theory that Rey is Luke's daughter.
Every lightsaber in Star Wars history (films)
Every lightsaber in Star Wars history (films)
1/12 General Grievous

The general played a big part in the Clone Wars, collecting dead Jedi's lightsaber's along the way and using them to do a crazy spin-attack. Unfortunately, they all get cut off by Obi-Wan just a little too quickly.

2/12 Qui-Gon Jinn

Obi-Wan's master really didn't have too much time on screen, but his battles with Darth Maul will go down as some of the best in Star Wars history.

3/12 The Emperor

It was a little weird seeing The Emperor, at this stage Palpatine, getting out a lightsaber and battling Jedi. Much better when just using Force lightning!

4/12 Anakin Skywalker/Luke Skywalker/Finn

Now, this one really does have some history, travelling down the generations of Skywalkers, and briefly using by Finn in The Force Awakens. Of course, **Spoiler** someone else also uses the saber after it calls to them, could they be a Skywalker to?

5/12 Darth Vader

The first red-lightsaber we ever saw on screen: the definition of evil and an iconic weapon.

6/12 Yoda

Again, a little odd seeing a character from the Original Trilogy using a saber, especially when he was jumping around after putting down his walking cane. Ah well, doesn't stop Yoda being a brilliant mentor to Luke.

7/12 Mace Windu

Samuel L. Jackson managed to someone get George Lucas to give him a purple lightsaber, just to stand out from the rest of the crowd. That's one bad*ss motherlightsaber.

8/12 Obi-Wan

Sure, Obi-Wan managed to lose his saber on countless occasions throughout the prequels, but at least he had it in A New Hope when going against Vader. Because that went well...

9/12 Darth Maul

Maul's double ended lightsaber may have been the best thing about Phantom Menace. Scratch that, he was the best thing about that film! The last battle between Maul, Jinn and Obi-Wan was phenomenal, just a shame Maul didn't last until the next film (of course, he came back in The Clone Wars TV show, but that will take a little too long to explain here)

10/12 Kylo Ren

At first, the cross lightsaber was mocked by the Internet for being impractical. Yet, when seen in the movie, it's ferocious, spitting out light due to be unstable, much like it's master.

11/12 Count Dooku

Now, Dooku's character wasn't in the films for very long, feeling hugely underutilised, especially considering it was the great Christopher Lee, who took on the role as he was a trained fencer. It was still hugely impressive for an 80-year-old to be the best sword fighter in the galaxy.

12/12 Luke Skywalker

Luke's second saber, after the one he inherited from his father, was originally going to be blue as well. Yet, due to not standing out against the Tatooine landscape, it was changed to green - which is why in early posters his saber is blue.
The JJ Abrams comments he refers to are the ones the director recently made to The Daily Beast about the lack of openly gay characters in the franchise in general.
"When I talk about inclusivity it's not excluding gay characters," he said. "It's about inclusivity. So of course."
Some fans were hoping that Finn (John Boyega) and Poe Dameron's (Oscar Isaac) chemistry in The Force Awakens would blossom into romance, but Boyega doesn't see it happening.
"As far as I'm concerned," he told Digital Spy, "when JJ sat us down to go through the script, it was a bromance."
Star Wars: Episode VIII will open in cinemas on 15 December, 2017.
Reuse content