Streaming services like Spotify are the "final destination" for the music industry if it is to survive – but only if music fans upgrade from free offers to a monthly subscription.
Global music sales slipped by 0.4 per cent in 2014 to $15bn, industry body IFPI reported, as download sales, largely through Apple's iTunes store, slumped by 8 per cent.
Total digital revenues rose 6.9 per cent to $6.9bn with streaming services, like Spotify and Deezer, increasing by 39 per cent, delivering $1.6bn of revenues.
Spotify offers music fans a free service, supported by advertising, in the hope that they will upgrade to a £10-a-month, ad-free subscription. Revenues from the 100m users of streaming's "freemium" tiers soared by 38.6 per cent in 2014. There are just 41m paid streaming subscribers although the number is also rising.
Some artists including Taylor Swift, who removed her catalogue from Spotify last year, argue that allowing listeners to play their music for free undermines the value of her "art".
Musicians against Spotify
Musicians against Spotify
1/10 Taylor Swift

Taylor Swift does not what her work to be used as an 'experiment' by Spotify and believes that artists are treated unfairly. She withdrew her entire catalogue in November 2014.

Getty Images

2/10 Thom Yorke

The Radiohead frontman famously described Spotify as 'the last desperate fart of a dying corpse' in October 2013.

Getty Images

3/10 David Byrne

David Byrne of Talking Heads wrote about not understanding Spotify's claim of discovery in a Guardian op-ed. 'The inevitable result would seem to be that the internet will suck the creative content out of the whole world until nothing is left,' he said.

Dan Burn-Forti

4/10 Beck

Beck dismissed the Spotify model as 'not working' because of how little it pays musicians. He added that the 'saddest thing' about streaming is the poor sound quality - 'It's like watching Citizen Kane on your phone'.

Rex Features

5/10 The Black Keys

Dan Auerbach has described Spotify's payment to artists as 'so minuscule it's laughable'. 'If you are a bigger band that's already known and you rely on record sales for a living then it's really no place to be,' he said.

6/10 Atoms for Peace

Thom Yorke's other band refused to let Spotify stream their songs. Nigel Godrich from the group described the service as 'an equation that just doesn't work'. 'Small labels and new artists can't even keep their lights on. It's just not right,' he said.

EPA

7/10 Yannis Philippakis

The Foals singer said he would rather that somebody stole his record on vinyl than bought it or streamed it on Spotify. He described using Spotify as like going to a top class restaurant and leaving only coppers without paying the bill.

Getty Images

8/10 Aimee Mann

The US singer-songwriter has not put her music on Spotify because she does not think artists make a fair amount of money from the streaming service.

Rex Features

9/10 Grizzly Bear

The band tweeted in 2012 that Spotify provides a great service for people but does as much to help bands as 'downloading from Limewire'.

Getty Images

10/10 Jason Isbell

Jason Isbell of Drive-By Truckers has used the single word 'evil' to describe Spotify.

Getty
Spotify, which now has more than 15m paid subscribers, is coming under pressure to limit the amount of free music it allows users to access.
Lucian Grainge, chairman of Universal Music, the world's biggest label, said: "We want to accelerate paid subscriptions and raise income and compensation for everyone. Ad-funded on demand will not sustain us or the entire ecosystem."
The IFPI's Digital Music Report said: "Within the streaming sector, there is substantial untapped potential for growth within the paid-for category."
Speaking at the report's launch, Edgar Berger, Chairman and CEO, International, Sony Music Entertainment, said: "The industry has shifted from an ownership model to access. I've not met anyone who can see beyond streaming. So this looks like a final destination."
Artists, who get paid pennies for a Spotify play, as opposed to the pounds they once received for a CD or download sale, must get used to the new model.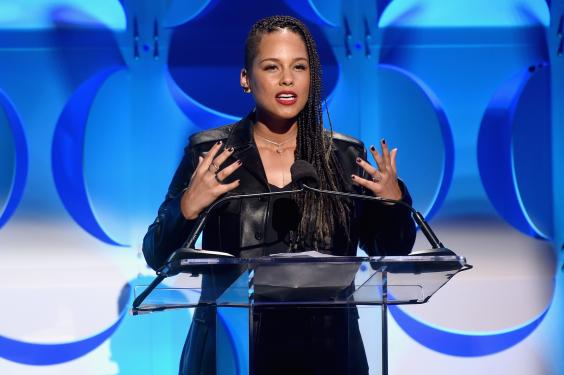 Berger said: "Some education is involved. Consumers have moved to a 'renting' music model. It delivers payments on a consistent basis. Over a time-frame, eventually, the artist will be better off." Artist royalties declined less than the total fall in music sales revenue over the past five years, Berger said.
Berger welcomed the arrival of Tidal, the star-studded new streaming service, founded by Jay-Z, which which costs subscribers £9.99 or £19.99 per month for a high-quality sound stream.
However the music industry expects Apple to return with a game-changer when it relaunches its Beats Music service later this year. The subscription platform, co-founded by Dr Dre and Jimmy Iovine, has approached names including Swift, Florence & The Machine to provide exclusives for a launch expected in June. Beats Music is expected to offer subscriptions for $7.99 a month but could also be wrapped into iPhone purchases.
YouTube, with its 1.1 billion users, is the world's most popular access route to music but generates only half the revenues which are paid back to the music industry by streaming services.
The IFPI is launching a campaign to force the Google-owned platform to alter its licence agreements with artists and record companies so that it pays a greater return each time a music video is viewed.
YouTube is protected by so-called "safe harbour" laws that define it as a neutral platform which merely hosts music, rather a content service which actively seeks to distribute and monetise music through advertising, which the IFPI argues it has now become.
Reuse content