Sie liebt Dich … Nein, nein, nein! A new computer game, which imagines Britain's fate if the Nazis had won and forced the Beatles to become Hitler's musical stooges, has been condemned by a politician as "offensive".
Liverpool Labour MP Steve Rotheram condemned Wolfenstein: The New Order, a "shooter" game, which posits that Britain's most famous musical export would have changed their name to Die Käfer, the German equivalent, and become collaborators with their new masters.
The best-selling game, which topped the UK charts on its first week of release, is set in an early Sixties Britain which has succumbed to the Nazis. Rock'n'roll is stirring but the "four lads from Liverpool, are faced with a choice – either start singing in German or face a ban and imprisonment by the Nazi regime".
The Fab Four choose a ticket to Reich and, as Die Käfer, enjoy a hit album which is called Das Blaue U-Boot instead of Yellow Submarine.
The game's soundtrack features carefully crafted songs in the Beatles' style, which the band perform in German at Hitler's pleasure.
However, Mr Rotheram said: "The Beatles and their music are a source of comfort and inspiration to millions of people around the world. To conflate them and their legacy with the Nazis is grossly offensive.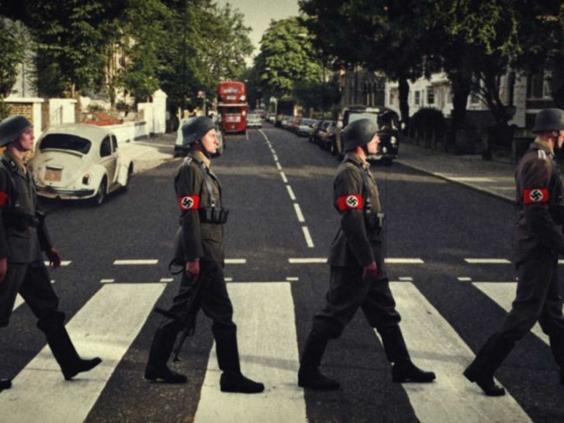 "In my opinion, it is abhorrent that game-makers are using any form of Nazi connotation in the production of their computer games. Hitler and his evil philosophy is not something that should be championed for money-making purposes and certainly isn't something that should be associated with Liverpool's most famous sons."
However, the producers said the game was designed to send an anti-Nazi message. Die Käfer subtly undermine the regime and get into trouble when they "forget" to thank the Führer at a concert.
Mick Gordon, who composed the music, said: "We looked at the game's universe and decided that the Beatles wouldn't have existed as a pop-culture expression of youth revolution.
"Instead, we needed a Nazi party-approved band that, in the game's universe, would have been produced as a propaganda machine for young people."
Representatives of the Beatles declined to comment on the game, which has some basis in fact. The Beatles, who honed their skills in Hamburg's sleazy nightclubs in the early 1960s, were forced to record two songs in German by their producer George Martin.
Martin made the reluctant band sing German translations of "She Loves You" ("Sie Liebt Dich") and "I Want to Hold Your Hand" ("Komm, Gib Mir Deine Hand") because he did not believe a German audience would embrace the originals.