Ever since ITV talent show The X Factor first launched in 2004, the winners have dominated the race for the UK's Christmas number one.
With the exception of 2009 winner Joe McElderry and last year's champion James Arthur, every champion of the long-running show has beaten off competition to take the festive top spot.
McElderry's cover of Miley Cyrus' "The Climb" fell to the wayside in 2009 after a protest against Simon Cowell's corporate juggernaut took alternative rock band Rage Against The Machine to the summit, while Arthur scored a number one with his first single "Impossible", but did so a week early.
Now this year's star, 36-year-old prison warden Sam Bailey, has taken an early lead in the annual chart battle with her debut single "Skyscraper". The Demi Lovato cover is currently outselling its closest rival, "Happy" by Pharrell Williams, by more than 27,000 copies.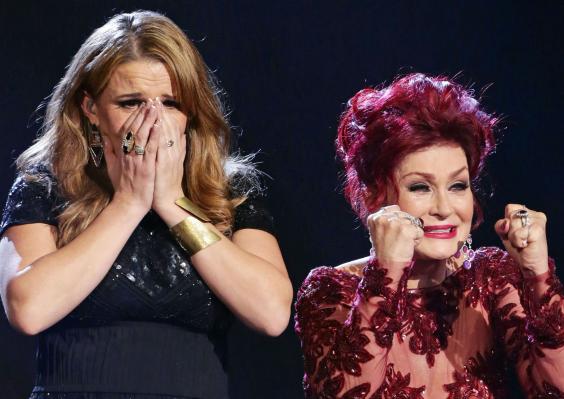 But - hot on the tail of Rage and their successful "Killing In The Name" chart campaign - a Facebook group in support of AC/DC's "Highway To Hell" has taken the rock single to number four, the second highest new entry of the week.
A Christmas number one for the legendary Seventies band would come just days before they celebrate their 40th anniversary on 31 December and an impressive 34 years after "Highway To Hell" was first released. 
So far, the Facebook group has attracted 776,000 likes, with spokesman Steevi Diamond telling the UK Official Charts Company website: "For reasons beyond all logical reckoning, AC/DC have never had a top 10 single in the UK! This is an injustice that needs to be remedied. So what better way to say 'Thank you for 40 years of amazing rock?"
Diamond continued to say that nothing could be better on Christmas Day than "to be gathered around a fire, with mistletoe and mulled wine, air-guitaring like maniacs to one of the best songs ever recorded."
One of Australian frontman Bon Scott's last songs before he died, "Highway to Hell" was written as a tribute to the hard-working life of a touring band.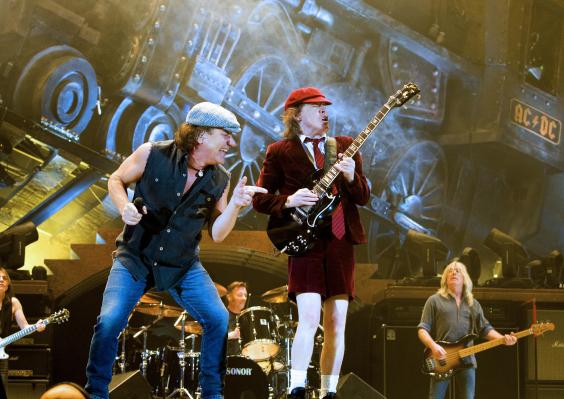 Sam Bailey is the bookmakers' favourites to win the Christmas race, but AC/DC are still on track to score their highest place to date in the UK singles chart as their previous best achievement was 12th in 1988 with "Heatseeker".
Up until midnight on Monday, there had been 45,000 downloads of Bailey's track.
She will support US singer Beyoncé on the second UK leg of her Mrs Carter Show World Tour in February, and the profits from her "Skyscraper" sales are being donated to childrens' charities by Cowell's music company, Syco.
Another X Factor star, Leona Lewis, is in third place with her Christmas single "One More Sleep" and has set a new Official Singles Chart record by becoming the first British female solo artist to achieve eight top five singles.
Final chart positions for Christmas Day will be calculated when sales are counted after midnight on Saturday.
Other contenders for the title include Lily Allen's cover of Keane's "Somewhere Only We Know", 11-year-old Jack Topping's "Tomorrow", "I Wish It Could Be Christmas Everyday" by The Big Reunion and "When The Boat Comes In" by The Fishwives Choir.
Past memorable Christmas number ones have included novelty songs by Mr Blobby and Bob the Builder, with a campaign for John Cage's completely silent "4.33" proving unsuccessful in 2010.
X Factor winners: Where are they now?
X Factor winners: Where are they now?
1/10 2013: Sam Bailey

The clear winner from the outset, Sam Bailey went on to beat teen singers Luke Friend and Nicholas McDonald. Bailey's cover of Demi Lovato's 'Skyscraper' went straight to number one on 22 December 2013, becoming the first X Factor winner in three years to gain the Christmas number one spot. Her debut album is due to be released on 24 March. She is also currently pregnant with her third child.

Rex Features

2/10 2012: James Arthur

He secured the biggest-selling X Factor winner's song ever with 'Impossible', but last year's victor James Arthur has been at the centre of controversy recently. Arthur got into a Twitter spat with fellow former contestant Lucy Spraggan when he used a homophobic lyric in a rap. The singer apologised on-air for 'abusing [his] position as an X Factor winner' after a performance on the results show a few weeks ago. Arthur's new single 'Recovery' is currently number 19 in the Official UK Singles Chart.

3/10 2011: Little Mix

Girl band Little Mix are one of The X Factor's success stories. Formerly known as Rhythmix, the group released an autobiography in August 2012 and their debut album came out that November, reaching number three. Little Mix's Perrie Edwards is engaged to One Direction's Zayn Malik which, you know, helps with the the whole fame thing. The band toured earlier this year and have enjoyed US success too. Their latest album Salute was released on 15 November.

4/10 2010: Matt Cardle

Singer-songwriter Matt Cardle performed 'Unfaithful' with Rihanna during the 2010 X Factor finals. He famously criticised Syco for being 'very pop' when he, apparently, wasn't. Shortly afterwards, he left Cowell's label. Cardle returned to the charts when his first album 'The Fire' made number eight and was well-received by critics. He recorded a duet with Spice Girl Melanie C, 'Loving You', in the summer and will be touring new album 'Porcelain' in April 2014.

5/10 2009: Joe McElderry

Rage Against The Machine's 'Killing In The Name' famously beat Joe McElderry to the Christmas number one in 2009, following an internet campaign to do battle with Cowell's chart machine. McElderry's luck failed to pick up and he soon found himself winning yet another talent show, Pop Star to Opera Star. Recently, he's enjoyed some success in the classical world and appeared in several West End shows. He is signed with Universal Music's Decca label.

6/10 2008: Alexandra Burke

Alexandra Burke's cover of Leonard Cohen's 'Hallelujah' sold more than a million copies in the UK, a success she followed with five top ten singles and a hit album. Burke has been a brand ambassador for a women's deodorant and signed a modelling contract in 2010. She joined The X Factor as a guest judge during the final of the eight series. The 'Bad Boys' singer has another album out next year but it will be released on RCA records after her recent split from Simon Cowell's label.

7/10 2007: Leon Jackson

'When You Believe' became the fastest-selling single of 2007 when winner Leon Jackson released it before Christmas, but he was dropped in 2009 following poor sales. His third single 'Creative' only reached number 94 in the charts and half his tour dates were cancelled. At present, Jackson is reportedly writing a second album that he will release independently.

8/10 2006: Leona Lewis

She's The X Factor's darling and one of the only acts still with Simon Cowell's label. Leona Lewis enjoyed huge international success after winning the 2006 show and releasing her first single 'A Moment Like This'. Recently, she has struggled, with sales of her latest album 'Glassheart' down steeply from those of her debut in 2007.

9/10 2005: Shayne Ward

After his victory on the second show, Ward achieved the fourth fastest-selling UK single ever with 'That's My Goal'. Several other hits and three albums followed and at one stage, he was reportedly considered to replace Jason Orange in Take That. Ward was dropped six years later to make room for other upcoming stars on Syco's label and has since turned his hand to performing in London musical Rock of Ages with Justin Lee Collins. The Mancunian singer appeared in Dancing on Ice in January 2013 but was eliminated in the fifth round.

10/10 2004: Steve Brookstein

The first winner of The X Factor, Steve Brookstein scored a number one single with 'Against All Odds' but was dumped by Sony BMG just eight months afterwards for being a one-hit wonder. Since his brief success evaporated, Brookstein has performed on cruise ships and was spotted in 2010 performing in a small Cornish pub for £2.50 a ticket. Brookstein no longer appears in publicity for The X Factor and as a result, he has repeatedly hit out at both the show and Simon Cowell. He is, however, still singing, and has a new album 'Soul Journey' out in February.