The concept of "just being Miley" has certainly evolved some from the days of 'See You Again', Miley Cyrus's debut single under her own name - rather than that of her Disney alter ego Hannah Montana - in whose lyrics she fretted about her lovestruck gormlessness in front of a boy.
These days, "just being Miley" involves a distinctly less PG quirkiness likely involving at least some of the following: foam fingers, assertive sexuality, hot dog steeds, kittens, cultural appropriation scandals, MDMA and yes, bloody twerking.
Being that sort of Miley saw her become 2013's most Googled individual, narrowly missing out on TIME's person of the year award to the Pope; everywhere she steps, a dozen thinkpieces bloom. Rather than swell her head, the bulbous, ridiculous success that ballooned up as Miley smashed Montana with her wrecking ball of nudity, drugs, sex and scandal seems only to have twisted her brain into ever more entertaining shapes.
Miley Cyrus Bangerz tour in pictures
Miley Cyrus Bangerz tour in pictures
1/12 Miley Cyrus on tour

Miley wore white boots with dollar signs on as she cavorted around on a gold car

2/12 Miley Cyrus on tour

In her usual fashion, Miley spanked two dancers who joined her in red spandex

3/12 Miley Cyrus on tour

The 21-year-old was joined on-stage by colourful animals

4/12 Miley Cyrus on tour

Miley gives her fans the finger which is, you know, nice of her

5/12 Miley Cyrus on tour

Miley gives an energetic performance backed up by cowboy-clad dancers

6/12 Miley Cyrus on tour

Miley wore a leotard with a cannabis leaf print in a nod to her love of smoking weed

7/12 Miley Cyrus on tour

Cyrus twerked, and twerked, and twerked some more throughout the first Bangerz show

8/12 Miley Cyrus on tour

Cyrus singing on top of a car in a spangly cannbis print leotard

9/12 Miley Cyrus on tour

Miley whipped her hair back and forth during her first Bangerz tour show

10/12 Miley Cyrus on tour

Miley performed on-stage with a dwarf wearing a Britney Spears mask

11/12 Miley Cyrus on tour

Miley Cyrus kicks off her 'Bangerz' tour in anticipated controversial form in Vancouver, US

12/12 Miley Cyrus on tour

Miley wore this sparkly red costume complete with Chanel bag and feathers
She descends for the European debut of the Bangerz tour (delayed due to an adverse reaction to antibiotics, not, as reported by scandalhounds, an overdose - "it feels so good to be here and not lying in a hospital bed with some bitch nurse stabbing me," notes Miley sweetly) from her now-infamous tongue slide through a giant replica of her own face.
And it just gets odder. Her video backdrop, designed by Ren & Stimpy creator John Kricfalusi, and her nightmarish cast of dancing cartoon characters (Katy Perry this ain't) subtly undercuts the inevitable crotch-centricity.
Wherever you stand on sex in pop it's harder to objectify something with a personality and a sense of humour, and Miley's famous tongue is laughing as often as it's lasciviously lapping. It's hard to get upset by Miley dry-humping the bonnet of a gold Hummer for the romping hip-pop of 'Love Money Party' when there's a giant Jim Henson-esque pink bird puppet sashaying past a burgeoning neon magic mushroom horror as she belts out the marvellous diva flounce of 'FU'.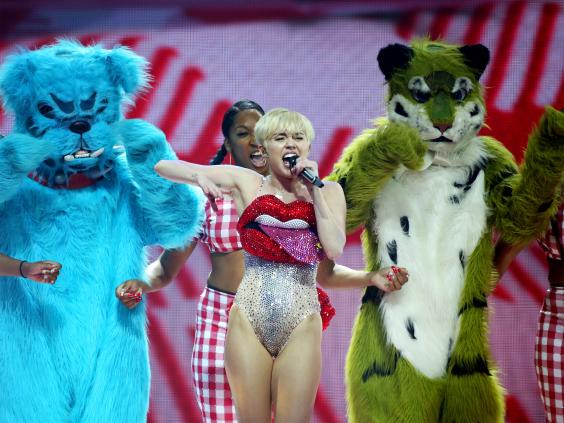 And it's not just the visuals that are funny - "I look better with less clothes on anyway. Y'all should see me naked," quips Miley after a costume change malfunction leaves her minus a skirt.
She's got one hell of a voice as well, displayed best on the slow burners and ballads such as 'Adore You' and 'Wrecking Ball' but just as impressive growling through the country inflections of '4x4' or the funky, hollery 'On My Own' or covers of Arctic Monkeys' Why'd You Only Call Me When You're High' and Dolly Parton's 'Jolene' (with added C-word) among others.
There's nothing particularly shocking here, nothing that will warp the youth  - in its own strange way it's as wholesome as Montana, and not just on adorably goody close 'Party In The USA'. What there is is something much more exciting in the long run - potential. Cyrus will change again, and she's got wit and smarts to come up with better.
Or as the lady puts it herself, "Don't you worry bout me, I'm gonna do my thang'."
Reuse content