Skeleton Tree, Nick Cave & the Bad Seeds, first listen review: A beautiful, shatteringly visceral portrait of grief
There is no theatrical swagger here; Cave's experience of bereavement is blisteringly undiluted
5
Click to follow
The Independent Culture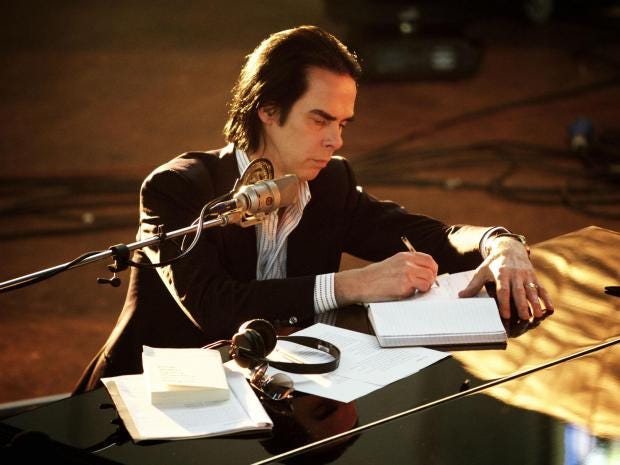 "How on earth do you award aesthetic points to a 75-minute suicide note?" wrote Michael Billington in his famous critique of Sarah Kane's final play 4.48 Psychosis. Sixteen years later, reviewing Skeleton Tree, Nick Cave's new album with the Bad Seeds, is a similarly gargantuan task. How do you judge a record written by an artist enduring the most emotionally traumatic event that can happen to a parent, a man enveloped by grief after the death of a child?
Cave's 15-year-old son Arthur died last July after falling from a Brighton cliff while the singer was halfway through writing it. He duly released a statement with wife Susie Bick asking for privacy to grieve before enlisting director Andrew Dominik to help him make documentary film One More Time With Feeling so that he could address the album's harrowing context without having to speak to journalists. 
The result is beautiful, visceral and, predictably, emotionally devastating. From the first line of eerie opener "Jesus Alone" ("You fell from the sky/Crash landed in a field/Near the River Adur") Cave makes it clear that he will not be hiding from the tragedy suffocating him, before warped instrumental sounds create a surreal sense of depersonalisation. Gone is the old, lush assurance in Cave's voice, replaced by a poised fragility as he sings about lacing up the shoes of his "little blue-eyed boy" on "Girl in Amber". Imaginative preconceptions of death, a theme he has lyrically obsessed over for decades, have been sobered by a personal apocalypse. "I used to think that when you died you kind of wandered the world/ In a slumber til you crumbled, were absorbed into the earth/I don't think that anymore," he spits bitterly with barely-concealed anger, flooring the listener with the crushing magnitude of everything this means for an artist changed utterly.


"Magneto" is the album's crippling nucleus. Shatteringly visceral images abound, from Cave catching his reflection in the bathroom mirror as he "vomits in the sink" to stars "splashed and splattered across the ceiling", all romanticism lost to cold, hard realism. In the devastating "Rings of Saturn", his grief is a "black oily gash crawling backwards across the carpet to smash all over everything" while the hauntingly angelic addition of Danish soprano Else Torp singing about "children rising" on "Distant Sky" gut-wrenchingly contrasts with Cave's resigned, heartrending rejection of the comforting concept of a god caring for the dead.
Skeleton Tree leaves Cave's wounds open, raw and bleeding. Like David Bowie's critically-acclaimed, analogy-laden swansong Blackstar, it is not overly long, with each song serving to tighten an increasingly acute clench in the chest. "Just like that bluebird, I'll be free" sung Bowie on "Lazarus", a track which took on searing new meaning following his death from cancer just days after its release. Cave, meanwhile, is imprisoned and isolated by his grief, left standing in places as mundane and unremarkable as supermarket aisles feeling that "nothing really matters" anymore. 
"It's interesting watching people grieving, they are always trying to do something, but there is nothing to be done," Dominik said of watching Cave instinctively turn to songwriting for catharsis. By presenting these songs in their flawed natural state, freshly-oozed from a "sawn in half" heart, Cave invites us to share in the universal pain of losing someone you love. There is no theatrical swagger here; his experience of bereavement is blisteringly undiluted.
'Skeleton Tree' is available to stream and download from today
Reuse content
Comments