"I've never thought about songwriting as a weapon," Taylor Swift said with a straight face to an interviewer from Vanity Fair while the magazine was profiling her in 2013.
No, not Taylor Swift. Not the author of songs like "Forever and Always", written in the wake of her relationship with former boyfriend Joe Jonas, the better-looking Jonas brother, and featuring this lyric: "Did I say something way too honest, made you run and hide like a scared little boy?"
Not her, who wrote/sang about her relationship with the actor Jake Gyllenhaal, "Fighting with him was like trying to solve a crossword/ And realising there's no right answer."
Not Taylor, who leaves the impossible-to-crack clues in her liner notes for each song by capitalising a variety of letters that spell out the subjects in a very essential way: "TAY" for a song about ex-boyfriend Taylor Lautner; "SAG" for the Gyllenhaal one (as in "Swift And Gyllenhaal", or that they're both Sagittarius. I don't know).
For Taylor Swift to pretend that her entire music career is not a tool of passive aggression toward those who have wronged her is like me pretending I'm not carbon-based: too easy to disprove, laughable at its very suggestion.
The masterstroke of all of this passive-aggression is, of course, "Dear John," a single on her album Speak Now. Here are some of the lyrics to "Dear John": "All the girls that you've run dry have tired, lifeless eyes/ 'Cause you've burned them out/ But I took your matches before fire could catch me/ So don't look now/ I'm shining like fireworks over/ Your sad, empty town."
Taylor wrote this in the aftermath of her relationship with renowned rake John Mayer, a man who committed the sin of breaking the heart of a post-Pitt Jennifer Aniston, among others.
Taylor's "Dear John" is a masterclass in passive-aggression. First, consider Taylor's use of the generic "Dear John" letter for this specific John – there's that plausible deniability again – as if to make it sound like a goodbye letter to anyone, when really it's a goodbye letter to someone.
But she also maintains that she's innocent, having told The Times: "I can say things I wouldn't say in real life. I couldn't put the sentence together the way I could put the song together." It's not that she didn't want to say this to your face, John. It's just that she couldn't.
See, Taylor was, according to lore, a chubby geek in middle school. She was abandoned by her peers in sixth grade, just when her songwriting powers were coming to fruition, and so just as her gift began to sprout, so did her ability to articulate them and, just a couple of years later, publicise them.
Music festivals guide 2016
Music festivals guide 2016
1/20 Horizon

Where: Bansko Ski Resort, Bulgaria When: 12-17 March Price: From £175 Line Up: Âme, Goldie, Nina Kraviz, John Talabot, Lady Leshurr, Craig Charles

2/20 Live At Leeds

Where: Leeds, UK When: 30 April Price: £32.50 Line Up: Jess Glynne, Circa Waves, Mystery Jets, Band of Skulls, We Are Scientists

3/20 Primavera Sound

Where: Barcelona, Spain When: 1-5 June Price: €175 Line Up: Radiohead, LCD Soundsystem, Sigur Rós, PJ Harvey, Tame Impala, Beach House, Suede, The Last Shadow Puppets

Primavera

4/20 Best Kept Secret

Where: Hilvarenbeek, The Netherlands When: 17-19 June Price: €147.50 Line Up: Beck, Editors, Two Door Cinema Club, Beach House, Bloc Party, Caribou, Half Moon Run

Best Kept Secret Festival

5/20 Glastonbury

Where: Worthy Farm, Somerset When: 22-26 June Price: £220 Line Up: Coldplay, Muse, Jeff Lynne's ELO, PJ Harvey, Jess Glynne (TBC)

6/20 Roskilde

Where: Copenhagen, Denmark When: 25 June-2 July Price: 2,020 DKK Line Up: LCD Soundsystem, New Order, PJ Harvey, Red Hot Chili Peppers, Foals, Tame Impala, Savages, Skepta, Tenacious D

Simon Frøsig Christensen / Roskilde Festival

7/20 Hideout Festival

Where: Zrce Beach, Croatia When: 26-30 June Price: From £152.90 Line Up: The Martinez Brothers, Joris Voorn, Waze & Odyssey

Hideout Festival

8/20 Bilbao BBK

Where: Bilbao, Spain When: 7-9 July Price: From £69 Line Up: Arcade Fire, Pixies, Tame Impala, Foals, New Order, Hot Chip, Father John Misty, Years & Years, Wolf Alice

9/20 Open'er

Where: Gdynia, Poland When: 29 July-2 August Price: From €130 Line Up: Bastille, Florence + the Machine, Foals, LCD Soundsystem, Red Hot Chili Peppers, The 1975, The Last Shadow Puppets, Wiz Khalifa

Open'er Festival

10/20 Electric Love

Where: Plainfeld, Austria When: 7-9 July Price: €119 Line Up: Alesso, Zedd, Tiesto, Chase & Status, Steve Aoki, Knife Party

11/20 Melt!

Where: Ferropolis, Germany When: 15-17 July Price: From €136 Line Up: Two Door Cinema Club, Disclosure, Jamie xx, Sleaford Mods, Skepta, Jamie Woon

12/20 Sziget

Where: Budapest, Hungary When: 10-17 August Price: From €215 Line Up: Bastille, Bloc Party, M83, Sigur Ros, Bring Me the Horizon

13/20 Flow

Where: Helsinki, Finland When: 12-14 August Price: €165 Line Up: Sia, New Order, The Last Shadow Puppets, Jamie xx, M83, Chvrches, Four Tet, Stormzy, Daughter, The Kills

Flow Festival / Jussi Hellsten

14/20 Rock En Seine

Where: Paris, France When: 26-28 August Price: From €119 Line Up: TBC

15/20 Oasis

Where: Marrakech, Morocco When: 16-18 September Price: From €110 Line Up: Bicep, Derrick May, Tale of Us, Dixon, Dusky, Hunee

16/20 Latitude

Where: Henham Park, Suffolk When: 14-17 July Price: £205.50 Line Up: The Maccabees, The National, New Order, John Grant, Beirut, Father John Misty, Chvrches, Grimes

17/20 Bestival

Where: Robin Hill, Isle of Wight When: 8-11 September Price: £190 Line Up: The Cure, Major Lazer, Hot Chip, Fatboy Slim, Craig David, Years & Years, Wolf Alice, Tourist, Katy B

18/20 Isle of Wight

Where: Newport, Isle of Wight When: 9-12 June Price: From £186 Line Up: Queen + Adam Lambert, Stereophonics, Faithless, Iggy Pop, Adam Ant, Buzzcocks, Sigma, Jess Glynne

19/20 Citadel

Where: Victoria Park, London When: 17 July Price: From £54 Line Up: Sigur Rós, Caribou, Lianne La Havas, Nathaniel Rateliff & the Night Sweats

20/20 End of the Road

Where: Larmer Tree Gardens When: 2-4 September Price: £195 Line Up: Joanna Newsom, The Shins, Animal Collective, Bat for Lashes, Teenage Fanclub, Devendra Banhart, Savages, Cat's Eyes

Sonny Malhotra
It was a dream come true for a rejected-feeling girl who was coming into her own as a tall, dazzling blonde with a microphone and a following. Is there any one of us who kept a diary without wishing deep down that someone would find it and understand us fully, down to the ugliest detail? Is there anyone among us who didn't hope that the world would learn from that diary exactly how the world had wronged us?
That's how Taylor Swift became the hero of all us losers, of anyone humiliated in middle school, the publicly dumped in high school, or anyone who ever realised during the car ride home the perfect comeback that would now go unsaid. Taylor puts it out there, and out there it stays.
In a way, she was made for this. She was born with the face of an accusation. Her eyes, which see everything and narrow naturally; upturned, judge-y nose to look down past; lips that tend toward pursing. 
Yet she was also born lovely, with a sweet, thin voice and an engaging smile. She's smart and tall, and she's thin now. Who would not love her? In fact, for those of us who were chubby youths, who had no friends, the invention of Taylor Swift is no less than the invention of a super-robot sent through time and space to lure the mean girls and mean boys into loving us, and then break their hearts and tell the world what scum they are. We couldn't have dreamed it better.
Taylor's denials are another layer of performance art. Because has there ever been a more passive-aggressive profession than writing? Writing is first born of a need to explain oneself, and it is co-morbid with the desperate loneliness of an ostracised, chubby middle-schooler, like she was and, well, like I was.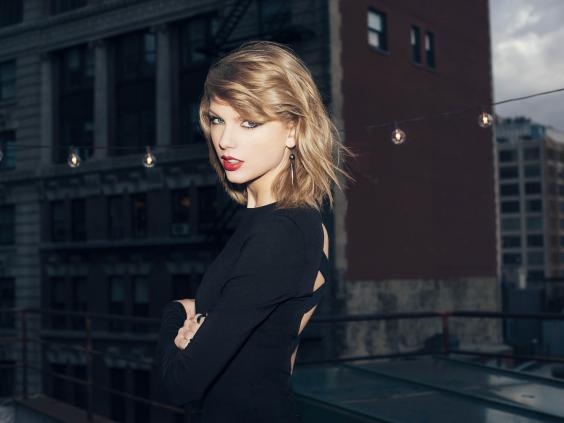 The popular kids can explain themselves to each other. Only the lonely are left to their writing. It's through the tools of observation that we learn to hone an otherness… we begin to define ourselves from the way we are different. And slowly, slowly, we spend so much time pretending that someone is listening that we often don't know how to change modes once people are.
We are generally people who like to pretend that our childhoods happened to another version of us, that we don't carry the scars that we do. So I play it safe. I don't refer to people who have wronged me; I don't ever put in writing the thing I should have said, the thing I'm still kicking myself for not saying. 
I don't know if that makes me dumber or smarter than Taylor, and I certainly don't know if my refusal to use my work as a tool of passive-aggression makes me braver or more afraid.
I have become someone who is only perfectly vengeful in my head. The closest I've gotten is writing an essay about a man who broke my heart and changing his name from Garry to Gary. (But there's hope, isn't there? Here I just admitted what I did! Suck it, Garry!)
Taylor exists as our id. She alone possesses the chutzpah to play innocent as she boldly winks at what she's done in a forum more public than even the most viral article. 
But it's also through her that we can continue to fantasise about a revenge most perfect, an aggression so passive that no one sees it coming, that no one can confirm it once they've been hit. That day might be around the corner, and it's Taylor who allows us to dream of it: dream of a time when the stings of the past are made better through the public hanging of dirty laundry, a time when we say the perfect thing in the moment when it most counts, a moment when we finally get the last word. 
It's on that day that we, too, will have our most perfect aggression realised. It's on that day you will find us shining like fireworks over their sad empty towns. 
"Revenge of the Nerds" is a chapter from 'Here She Comes Now: Women in Music Who Have Changed Our Lives' edited by Jeff Gordinier and Marc Weingarten, which is out in April 2016. Taffy Brodesser-Akner is a contributing writer for 'The New York Times Magazine' and 'GQ'. She won a 2014 New York Press Club award for entertainment writing.
Reuse content