Vasa's reputation as one of the most exciting, dynamic instrumental bands in the UK is already legendary amongst the post and math rock scenes. Forming in October 2011, the band released their debut EP Never Have Dreams shortly after in 2012, but the quartet had ambitions beyond those that could be confined to a 5-track EP, touring the country relentlessly and honing their live sound in to a tight, joyful celebration of the almighty riff. With Colours, the band's debut album, they've managed to capture the excitement and joie de vivre of their live show in all its technicolor glory.
The genesis of the band lies with guitarists Blaine Thompson and Scott Coupar, who met at high school and promptly bonded over a mutual obsession with Biffy Clyro. "We kind of drifted apart after high school" says Scott. "But I'd often bump into Blaine whenever I was in Glasgow and we'd always say over a few drinks, 'We should start a band!' We'd always be talking about it."
By this time, Blaine was studying at University, where he met bassist and toilet cubicle graffiti sensation John Niblock. "Blaine put up a demo and I just thought it was really really good. I texted him to ask him if he wanted to put a band together and he was incredibly drunk, so he said yes. And that was the first of many poor decisions he's been making ever since!" Blaine chips in, "I don't say yes to things unless I'm very drunk!"
When I ask for the band's thoughts on the demo that brought them together, their reaction is unanimous. "It's terrible" says Blaine. "It's just flooded in reverb!" John chimes in simply with a curt, "It's rubbish!" It's been said before, maybe only half-mockingly, that all one needs to form a post-rock band is a guitar and a delay pedal. Whilst the band insist that they don't hate the term post-rock as much as interviews of the past may have led people to believe, it's clear that it's a corner that they don't want to paint themselves into. "I think when we started, we were definitely a post rock band, there's no getting around that" says Scott. "Our initial demos and even the first EP were very much post-rock, but we've moved on a bit from that now.
Well, the proof is in the pudding and what a deliciously sumptuous sickly-sweet gateau the boys Vasa have put together in the form of debut album Colours. 10-tracks of joyous balls to the wall rock riffery. When I wonder aloud what direction the band would consider themselves to be heading in with this LP, Blaine offers up "laid back Math Rock" whereas Scott takes the line "Math Rock but with more focus on the Rock than the Math. We don't really go into wacky complex time signatures a whole lot."
The newer material certainly has a sharper attack and more pinpoint precision, probably due in no small part to the addition of new drummer Niall Morison MacRae. Coming from a Metal / Hardcore background, Niall's powerhouse, almost-militant drumming style has clearly rejuvenated the band, leaving less time for the more dreamy (reverb-drenched) soundscapes present on their previous material and more time for rocking out to riffs the size of King Kong's scrotal baskets! "It's a little bit more to the point" is the way he puts it. "I feel like these guys are really influenced by bands like ...And So I watch You From Afar and Adebisi Shank. I only started listening to those bands when I started playing with these guys. In a sense, I'm out of my element in terms of what I'm doing with this band but it's fun adapting to it. I really love the 'major key' side of the music that we're making because everything else that I do is usually more 'minor key'. But we try and make it really pulverizing at the same time." Blaine chips in "Pulverizing in a major key!" and the rest of the band fall about laughing.
The album title refers specifically to Blaine's experiences with synæsthesia, a neurological condition where a sensation in one of the senses triggers a sensation in another. In Blaine's case, when he hears sound, he sees colours, as he explains "It's not individual notes or instruments that give me the 'colours sensation,' but I'll associate entire songs with a colour, so for example, Fat Ronaldo is bright red and Poseidon's Kiss is a deep purple. There is no narrative or theme to our songs really, mainly due to the lack of lyrics, so the emotional response that I have towards our music is seeing these colours - it felt fitting to call the album that."
The band are clearly proud of what they've achieved with this album, as they should be. It captures a manic youthful energy, the sound of a band who are about to become one of the most exciting new faces in the world of instrumental rock music. "I think the first two tracks, Smashletes and As Long As It Doesn't Explode, come as close as we have to capturing what we sound like live" says Scott. "I think they're quite basic songs, in terms of the effects we use, it's just a big f**king rock song, to start off the album. With some of the songs on the album, there might be a tad more studio-trickery involved, which makes them more difficult to re-create live, but those two opening tracks are mainly just distortion with a bit of delay and we can just knock that out live. I think when we got the mix of that song back, we knew that the album was on the right track."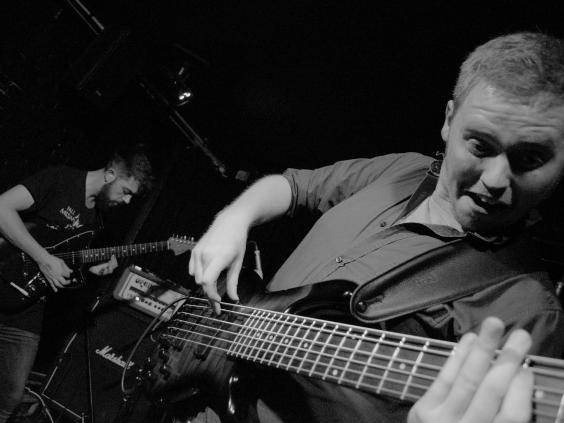 Even though this is the quartet's debut album, there are already hints as to where the band might see themselves going next, as John explains, "Ergonomic Keyboard and Poseidon's Kiss were the last two songs written before we went in to record and it just feels like that's the direction our sound is going in now. We'd never played those songs live before so it was great to finally hear them and they've become my two favourite songs on the record."
The band are playing Europe for the first time (with fellow Glaswegians Mountains Under Oceans in tow) and then returning to the UK to play a triumphant album launch show in their home-town of Glasgow.
Colours Album Tour
10th October Prague, Czech Republic Basement Bar
13th October Luxembourg City, Luxembourg Rocas
14th October Lille, France El Diablo
16th October Glasgow, Scotland The Old Hairdresser's
18th October Manchester, England Carefully Planned Festival
Colours, the debut album from Vasa, is released on Friday 16th October via Black Sheep Records and is available to pre-order on 12"vinyl and CD. Tickets for their tour dates in the UK and Europe are available now. 
Reuse content