Visual art: the Venice Biennale's encyclopedic palace
'The unforgettable cabinet of curiosities that still haunts my dreams' - Marcus Field
I love it when a great exhibition works its magic on you and comes back to haunt your dreams like an unforgettable film or book. This is the effect that the widely acclaimed show staged by the curator of this year's Venice Biennale has had on me and its ripples are already spreading wide.
Massimiliano Gioni, at 39 the youngest ever curator of the Biennale, took as his theme the Encyclopedic Palace, a quixotic 1950s project by the Italian-American eccentric Marino Auriti who planned to collect all worldly knowledge in a 136-storey tower in Washington DC. Auriti died leaving his fantasy unrealised and Gioni had the inspired idea of taking up where he left off. Rather than building the tower, however, Gioni set out his mesmerising Encyclopedic Palace in the exhibition halls and converted naval yard of the Biennale.
Gioni's genius move was to stretch his remit for showing contemporary art to include work by non-professional "outsider" artists. So, among the familiar video installations, paintings and sculptures, I saw many remarkable creations, including a set of disturbingly life-like dolls made by a lonely man in Chicago and found hidden in his attic after his death; yards of hospital linen embroidered with the prophecies of a Brazilian sailor incarcerated in an asylum in 1938; and the fantastical spiky clay monsters made by the autistic Japanese psychiatric patient Shinichi Sawada. Other memorable exhibits were the intricate dreamscapes of Carl Jung and some of the first photographs of the Earth taken from the air by the pioneering balloonist Eduard Spelterini.
Set in the context of this vast and exquisitely laid out cabinet of curiosities, the works by professional artists – too often these days defined only by their financial value – suddenly regained their proper place as investigations of the human experience made by people who we should rightly regard as visionaries and prophets.
The significance of this timely reassessment of the role of art and those who make it has already been recognised by the BBC, who sent Alan Yentob off to interview several of the Biennale's outsider artists for his show Imagine …. Meanwhile, the Tate has announced an exhibition of British outsider art to open in June 2014. As for Gioni – a new star in the art world – the next job is his for the picking.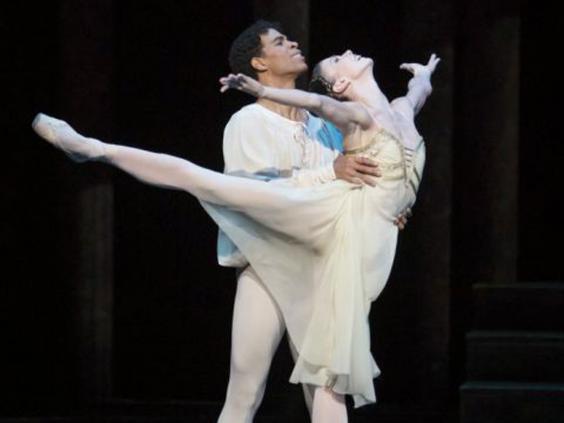 Dance: Osipova's UK move
'Bolshoi star's Juliet left Covent Garden crowd giddy with excitement' - Jenny Gilbert
It was not the best of years for the Royal Ballet. Amid a flurry of retirements and a row with leading man Johan Kobborg, it also lost the jewel in its crown, the Romanian star Alina Cojocaru, who departed in high dudgeon along with boyfriend Kobborg. By June, the end of the season, ballet lovers had just one scrap of surprising and intriguing news to cling to: that ex-Bolshoi star Natalia Osipova was to join the company in September.
The Bolshoi had not supplied major talent to the Royal Ballet since the 1990s. And Osipova is a typical Bolshoi product: Olympian in technique, legs up to her ears. Why would such a creature leave Russia, the cradle of her art form, for a company with a markedly lower-key aesthetic? Well, you've read the headlines, you draw the conclusions. Osipova has not spilled the beans, but admits she sought distance from the Bolshoi's troubles.
Osipova already had form at Covent Garden: she and off-as-well-as-on-stage partner Ivan Vasiliev shot to international notice there six years ago (then aged 21 and 18, respectively) in the Bolshoi's Don Quixote. When they reprised those roles in 2010, the audience stood and screamed for them. When the pair appeared at the Coliseum in March this year, her Giselle drew gasps as she delivered, ferociously fast, Act Two's strange flat-of-the-foot turns, a corpse spinning off its mortal coil.
But how would her phenomenal talent fit in a British company whose style is quieter? Predictably, Osipova made a splendid Kitri in Carlos Acosta's production of Don Quixote. But the acid test was her Juliet last month (above) .
As The Independent noted, there are debuts that make audiences giddy with excitement and this was one of them. While the Russian flipped between tomboy and minx in early scenes, there was a palpable moment of doom as she made eye contact with Acosta's Romeo. In a split second, her ardour rose, her will stiffened. It was electrifying and the tragedy rolled out like a tidal wave from that moment.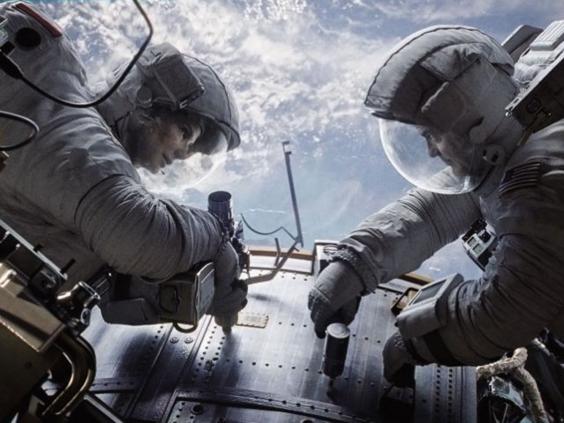 Film: The opening scene in 'Gravity'
'Right from that first, 13-minute-long shot, you were left in no doubt that you were watching something magically different' - Nicholas Barber
There were a few robust contenders for the title of Film Moment of 2013. There was a particular scene in Blue Is The Warmest Colour (you know the one). There was the horrifically recognisable escalation of hostilities in a hotel room in Before Midnight. There was the crowd of Ku Klux Klansmen grousing about the stitching on their hoods in Django Unchained. But to have chosen any of these would have invited the question, "What about Gravity?" It's the film which came closest this year to having that mythical "must-see" status. And not just "must-see", but "must-see on the big screen – preferably in 3D". One old friend emailed me for the first time in months purely to say how much she liked it.
Sandra Bullock and George Clooney starred as two astronauts who had to propel themselves to a distant space station after their own space shuttle became crippled by a debris shower.
Most writer-directors would use the duo's plight as the springboard for a madly over-complicated rescue plan and a series of increasingly frenetic action sequences, whereas Alfonso Cuarón's film, for all its thrills and death-defying feats, had a monumental simplicity. Right from its first, 13-minute-long shot, it was set in the Earth's orbit, several hundred miles above the ground, with no introductory scenes of the astronauts preparing for their expedition, and no cutting away to anxious relatives or grave mission controllers back home.
The film began with the astronauts floating in space already – and, as a viewer, you soon got the sense that you were floating along with them.
Thanks to the pristine CGI and a roving, ghost-like camera that slipped inside Bullock's helmet as easily as it glided off into the airless darkness, you were yanked straight out of your own reality and dropped into an environment where the normal rules didn't apply. There was no one to help you, and no safe place to rest. There wasn't even an "up" or "down".
It was giddily liberating. True, it made you physically queasy, but it also left you in no doubt that you were watching something magically different from any other film you've seen this year, or any other year.
And the key is that you weren't just watching it. You were up there with Bullock and Clooney, with nothing around you but the crystalline beauty and lethal indifference of space.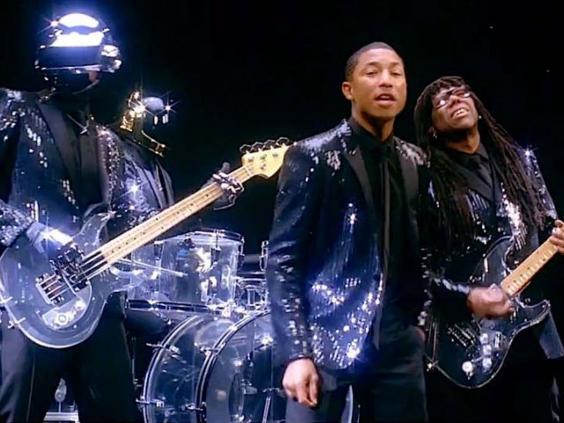 Pop: Hearing 'Get Lucky'
'A song that felt as if it had always been there, waiting in the ether' - Simmy Richman
My 16-year-old self would never have believed it possible, but it is one of life's sadder facts that the older you get the less engaged you become with the popular music of the day. My own exile from the sort of pop that fills the charts began at around the time that Britannia was being hailed as "cool" and continued until, well, let's just say that you know you are not a pop consumer any more when you splash out about £100 on a six disc box-set called Anthology of American Folk Music.
But last summer, I was reminded of just how simple, brilliant and time-stopping a pop song could be.
People had been talking about this new song by Daft Punk for a few days. Daft Punk, I'd thought – it will probably be some banging club anthem that will leave me cold. Nothing to hear here, let's move on.
We were in the kitchen and the back door was open and it was boiling hot and there was talk of a barbecue. A few friends had come round and some Pimms had no doubt been consumed, when a friend mentioned the new Daft Punk single and asked if I'd heard it yet. He was a young man whose eclectic but generally esoteric musical tastes I often share, and so we reached for the nearby laptop and fired up Spotify.
Bottom line: I can remember the first time I heard "Get Lucky" in the same way that people talk about where they were when they heard the news about JFK. In the way of all perfect pop songs, it felt as if it had always been there: just waiting for someone (in this case Daft Punk, Nile Rodgers and Pharrell Williams) to come along and pluck it out of the ether. I do not dance easily, but reader, I danced.
Did this four-minute slice of musical perfection pull me back from the brink of pop oblivion?
Not entirely. But I have since loved Lorde's "Royals" and am currently a little bit addicted to Pharrell's "Happy". My 16-year-old self would be proud.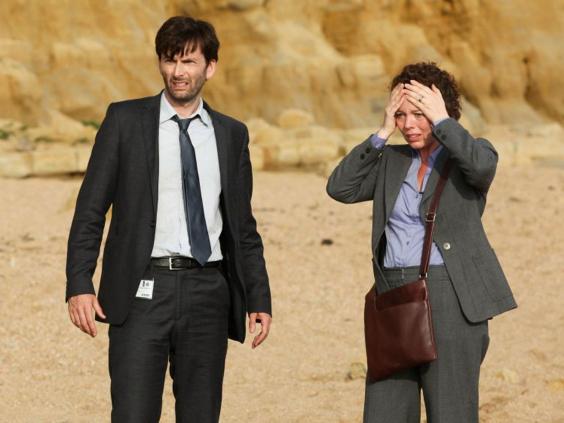 TV: Olivia Colman's 'Broadchurch' breakdown
'How the anguish of one universally-adored actress  spoke for us all in a year of televisual trauma' - Hugh Montgomery
One of the great small-screen joys of 2013 was, curiously, the chance to watch other people watch television: I am of course referring to meta-phenomenon Gogglebox. But while the Channel 4 show gave us an insight into the nation's viewing habits, it was less than the whole story. For while the living rooms of Leon, June et al were sites of badinage and nibbles, mine, at least, was more of a merciless abyss, with added scatter cushions, as I stared my way through 2014's torrent of televisual trauma.
I'm thinking of Breaking Bad's and Game of Thrones' infamous "Ozymandias" and "Red Wedding" episodes. Of the spine-chilling zombies – or were they? – of The Returned and the men, full stop, of Top of the Lake. But if there was one single moment that epitomised this year of heavy entertainment, it was the furious explosion of a certain universally-adored actress at the climax of ITV's Broadchurch.
Broadchurch was an obvious idea, brilliantly done: a British facsimile of those much-discussed Scandi-crime imports, with its slow-burn whodunnit, beautiful cinematography and meditative bleakness. A facsimile, but for one crucial difference: in Olivia Colman's DS Miller, it had a heroine, who unlike The Killing's one-track Sarah Lund or The Bridge's socially abrupt Saga Noren, was extraordinarily ordinary.
Which, of course, according to the cruel logic of crime drama, made her all the better for unravelling. Many of us had suspected that her husband, Joe, was far too good to be true all along; indeed, the bookies had him marked as the favourite to be young Danny Latimer's murderer weeks before the final episode. But no matter: Colman's supremely empathetic screen presence meant confirmation of the horrible truth still came as an almighty bombshell.
As her colleague, David Tennant's DI Alec Hardy, broke the news, Colman went from blank defiance to bent-doubled retching in a matter of seconds. And then came that climactic confrontation with her child-killing hubby, in which the endlessly sweet star of Rev,  Peep Show and Twenty Twelve pummelled her co-star into the interrogation room floor. In the US they are, naturally, remaking Broadchurch, with Colman replaced by Breaking Bad's Anna Gunn. Though, when that airs, I think I'll be finding something more comforting to do. Like washing my hair. Or reading Nietzsche, perhaps.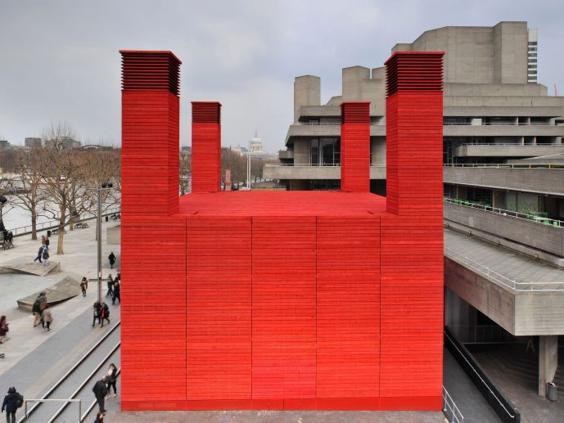 Stage: NT shed opening
'A temporary, but vital, addition to Britain's theatrical landscape' - Holly Williams
Strolling along the South Bank this spring, the eye was assaulted by a large, extremely red, blocky structure, four towers rearing up like a power station, or some cuboid creature that had rolled over and died ….
But whatever you think of the design, it's what goes on inside that's really important. This is the National Theatre's temporary smaller space, while the Cottesloe is transformed into the Dorfman. The Shed was created for experimental, smaller, or topical shows and new writing. Associate director Ben Power put together a programme of, essentially, all the stuff that can't be on the main stages for reasons of cost and practicality, but which nonetheless is vital work.
And, in what now seems like a declaration of intent, opening the space in April was The Table – directed by one Rufus Norris, the man recently announced as new artistic director of the whole NT.
The Shed seems a significant addition to the theatrical landscape in two ways. Firstly: it brings more experimental work to a National Theatre audience. It's given a platform to everything from verbatim theatre on social housing (Home) to a monologue about the Occupy movement (Protest Song).
Secondly, and conversely, The Shed aims to attract younger audiences – and the National should be a space for them too. The canny ticket pricing (£12 or £20) obviously helps. It also benefits emerging theatre-makers; the Limited Editions season hosted work by young and/or regional companies, giving them a kind of authenticating nod. 
The Shed is, as the name evokes, but a temporary structure. It closes in February. But hopefully some of its spirit will zing through the newly revamped Dorfman too.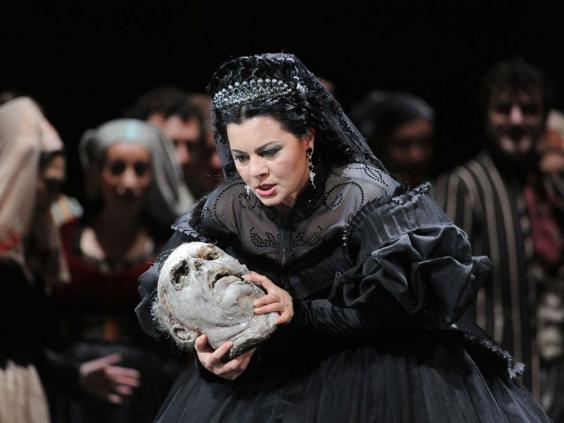 Classical: The ROH's  Les Vêpres Siciliennes
'A dazzling  and austerity-defying centrepiece of the Verdi bicentenary' - Claudia Pritchard
Thirteen is lucky for some. Certainly for the world of opera, as 2013 brought anniversary celebrations for Britten, born in 1913, and Wagner and Verdi, born in 1813. The centen-ary and bicentenaries prompted exceptional productions, among them Glyndebourne's recast Billy Budd, Grimes on the Beach at Aldeburgh and the Proms' Ring cycle.
And the celebrations resonate on into 2014: David McVicar's La Traviata for Welsh National Opera is back on the road next spring; the English Touring Opera is taking the rarely performed Paul Bunyan – Britten's collaboration with Auden – to 13 venues nationwide from February; and the English National Opera's Peter Grimes returns with Stuart Skelton (outstanding in the title role at the Royal Festival Hall in September).
On the subject of the ENO, it ended 2013 with a real return to form: Satyagraha and The Magic Flute, realised with Simon McBurney's Complicite, made for wonderful theatre, well sung, and live cinema relays announced this month will take opera to a wider audience.
But getting back to the anniversary offerings, the Royal Opera House's austerity-defying presentation of Les Vêpres Siciliennes (above) stood out on several counts. Two hundred years since Verdi's birth, it was extraordinary to see any opera by him staged for the very first time at Covent Garden, although not hard to understand why many have baulked at taking on this muddlesome oddity, with its characteristically Italian music and French libretto (think tagliatelle with bouillabaisse poured over). A meandering tale of rape and revenge, it incorporates several lengthy ballet sequences and requires a set of breathtaking ambition and complexity.
The ROH's answer to the challenge was to give Stefan Herheim buckets and buckets of money to pour on stage, so that the audience was too dazzled to care about the piece's undoubted musical shortcomings.
Meanwhile Radio 3, which also served the Britten and Wagner celebrations magnificently, marked the Verdi bicentenary by broadcasting this and every one of the composer's operas on air, and online. It was enough to get the music-lover wondering which little girl or boy born this year might, in time, also change music for ever.