Embattled Sony Pictures finally screened The Interview yesterday after weeks of embarrassing leaks, threats from hackers and controversy over its depiction of the assassination of North Korean leader Kim Jong-un.
The film, which was targeted in an attack the FBI claims was linked to North Korea, became available on a variety of digital platforms on Wednesday afternoon, including Google Play, YouTube Movies, Microsoft's Xbox Video and a separate Sony website.
The move came a day after Sony and independent cinemas agreed to release it in over 300 venues over Christmas.
But despite weeks of furious build-up and a U-turn on a decision to pull it from theatrical release that was hailed by the US President himself, The Interview opened to mixed, and at times scathing, reviews.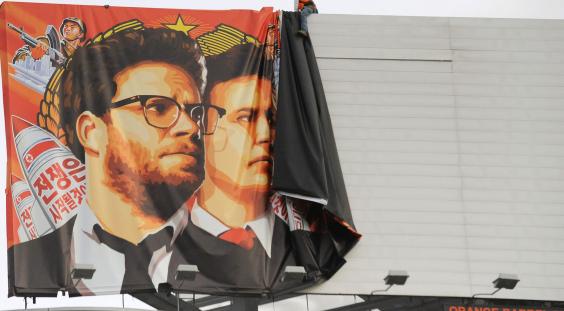 Wired

criticised the movie for "bad CGI and continuity holes" while AV Club defined it as "a triumph of free speech – not of sharp satire".
Meanwhile, The Washington Post summarised the film as "baggy and undisciplined" but praised it for making some "genuinely perceptive observations" about the reality of life in North Korea.
Bloomberg Businessweek dismissed the "sophomoric" comedy for being "much less compelling than the events it inspired".
The critical review mused: "Hollywood executives and movie theatre owners have been painted as both cowardly and ridiculous for letting a group of anonymous hackers associated with a rogue nation muzzle American art. All of which seems utterly astounding given how stupid the film is."
Rolling Stone was altogether more enthusiastic about The Interview, praising the the "hilarious" satire it said "hits the sweet spot for raunchy fun and spiky lampooning".
The Interview, which sees Seth Rogen and James Franco play US journalists tasked with assassinating the North Korean leader, was condemned by North Korea after its trailer was released.
However, the secretive state vehemently denied being behind the cyber-attacks and demanded a joint investigation to find those responsible.
Kim Song, a North Korean diplomat to the United Nations branded the film an "unpardonable mockery of our sovereignty and dignity of our supreme leader".
But he said North Korea will probably limit its response to condemnation, with no "physical reaction".
A jubilant Rogan cheered the decision to screen the film – but hastened to add that "a comedy is best viewed in a theatre full of people".
You wanna watch The Interview?? You can RIGHT FUCKING NOW!! Go to http://t.co/IRhW7juZWn. Thanks Sony for making it happen. Booyah.

; Seth Rogen (@Sethrogen) December 24, 2014
Whether Sony will recoup the 40 million dollar (£25.7 million) it invested in the film remains unclear. 
Reuse content