Farinelli and the King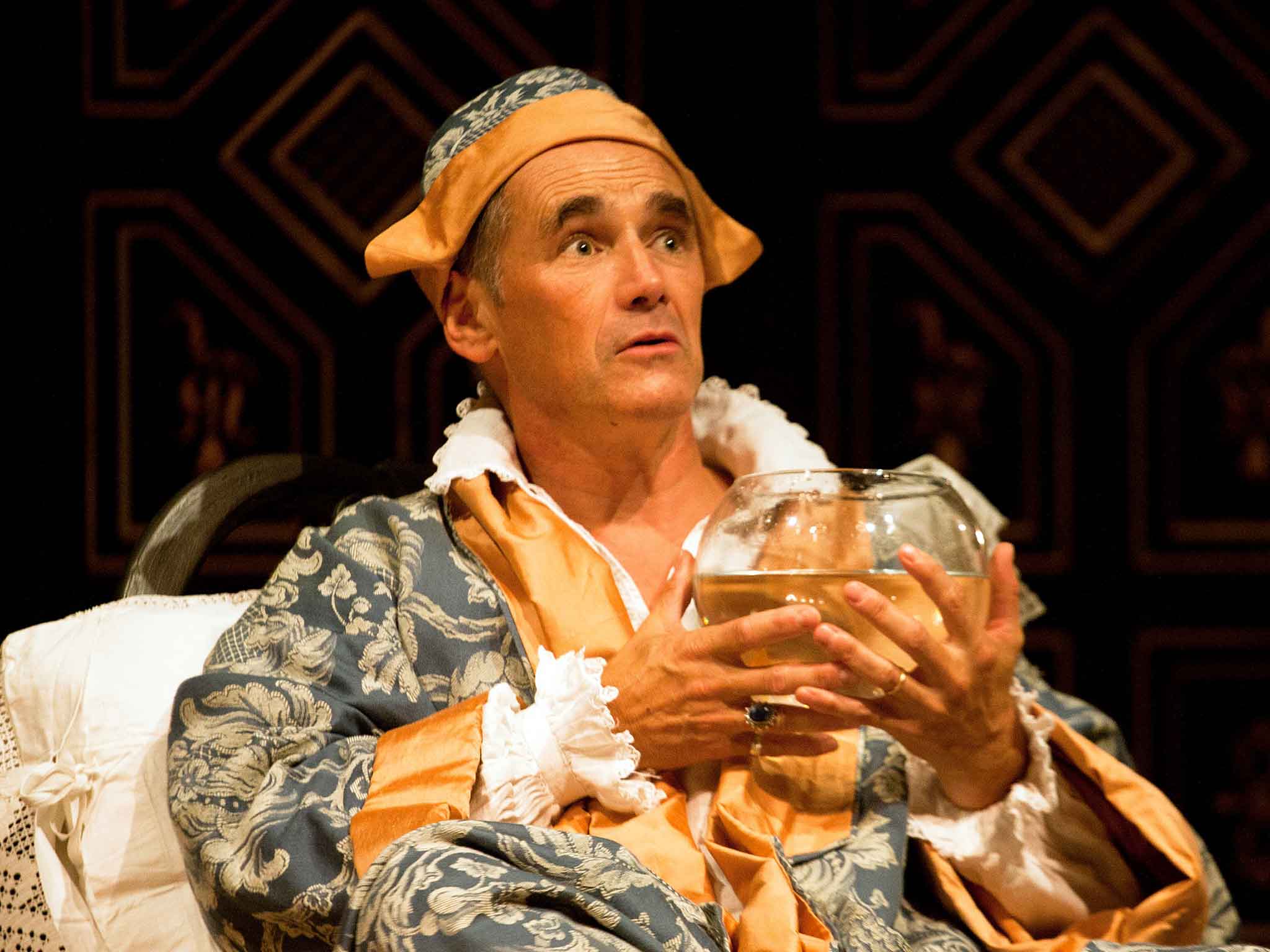 Farinelli and the King, Duke of York's Theatre, London, review: Mark Rylance leads a pitch-perfect production
The Wolf Hall actor's Philippe V is wrong-footlingly whimsical but buffeted with gusts of violent paranoia
5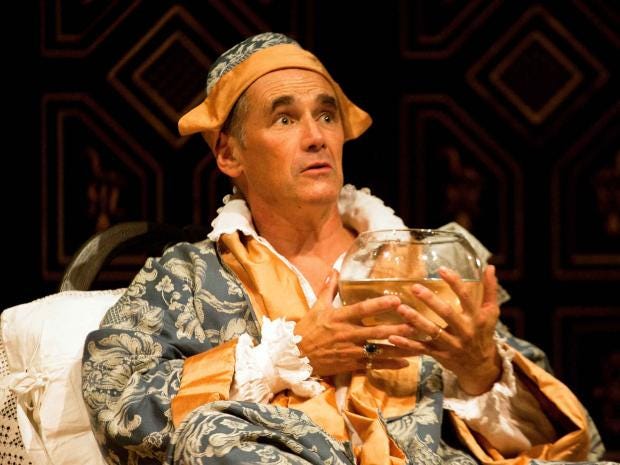 The Bush Theatre come to Dunsinane?  No, there's a theatrical migration much more magical now in this transfer of Claire van Kampen's first play which stars her husband Mark Rylance.  This profoundly funny and haunting mediation on melancholy and the therapeutic powers of music opened in the exquisite candle-lit jewel box of the Sam Wanamaker Playhouse last February. The achievement of this revival – the transporting and pitch-perfect production is by John Dove – is to recapture the spirit and intimacy of that venue in a West End theatre.  And it allows Rylance to complicate and deepen his earlier brilliant incarnation of the depression-ridden Philippe V of Spain. To surpass that portrayal, believe me, is quite schlep. 
Sometimes, this Philippe is wrong-footlingly whimsical but buffeted with gusts of violent paranoia – like a mild Lewis Carroll creature suddenly possessed by the mad jealousy of Shakespeare's Leontes. Sometimes he's like the love-child of Stan Laurel and Hamlet. He makes Dizzy Gillespie sound like a one-note wonder. You feel Philippe's mind para-gliding, lost, into the abyss of  despair at the same time as you recognise that he exploits his affliction as a way of imprisoning others. He's the little boy who did not want to become King; paradoxically, this has turned him an emotionally blackmailing butterfly-despot.  
It's not true, though, that you can't take your eyes off him. Melody Grove is absolutely superb – her shining, thankless, rarely wavering dedication, in the cause of keeping him on the throne and on a sustainable level of mental health, is most touchingly conveyed. It is she who hits on the idea of seeking out Farinelli, the world-famous castrato who, at the age of thirty two, left the adoring throngs in the opera house for the tiny, demanding mood-swung audience-of-one that was Philippe.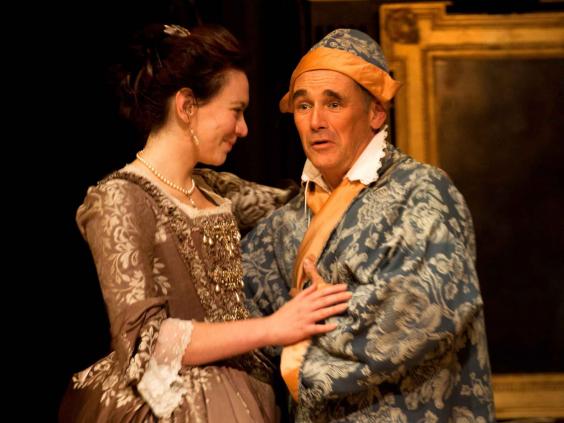 Farinelli never returned to his fan-base, so to speak. The play speculates about why this was so. There's the thematically apt device of dividing this figure into two – Sam Crane's lovely, grave spoken performance counterpointed with the celestial beauty that pours forth from counter-tenor Iestyn Davies in some of the most gorgeous arias of the 18th century. There's delicious cheekiness and beauty in Jonathan Fensom's design as little golden stars detach from the blue canopy-roof and dangle like earrings during talk of the music of the spheres.
The play floats the idea that there is an affinity between the king, and his underage elevation to monarch against his will, and Farinelli who went under the knife at ten so that his brother's arias could be, as it were, kept in the family. Always with Rylance, there's ambiguity and a sense of analogues, earlier roles and parallels quivering under the top line. It like a sort multiple personality, well, order. So when the king keeps marvelling at their shared status, you also hear faintly the mad Lear pronouncing that only his daughters could have brought Poor Tom to this extremity.  It's a state in which vertiginous compassion and solipsism seem to have a flickering duck-rabbit relationship.  
The production ends with Handel's sublimely moving "Lascia ch'io pianga": now that's what I call a take-home tune.
To Dec 5; 0844 871 3051
Reuse content
Comments